You've probably heard that apple cider vinegar is a natural cure that can heal everything from cuts to cancer. But does apple cider vinegar heal pets' ailments? When Tripawd Pablo's mom asked about it as a hot spot treatment, we did some investigating.
What's the Big Deal About This Vinegar?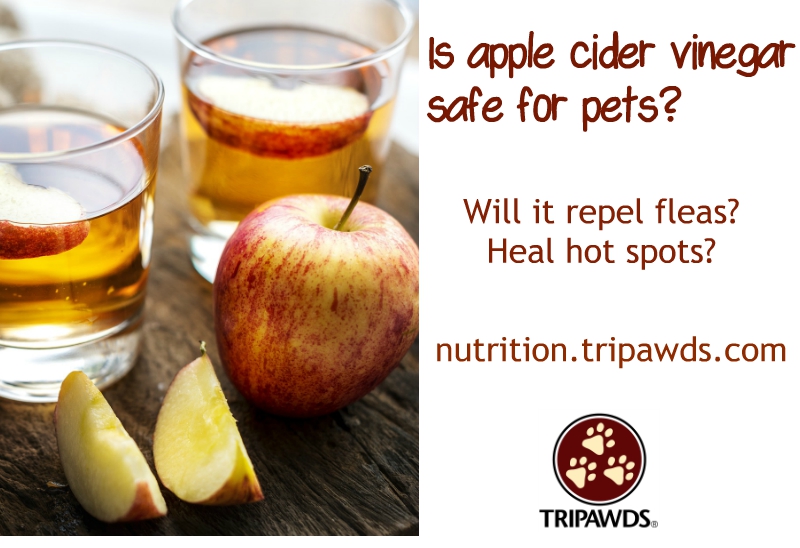 When our pets have cancer or other health conditions, we worry about giving them one more medication for a new issue. Many of us reach for natural pet health home remedies, but here's why it's important to do our research before trying one.
In the pet world, many people say that apple cider vinegar can do everything from control fleas to treating skin infections. The fermentation process to make it creates natural probiotics, B-vitamins and polyphenols (plant-based antioxidants). Apple cider vinegar is also shared on the Internet as a cure-all for human health problems, like lowering blood pressure, managing glucose and weight loss.
Experts agree that apple cider vinegar is relatively harmless. Even Harvard Health says:
It may have some benefits to our bodies, but overall, we need more studies to truly understand the health benefits and side effects associated with ACV.
Can Apple Cider Vinegar Heal Pets' Health Problems?
Before you reach for that bottle, stop and review the people who share apple cider vinegar cures. You'll notice most of them have one thing in common: they aren't vets!
In fact, we could only find veterinarian who says that apple cider vinegar should be used for pet health cures. The only problem? It's by a Canadian vet who was fined thousands of dollars for making wild "natural cures" health claims in his Alternative Pet Health newsletter and for-profit business selling his supplements and books. He has since surrendered his vet license and is no longer practicing medicine, but still sells is "Veterinary Secrets" materials on the Internet.
We did find one actual, practicing veterinarian willing to discuss this miracle cure. Dr. Dawn Filos of Ask the Vet says in her article "Flea and Tick Control: Myths Versus Reality."
Myth: Spray your dog or cat with a mixture of apple cider vinegar and baking soda.

Mostly False: Vinegar, or acetic acid, in high enough levels to actually be toxic to fleas, would be harmfully acidic to the skin. With repeated and long-term applications, even moreso. Baking soda has no known effects on fleas.
Are you willing to delay care for this home remedy?
Other than Dr. Filos, we couldn't locate any vet-approved information on the Internet about apple cider vinegar cures and myths for pets. That speaks volumes about the legitimacy of whether or not it actually works. If you know of any veterinary approved tips about using it, please let us know.
Yes, this is one of the milder home remedies for pets. It probably won't do any harm to your dog or cat if you tried it. But just because something is "natural" doesn't mean it's harmless.
Home remedies like this can do more harm than good. Instead of talking about the health concern with our vet and using a safe, tested and effective hot spot remedy like Microcyn AH, we delay professional medical care that could speed up the healing process and help our pets feel good again. And isn't that what we want most for them?
If you have used apple cider vinegar on your dog or cat, we would love know about your own experience. Comment below or in the Tripawds Eating Healthy Discussion Forum.