Getting enough Omega-3 fatty acids is important for us and our pets. But what's enough? And how do we get it? Fish is the best way, but the differences between sardines, fish and krill oils for dogs and cats gets confusing. Today we'll try to clear it up.
The Benefits of Sardines, Fish and Krill Oils for Dogs and Cats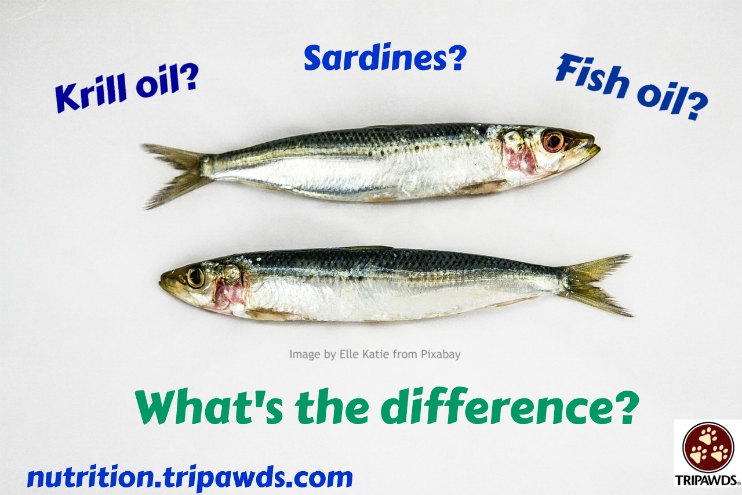 First things first: this is not meant to replace a conversation with your veterinarian. Always talk to your vet about supplements for your dog or cat, since many can interfere with your pet's current medications or state of health. Promise? Good!
Oh, and some links here may contain affiliate links. This means if you click and buy anything via the links, you are supporting the Tripawds Community. Thanks for your support!
Getting back to our topic: Too much Omega-6 is bad for our health. Omega-6 fatty acids are found in corn, vegetable and other refined oils, and they are proven to suppress the immune system. A poor diet and many commercial pet foods just have too much Omega-6 fatty acids.
But Omega-3s, the "healthy" fatty acids found in coldwater fish like salmon, mackerel, sardines and krill plankton, are good for us. And studies show they may help support the immune system.
The benefits of sardines, fish and krill oils for dogs and cats get more complex than we have space for, but in short, Omega-3 fatty acids has been found to:
reduce inflammation
inhibit tumor growth
may help reduce the tendency to cardiac arrhythmias (heart rhythm abnormalities) and seizures.
"Pets with any type of inflammatory disease may benefit from fish oil supplementation," write the authors of the VCA Animal Hospital's alternative therapies article, "Fish Oil." Written by holistic veterinarians Steve Marsden, DVM ND MSOM LAc DiplCH AHG, Shawn Messonnier, DVM and Cheryl Yuill, DVM, MSc, CVH, it has all the details about the benefits of fish oil for pets.
You can also dive into the fascinating details of the benefits of Omega-3 supplements for dogs in the Dog Cancer Survival Guide
How to Give Pets the Benefits of Omega-3 Supplementation
We started thinking about Omega-3 in fish when Brownie's Mom brought up the topic of sardines:
is feeding the sardines 3 times a week the same as fish oil? — Brownie's Mom, Tripawds Eating Healthy Forum
We researched the answer and discovered that while eating sardines and fish oil supplements are both helpful, they are not on the same playing field.
Sardines have one type of Omega-3 benefits within them.
A fish oil product is a blend of multiple fish types, to ensure a good balance of cold water fish benefits.
Most importantly, pills and liquid supplements are no substitute for the benefits of "real food." So in other words, we and our pets get more bang for our buck by eating the real deal.
We probably don't need fish oil supplements if we eat cold water fish on a regular basis. But who wants to eat from tins of smelly sardines? Not us!
So if we and our dogs and cats aren't eating fresh cold water fish a few times a week, then fish oil supplements can ensure we are getting enough healthy Omega-3 fatty acids.
Fish oil supplements for Tripawds, pets and people are especially helpful for dogs and cats who eat commercial kibble diets.
How to Give Fish Oil Supplements to Pets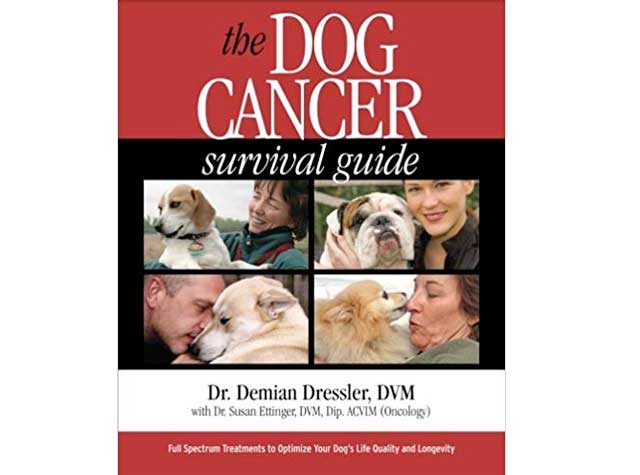 If you decide to supplement your pet's diet with Omega-3 oils, here's what Dr. Dressler recommends in the Dog Cancer Survival Guide
Make sure the brand of fish and krill oil has enough balanced concentrations of DHA and EPA fatty acids. In a 1000 mg serving of oil, a good balance looks like 180 mg EPA (18%) and 120 mg DHA (12%).
Fish oils in dark, glass bottles requiring refrigeration don't go rancid as fast.
Rotate between a fish oil blend a krill oil. Krill has many more impressive, documented benefits than sardines and other types of cold water fish.
Feed fish oil for three to four weeks, then switch to krill. Repeat.
Work up to a full dosage over two weeks. Your brand's bottle will have recommended dosage amounts according to your pet's weight.
We hope this helps clear up any confusion about Omega-3 fish oil supplements!