Whether your dog or cat has cancer and you want to try a holistic anti-cancer diet, or your new Tripawd needs to lose weight on a low-calorie food, rotating to a new pet food diet must be done with care. Food changes often wreak havoc with sensitive pet stomachs but did you know there's a way to avoid unpleasant side effects? Keep reading to find out how Wyatt made a recent switch to Canine PowerFood!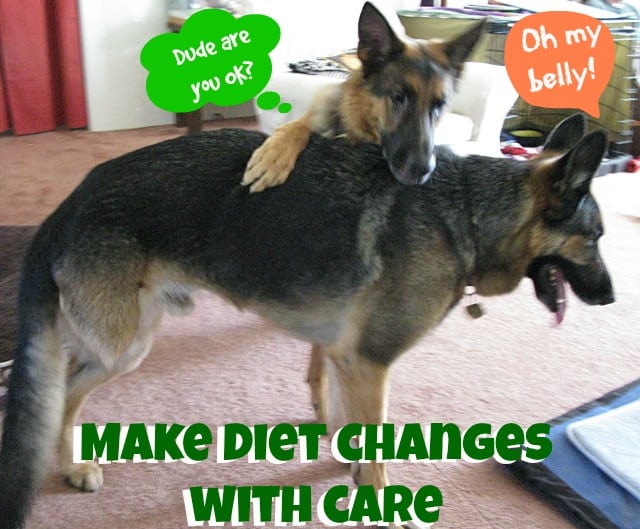 This post is sponsored by Only Natural Pet and the BlogPaws Pet Blogger Network. We are being compensated for helping spread the word about the new Canine PowerFood, but Tripawds only shares information we feel is relevant to our readers. Only Natural Pet is not responsible for the content of this article.
Here's how to make a pet food switch in four easy steps:
Mix 25 percent of the new food with 75 percent of the old food. Feed this combo for about three days.
Modify the mix so it's 50 percent new food to 50 percent old food. Feed this combo for another three days.
Increase the new food so it becomes 75 percent of your pet's meal, add in 25 percent of the old. Feed this mix for three more days.
Enjoy the new food on day 10, your pet should be ready to eat 100 percent of the new food.
If loose stools occur during the switch, go slower for a few days by adding smaller increments of the new food.
Recently we made a pet food transition with Tripawds Spokesdog Wyatt Ray, when he had the chance to sample Canine PowerFood, a new holistic dog food developed by Only Natural Pet, one of our favorite natural product pet companies.
We've been big fans of Only Natural Pet for a long time, starting back when Spirit Jerry was battling cancer. As a leading advocate and retailer of holistic pet products, we know that ONP's founder Marty Grosjean is deeply committed to walking the talk – his Tripawd rescue dog Crinkles is the whole reason why the company began!
"Only Natural Pet was founded when I realized that while I was thriving on a healthy, natural lifestyle, my dog was struggling on conventional pet foods and treatments," explains Marty. "I started feeding my dog a natural, healthy diet that also included natural supplements and saw great strides in her health."
Knowing how much Crinkles' healthy Tripawd lifestyle means to the Marty and the company, we knew this Made-In-America natural dog food had to be great – and it is! Here's why:
Canine PowerFood™ and Feline PowerPâté™ Honor Pets' Natural Needs
Only Natural Pet worked with Dr. Jean Hofve, a renowned holistic vet, to create a food that combines a holistic understanding of your pet's ancestral diet with science based nutrition to create the most complete, balanced, bioavailable dry pet food ever.
"If we are honoring what your pets natural needs are you're going to see big improvements..they're going to be less prone to chronic disease and they're going to live longer, healthier lives," says Hofve.
Holistic Benefits of Canine PowerFood™
Grain free: no wheat, corn, soy, oats or grains
The first three ingredients are meat (or fish)
Made with low glycemic carbohydrates like garbanzo beans, peas and lentils (from Wisconsin and Minnesota farms!), which are great for long lasting energy without spiking blood sugar.
Every kibble is infused with the ONP PowerBoost™ blend; a raw, freeze-dried combo with powerful superfoods like green lipped mussels, sea cucumber, pumpkin, probiotics and digestive enzymes.
The new allergy-friendly Canine PowerFood and Feline PowerPâté™ will be available on October 6. Dogs can choose from three recipes sold in 4.5-pound and 22.5-pound bags.
Poultry Feast
Just Fish Feast
Red Meat Feast
Cats can also choose from three revolutionary recipes, all of which come in a BPA-free can and are made in small batches at a micro-cannery in the USA with 100% human grade, grain-free and gluten-free ingredients including fresh meat, fruits and vegetables and a homemade broth. The Feline PowerPâté will be offered in individual 5.5 oz cans and in cases of 24.
Chicken Dinner
Turkey Dinner
Seafood Dinner
Wyatt Makes the #PawNatural Transition
Wyatt sensed our enthusiasm to switch to Only Natural Pet's new food. And perhaps we were a little too excited, because although we followed the food rotation guidelines and Wyatt gobbled up the Just Fish Feast PowerFood recipe without hesitation, his notoriously hyper-sensitive German Shepherd belly did a somersault and told us to go a little slower. Poor Wyatt!
After scaling back the kibble, adding boiled white rice and edible green clay to alleviate his upset belly, Wyatt's GI system gradually calmed down and he was able to enjoy the full benefits of Only Natural pet's pawesome biologically appropriate dry dog food.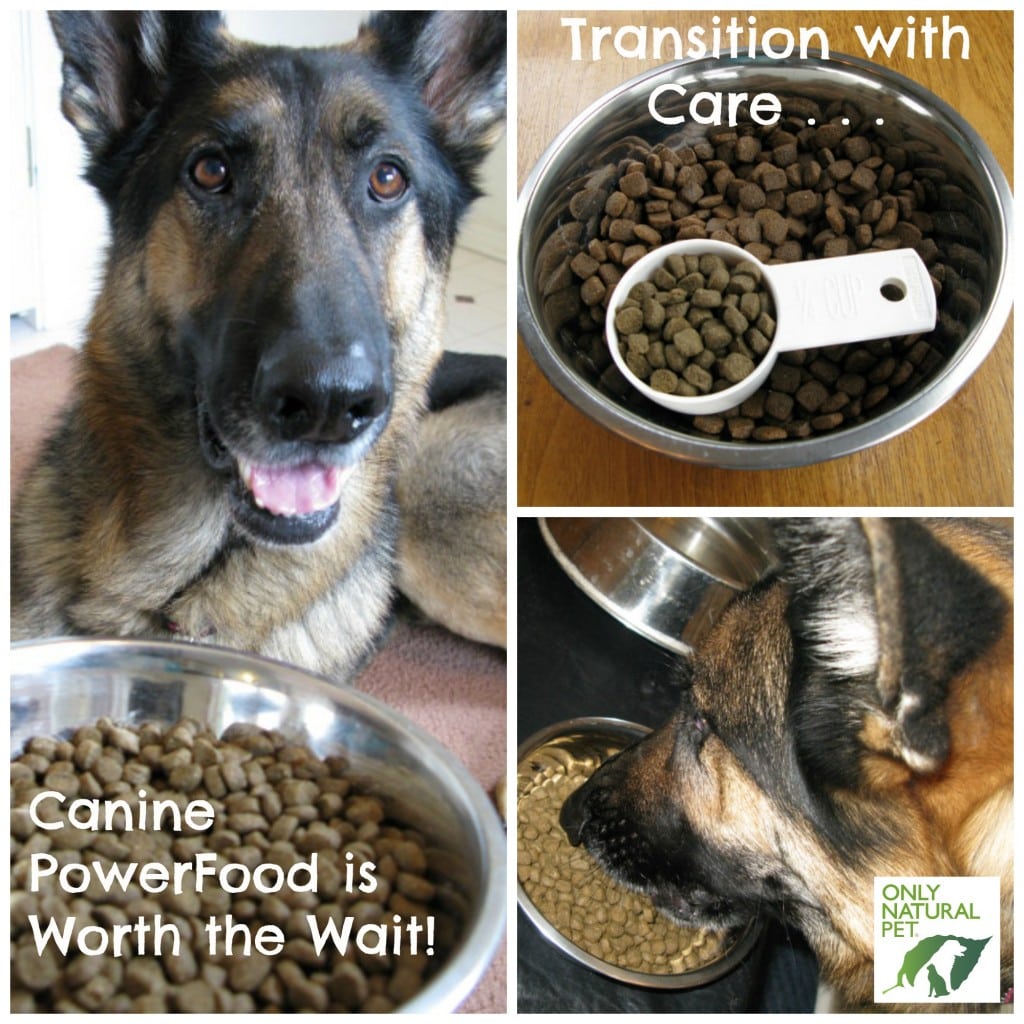 Test PowerFood, Make the Switch
If you're ready to rotate your pet's food and transition to this limited ingredient diet, Canine PowerFood and Feline PowerPâté™ can be purchased at OnlyNaturalPet.com. Buy yours before the official October 6 release and you can enjoy big savings off every size!