Do you know the best dog and cat foods for Tripawds?
If you don't know, you're in good company; because we don't either! Seriously, we wish it were that easy but there is no one "best dog food" or "best cat food" because good nutrition for dogs and cats means something different for everyone.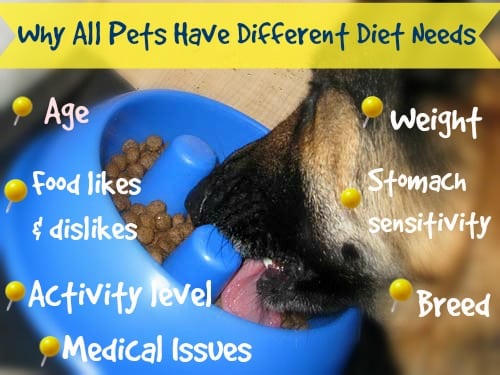 Nutritional needs differ even more if your pet has a health condition like cancer, arthritis or allergies. Instead of looking for that one great food, begin your search for a quality diet by assessing your pet's unique health profile.
Ask: Is my Tripawd a Healthy Weight?
Staying slim is critical for Tripawds, who must have a lower than normal body weight for optimum joint health. Help your Tripawd stay slim by using weight management strategies like:
Walking your dog or heading outside when begging happens
Feeding small meals frequently
Measuring food instead of eyeballing it
Cutting back on treats (try making your own!)
Using fresh fruits and vegetables for snacks
Not leaving food out while you're away.
If you suspect your Tripawd is overweight, check out these signs of overweight dogs and cats. If your pet has some pounds to lose, remember; your Tripawd is counting on YOU to do it.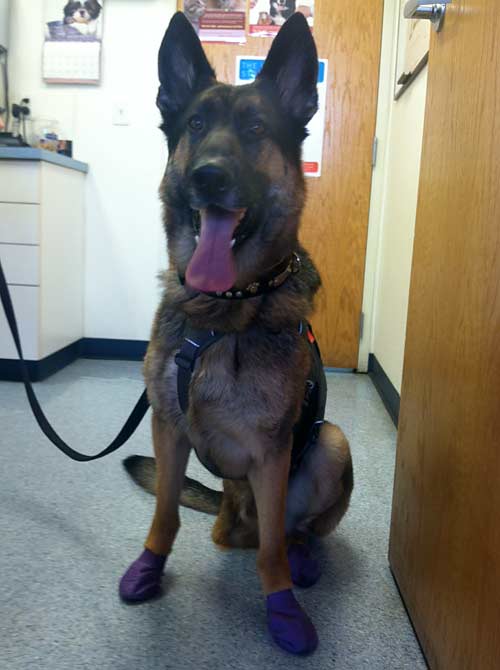 Your vet can compute your pet's obesity risk with tools like the new Healthy Weight Protocol app, created by Hill's Pet Nutrition and veterinary nutritionists at the University of Tennessee. This app will tell you exactly how much weight your pet needs to lose if she or he is overweight and even the amount of food to feed at mealtime.
Consider: Foods to Manage Your Tripawd's Condition
Visit your vet's office or walk down the pet food aisle and you'll find a variety of specially formulated, balanced, healthy commercial pet foods that make it easier to manage and decrease the effects of certain health conditions, such as cancer, kidney disease or joint conditions.
"Life stage foods" help manage disease because they are especially designed to meet the nutritional needs of pets with these conditions
These foods increase certain ingredients and decrease others to manage health conditions.
Pets can eat life stage foods indefinitely but make the switch gradually over the course of a week.
Make:  The Switch to a New Food
If you're concerned about upsetting your dog or cat's gastrointestinal system by changing pet food, you should be! Moving too quickly can cause upset stomach, especially if your pet has been eating the same food for a long time. These food transition tips can make it easier:
[youtube]http://youtu.be/S1vsPWL4Kqw[/youtube]
When it comes to Eating Healthy, remember that the only right answer is the one that works for your pet's unique needs. Cheap pet food has nutrient excesses and deficiencies that can lead to health problems so don't base your decision solely on price or you'll pay higher vet bills later.
Talk to other Tripawd Pawrents in our Eating Healthy Forum then work with your vet to #GetHealthyHappy and find a food you can trust (don't forget, you can win a $100 towards your next vet check up from Hill's Science Diet!).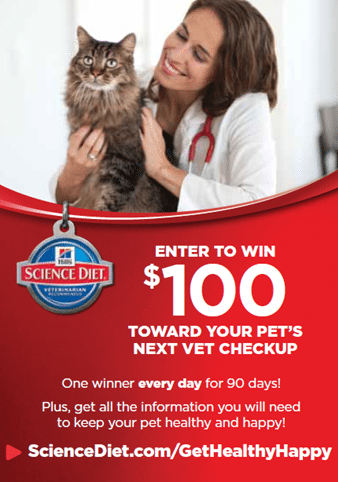 #GetHealthyHappy and Save
To help start your Tripawd on an appropriate, high quality life stage diet, Hill's Pet Nutrition is offering a $10 off promotion on select Hill's Science Diet products, including Grain Free Adult Dog Food and Grain Free Adult Cat Food. Visit http://blogp.ws/1w2TSJJ to get your rebate today!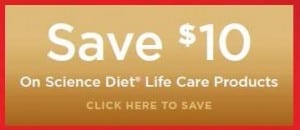 Recommended Reading
PetMD: How Can You Tell Your Pet is Overweight?
Tripawds Nutrition Blog: Staying Slim Makes for Hoppy Tripawds
DISCLAIMER: This post is sponsored by Hill's and the Pet Blogger Network. We are being compensated for helping spread the word about Hill's Science Diet Perfect Weight Food. Tripawds only shares information we feel is relevant to our readers. Hill's Pet Nutrition, Inc. is not responsible for the content of this article.