When you join the Tripawds family, poo becomes a regular topic of conversation. Whether there's not enough of it, too much of it, or too many weird colors inside of it, you can't be shy when it comes to talking about bowel movements, because their consistency and quantity reflects what's going on in your Tripawd's system.

Tripawds who are just out of amputation surgery often don't have enough poo, but many of our friends who are going through chemotherapy sometimes have too much runny poo.
Diarrhea can can turn into an exhausting, serious condition if it's not handled quickly and effectively. One way to do this is to give your Tripawd a dose of edible clay.
Therapeutic edible clay, also known as Green Calcium Montmorrolite Clay has been used as digestive system aid for centuries. There are many uses for it, but essentially this naturally occurring substance works by
Expelling parasites and removing toxins
Balancing and maintaining the body's pH, water balance, osmotic pressure and intestinal flora.
Providing more than 60 naturally balanced macro, micro and trace mineral elements in a highly bio-available form
Lots has been written about edible clay, and you can read more about it here. Also, this white paper, Calcium Aluminosilicate (CAS) in the Treatment of Intractable Diarrhea in Dogs with Cancer, by Kevin A. Hahn, DVM, PhD, ACVIM and Robert H. Carpenter, DVM, MS is another good resource for learning more.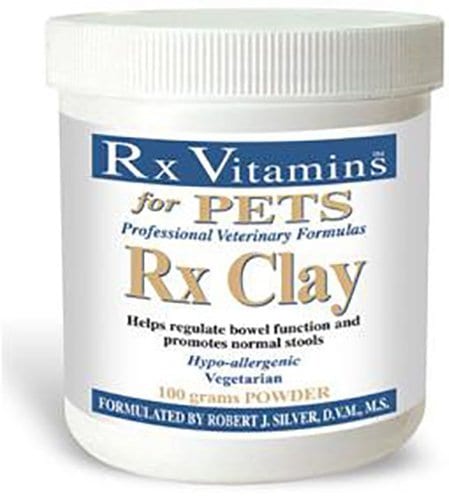 We hadn't heard of edible clay before, until Tripawd Spokesawg Wyatt Ray's holistically-minded veterinarian sold us a jar of Rx Vitamins RX Clay for Pets. Wyatt had been battling diarrhea for over a week, for no apparent reason. We had tried giving him the standard bland diet, fasting, Immodium, you name it, nothing worked, until we found this stuff.
Sold by veterinarians and now here on Amazon, Rx Clay worked within one day and stopped his diarrhea completely. With Wyatt's sensitive Shepherd belly, we will never be without edible clay, ever again.
If your vet doesn't sell Rx Vitamins RX Clay for Pets and you can't purchase it online, try looking for red clay in your local health food store, just make sure it's the edible kind.