These eating and exercise tips for Tripawds by veterinary rehab therapist Dr. Amber Callaway-Lewis of Treasure Coast Animal Rehabilitation and Fitness are exactly what we all need to keep our 3-legged heroes strong and injury free!
Amputee August 2021 Finale, Eating and Exercise Tips for Tripawds!
This month's spotlight on Tripawd exercise and fitness is brought to you by the awesome Dr. Amber. She created this month-long celebration to help three-legged dogs and cats stay safe and live long, pain-free lives. We are hoppy to partner with her on these important Tripawd fitness tips. This may be the most important video you ever watch to help your Tripawd!
In a nutshell, here's how to keep your Tripawd healthy
According to Dr. Amber, these are the most important things to remember about Tripawd eating and exercise.
Look at your pet's food quantity.
Our society is so used to "fluffy" pets. When we see a normal sized dog or cat, we might think they're under weight. But that's probably not the case.
Some bigger, active dogs need more calories to enjoy an active life. Most dogs just need enough calories to maintain a healthy weight. Think about how much food your pet receives each day. Ask yourself, "Does your pet truly need that quantity of food to be happy and to live a healthy life?"
Don't know if your pet has too many pounds? Here's How to Check a Pet's Weight at Home
Everything that goes into your pet's mouth counts as calories.
Calories count, from dental sticks to carrot sticks, pill wraps to chicken broth. Every bit of liquid or solid edible food that goes in counts toward your pet's daily calorie count. Dr. Amber wants us to ask ourselves:
"Can we decrease the calories per cup, and keep them eating the same quantity of food and be happy, but still get them to lose weight and maintain a proper body condition?"
For Exercise, Walking More is NOT the Answer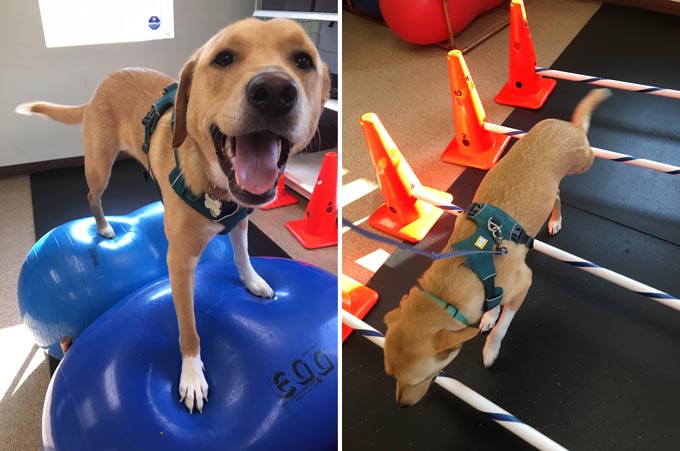 You may have heard us say that longer walks won't strengthen a Tripawd's leg muscles. It's true! Don't try any new exercises until you talk to a rehab therapist like Dr. Amber. These folks are the best people to construct a program that helps your Tripawd get in top shape and stay there. Tripawds Foundation can even make sure you get Tripawd rehab, free!
"If you have a new amputee, they're learning how to move and walk again. We don't want to do a calorie cut, and extra long walks, on a dog who's just learning how to walk on three legs. Same thing with a senior dog who's arthritic."
Tripawd Exercise Ideas You May Not Have Considered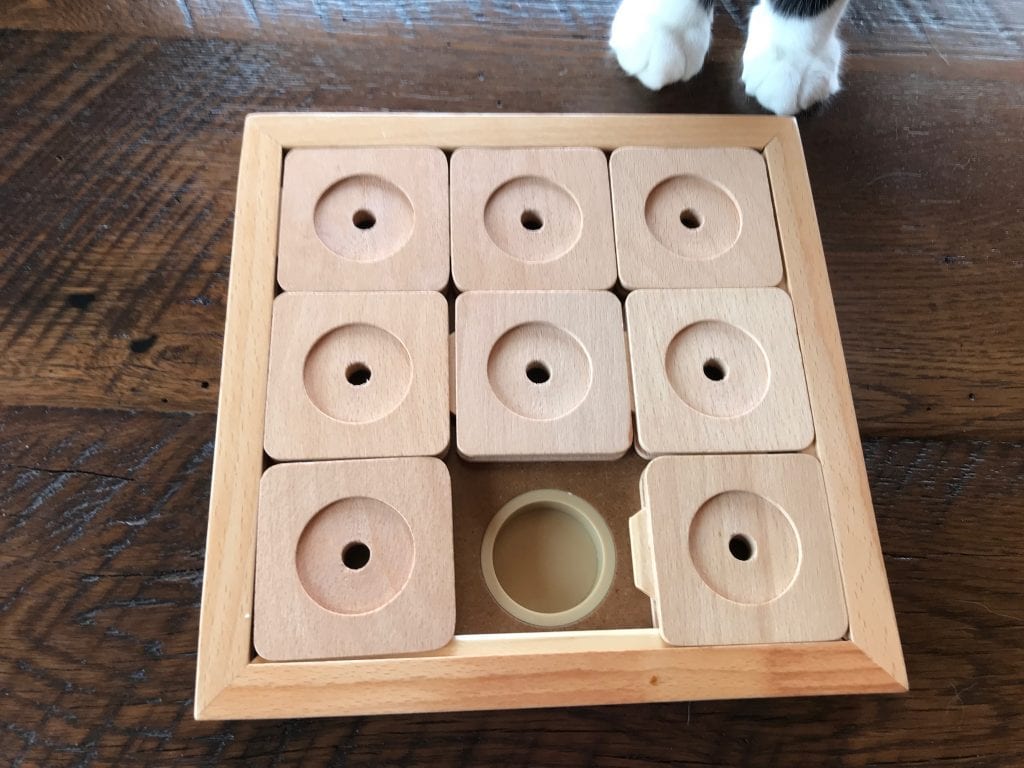 So if you shouldn't take your Tripawd on longer walks, then what? "Don't just assume 'I can walk them more to lose weight," says Dr Amber. "We have to balance their nutritional needs with their energy requirements." Here are some interesting ideas Dr. Amber recommends:
Get your dog to get up and move to another room a few times daily.
Play hide and seek inside the house.
Use food as exercise! Animals who are brand new to living on three legs can participate. Gather some of your pet's daily treats or food, and put it in interactive brain games. Give them the option to play with their food.
Place daily food in multiple small bowls throughout the house. Or, hide it in small boxes and ask your Tripawd to find them. Your goal is to encourage movement while doing it as safely as possible.
Serve food on a big platter. Let your pet work to get the food. Stretch out the time it takes for them to eat a meal.
Make your pet's food time enjoyable and fun. Enjoyable and fun. And if you're not seeing weight loss results, ask your vet for help. It takes a village to find the right eating and exercise program for all pets, but especially Tripawd dogs and cats.

Check out all Amputee August 2021 Tips!
If you've missed our Amputee August 2021 tips in Tripawds News, be sure to check them out:
Got more eating and exercise tips for Tripawds?
Share your Tripawd experience with us! We are always looking for guest blogs written by members of the Tripawds community. To contribute, contact us today and let's talk about ideas for an article you can share with other pet parents of three-legged dogs and cats!
See all Tripawd weight loss and exercise tips to
learn more about keeping your pet safe and healthy!