Do something good for the planet. Enjoy this Tripawds Members Only plant based pet treats coupon for Because, Animals treats for cats and dogs.
Shop and Save with Tripawds Members Only Plant Based Pet Treats Coupon from Because, Animals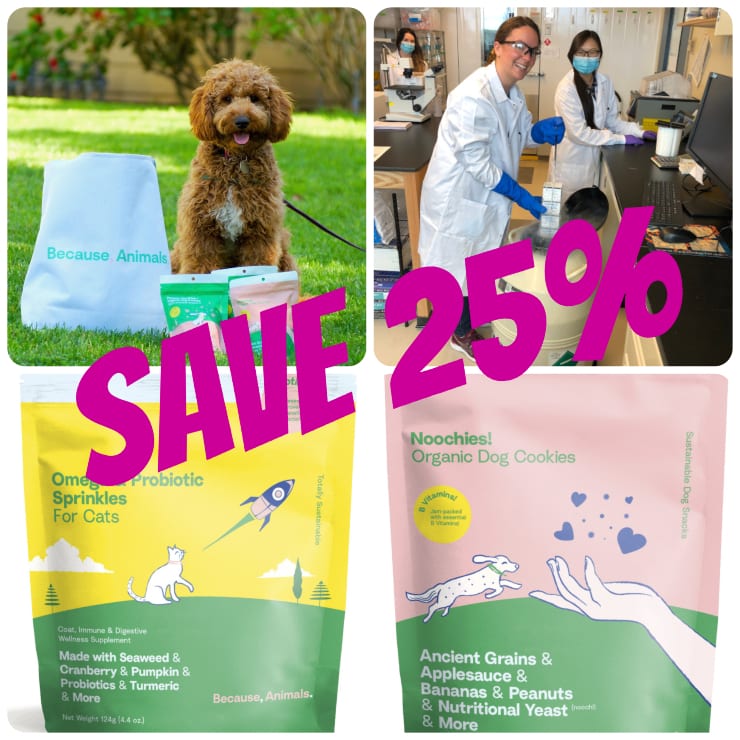 These healthy, USDA-certified organic, plant-based, non-GMO plant based pet treats are free of animal parts, antibiotics, hormones, artificial preservatives, artificial flavors, and artificial colors. They come in two flavors for dogs, Noochies original peanut butter flavor and Pumpkin Noochies+. Cats will enjoy the Because, Animals Omega & Probiotic Sprinkles for Cats.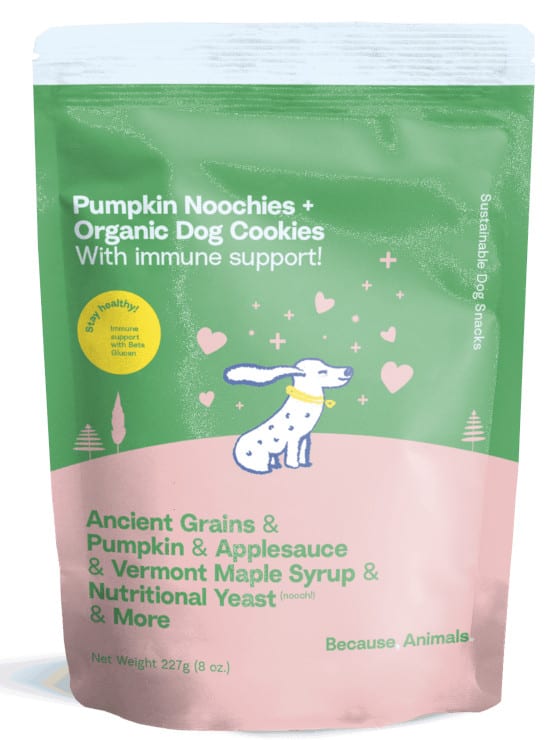 Made with delicious and beneficial ingredients including pumpkin, Vermont Maple syrup and cinnamon. These treats are loaded with yeast-derived beta glucan, which has immune-supporting properties. They also feature a star ingredient, nutritional yeast—also known as nooch—a powerhouse of flavor and nutrition.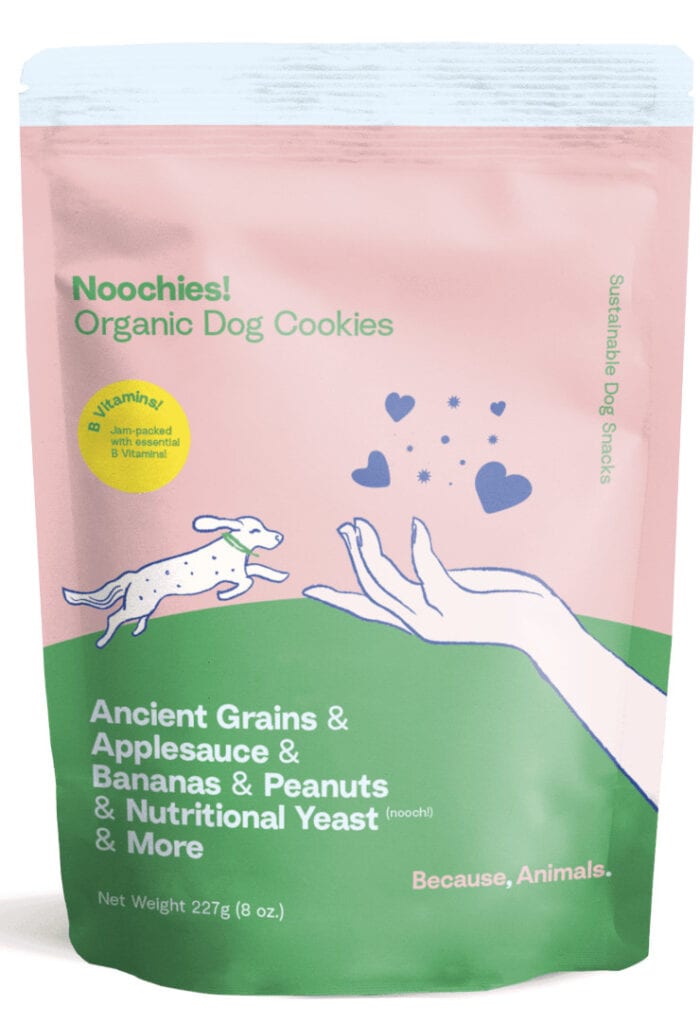 Star ingredients include peanut butter, bananas, ancient grains, coconut oil, flaxseed, applesauce and nutritional yeast. Full of B vitamins and minerals including B1 for metabolic support, B2 for healthy immunity, and B9 for brain development support. Rich in fiber and great for digestive support and relief from issues like constipation and diarrhea. Contains flaxseeds, a rich source of omega-3 and omega-6 fatty acids, for a shiny, healthy coat.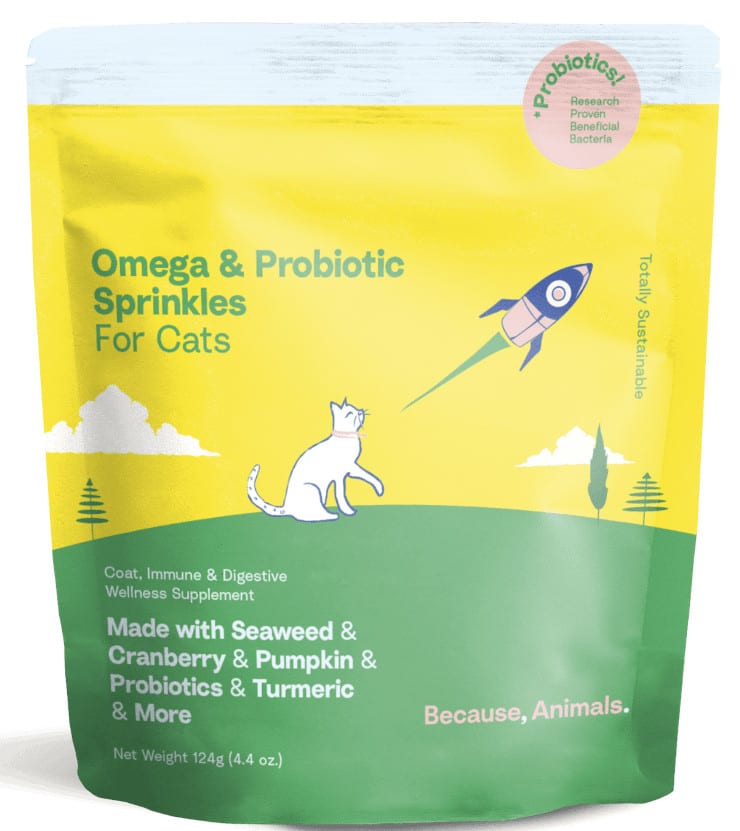 This probiotic supplement for cats has seven different kinds of omega-rich seaweeds and organic fruit and vegetable powders to make a near-magical health boost for your cat. More than a probiotic, it's considered synbiotic – a mixture of probiotics (helpful gut bacteria) and prebiotics (non-​digestible fibers that help these bacteria grow). Mix the fine powder into your cat's food daily for benefits to skin and coat, digestion and overall immunity.
Start Healing the Planet with Because, Animals Treats and Cultured Meat Pet Food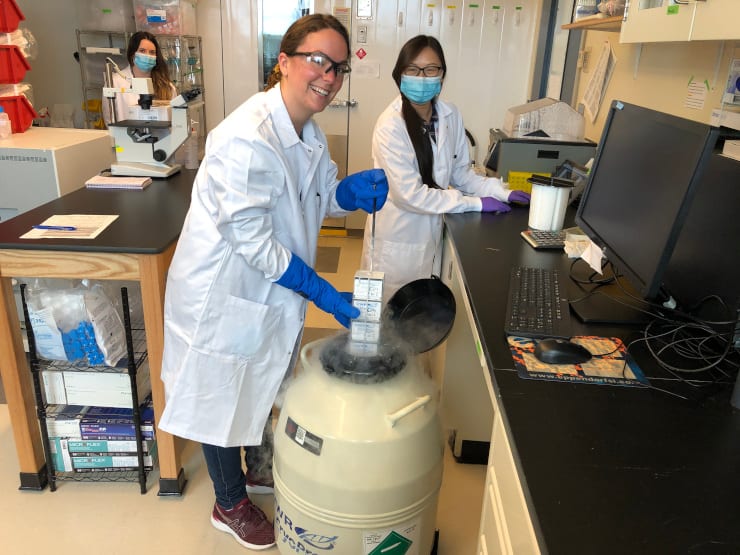 Did you know that in the United States, more than a quarter of the environmental effects of the animal agriculture industry are directly traced to pet food production? It's true! As described in The Clean Pet Food Revolution,
"The impact pet food is having on climate change has received little attention. Yet pets eat an estimated one-quarter of all the meat consumed in the United States, equivalent to the meat devoured by twenty-six million Americans. That makes U.S. dogs and cats equal to the fifth largest country in the world in terms of animal protein consumption."
When you redeem your special Tripawds plant based pet treats coupon, you're making a move toward a more sustainable pet food. AND, you're doing great things for the planet. Like our other favorite plant based pet food company, Wild Earth, Because, Animals is another forward-thinking company that's changing the pet food industry. We aren't getting paid to say this or promote their products. The founders believe we don't need to harm the planet to feed our cats and dogs, and so do we! Because, Animals have started with plant based dog treats and feline Omega and Probiotic Sprinkles.
By next year Because, Animals will be the first company to bring clean, cultured meat cat food to store shelves.
Why cultured meat for pets is good for pets and people
Because, Animals is developing the world's first cultured meat for pets. They're starting with a new cat food product. Clean, cultured meat is safer and healthier, better for the environment, and more humane than conventional products.
No animals get inhumanely raised for slaughter in cultured meat production.
Cultured meat poses no risk to pets and people. It eliminate the chance of bacterial contamination, antibiotic resistance, and spread of zoonotic diseases, such as COVID-19.
Cultured meat manufacturing isn't as weird as it sounds. It is 100% REAL meat. But this process begins with humanely harvested cells. The cells are nourished to multiply and grow a nutritional meat product. Until now, this process has been too expensive to produce on a large scale. But Because, Animals has managed to shrink the cost with a proprietary alternative to fetal bovine serum. This is a growth medium inhumanely obtained from the slaughter of pregnant cows. Other companies typically use it to produce cell-based meats.
Make the leap and take important steps to heal the planet and stop harming livestock raised for pet foods. Because, Animals cultured meat products will never rely on ingredients derived from cruel slaughter practices. We hope you'll give them a try.
Watch pet food store shelves next year for Because, Animals cat treats made from cultured mouse tissue, regulatory approval permitting.