Something interesting happened this year. As the number of people working from home skyrocketed, so did the number of pandemic pet poisons our dogs and cats are getting into!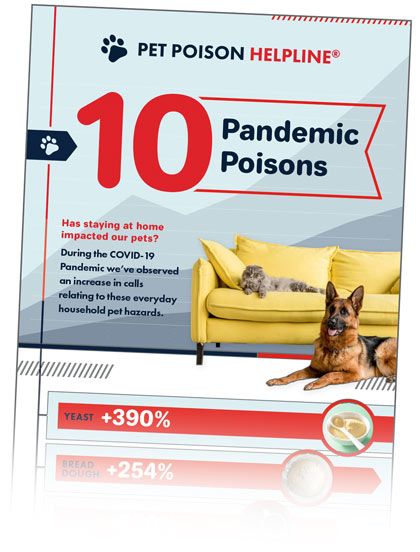 According to the Pet Poison Control Center, the Pet Poison Helpline has seen large increases in calls from panic pet parents. Looks like the growing popularity of bread baking and DIY crafts has gotten our pet's interest too. For instance:
Calls regarding bread dough and yeast increased by 250%.
There's been a 220% increase in calls involving brewed coffee.
And a 118% increase in calls regarding paint and art supplies.
A typical food, drink or activity that we do at home now runs the risk of being a pandemic pet poisons to our cats and dogs! With scary Halloween toxins all around us, and holiday hazards just around the corner, now more than ever we need to keep close watch on what pets are up to when our noses are buried in work.
Learn about common toxic human foods for pets, and more
Did you know the Pet Poison Control Center is a terrific resource when you're uncertain about pet toxins? They have an entire library about household pet dangers.
Topics include common toxic human foods for pets, dangerous medications, household chemicals and more.
We especially love their One Minute Clinic videos, like:
In the "For Vets" section, you can even check out various vet webinars that are free to watch. They're geared toward vets but any pet vet geek like you and me can sign up and learn something, like:
SAFETY OF CBD AND THC IN DOGS: WHAT DOES THE DATA SAY?
Here's where to get help if your dog or cat ate something you don't think was good for them. Just enter the substance your pet ingested. You'll get instant access to the Pet Poison Control Center's ginormous database of pandemic pet poisons, hazardous household chemicals and other harmful things pets eat.
The Pet Poison Control Poison List is no substitute for reaching out to your vet when you're concerned. But at least you will have some knowledge to work with if your pet's situation goes south.

You can also call the Pet Poison Control Helpline. For a $59 service fee (cheaper than an emergency vet visit!) you can talk to a toxicologist who can suggest next steps after your pet eats something weird.
What to Do If Your Pet Eats Toxic Food or Chemicals
According to the Pet Poison Control Center, here's what to do if your pet is poisoned:
Remove your pet from the area.
Check to make sure your pet is safe: breathing and acting normally.
Do NOT give any home antidotes.
Do NOT induce vomiting without consulting a vet or Pet Poison Helpline.
Call Pet Poison Helpline at 855-764-7661.
If veterinary attention is necessary, contact your veterinarian or emergency veterinary clinic immediately.
We hope you never need to use the Pet Poison Helpline but if you do, they are always ready to help.