Here's another reason to double-check the quality of your CBD pet supplements. A 2020 study discovered heavy metal contaminants and label inconsistencies in popular hemp supplements for dogs and cats.
Buyer Beware of Low Quality, Contaminated Hemp Supplements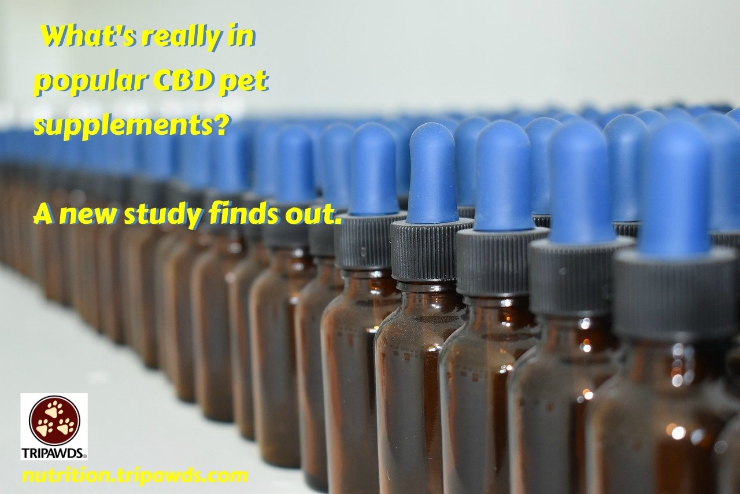 Tripawds' friend and veterinary pain management expert Stephen Cital and his colleagues at ElleVet Sciences, manufacturer of hemp CBD+CBDA chews and oils, have just published an interesting new study about CBD pet supplements. Called "Cannabinoid, Terpene, and Heavy Metal Analysis of 29 Over-the-Counter Commercial Veterinary Hemp Supplements," the 2020 analysis revealed, among other things, that four out of 29 hemp-based pet supplements contained heavy metals, including lead, arsenic and cadmium.
To find products for testing, the researchers did a Google search of "hemp extract and dog" or "CBD product and dog." Basically what we consumers do when looking for a good supplement.
Then they purchased from the top 29 returns, after winnowing out products produced from hemp seed rather than whole plant extract. Cannabis plants have compounds known for alleviating symptoms related to everything from nausea to anxiety. Hemp seed does not have these compounds.
The authors do not name the companies they studied.
Why CBD Pet Supplements Need a Closer Look
The ElleVet study was the first to use a certified testing lab to sample the 200+ CBD pet supplements now on the open market. Previously, scientists looked at human CBD supplements, which showed "numerous discrepancies with what was tested versus labeling concentrations," the authors write.
"The objectives of this study were to provide information regarding the important plant constituents including cannabinoids, terpenes and heavy metal contamination (lead, arsenic, mercury and cadmium) in commercial products obtained through internet commerce.
Non-existent CBD product regulation in North America is allowing low quality human and pet CBD supplements to flood the marketplace. Not all are created equal thanks to this lack of oversight.
In this study, here's what they found:
Of the 29 products analyzed four were positive for heavy metals including arsenic, cadmium and lead.
The arsenic they found was the only heavy metal with limits higher than minimum safety levels for oral consumption..
Less than 0.3% of products contained THC (or THCA, the precursor acid to THC). This is the cannabis compound that gets people high and pets intoxicated.
Did the product labels comply with FDA guidelines?
Another goal was to find out if product labels had FDA-compliant labeling. For example, did the ingredients match what was on the label? And could manufacturers produce a cannabinoids certificate of analysis? Here's what they found:
 Only 10 of the 29 products were within 90–110% of the label claims regarding cannabinoid concentrations
Nine of the products were over 110% of the label claim on analysis
10 were under 90% of the label claim, with two containing no cannabinoids.
25% of companies could NOT supply Certificate Of Analysis based on lot number of the product that was purchased.
The results weren't too surprising. According to the authors, "This is not atypical of what has been found in human hemp products, where less than 50% were found to be within 90–110% of label claims."
Finally,
Buyer Beware of Poor Quality Hemp-Based Pet Supplements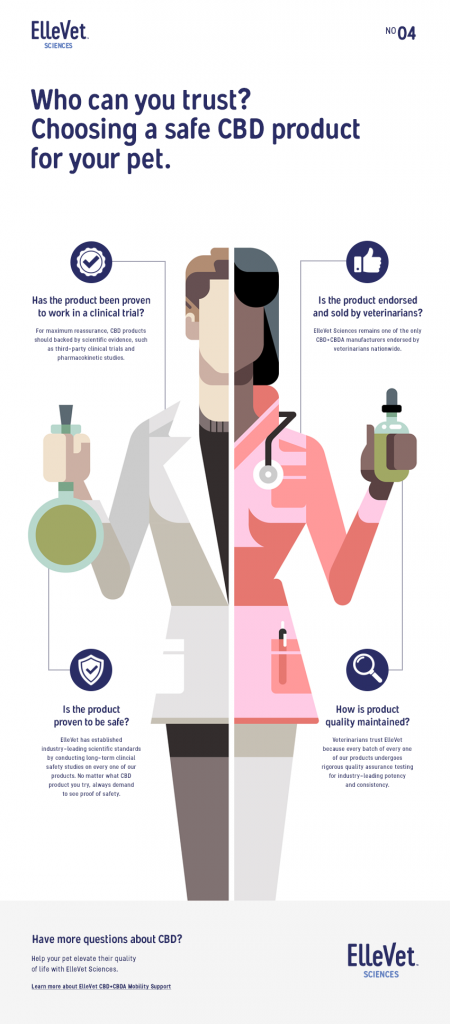 As of now there are no established federal standards for testing CBD products for pets and people. The closest available testing standards come from the results of certified laboratories. These labs use methods that comply with the USDA Hemp Farming and Testing guidelines. With a lack of oversight, it's the wild west in pet CBD supplements.
"The range and variability of products in the veterinary market is alarming," the authors write. At minimum, we and our vets must be pressing manufacturers to give us information that validates CBD and THC concentrations in their products minimally, and shows if there are any contaminants including heavy metals, solvents, pesticides, microbials and mycotoxins.
To read the entire study, see: Cannabinoid, Terpene, and Heavy Metal Analysis of 29 Over-the-Counter Commercial Veterinary Hemp Supplements
Recommended Reading
CBD for Pets: What We Know and Don't Know About Cannabinoids (yet!), an interview with Stephen Cital of ElleVet Sciences.
How to Choose the Best CBD Supplement for Your Pets, by ElleVet Sciences.