If your Tripawd eats rice-based cat or dog food every day, you'll want to pay attention to another study about arsenic in pet food.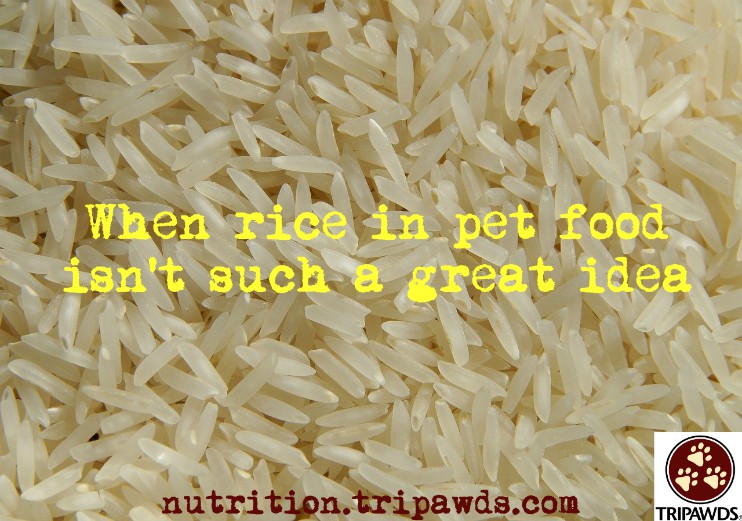 We grew up thinking that if you find a dog or cat food that your pet eats and tolerates, then stick to it to avoid stomach upset. But is this really a good idea? Over the years, we have seen the benefits of rotating pet food, like giving Tripawds Spokesdog Wyatt Ray a variety of vitamins, minerals and nutrients that keep him healthy.
Wild Earth kibble is his base food, and it contains ZERO rice. But Wyatt also enjoys chomping on fruits and veggies throughout the day.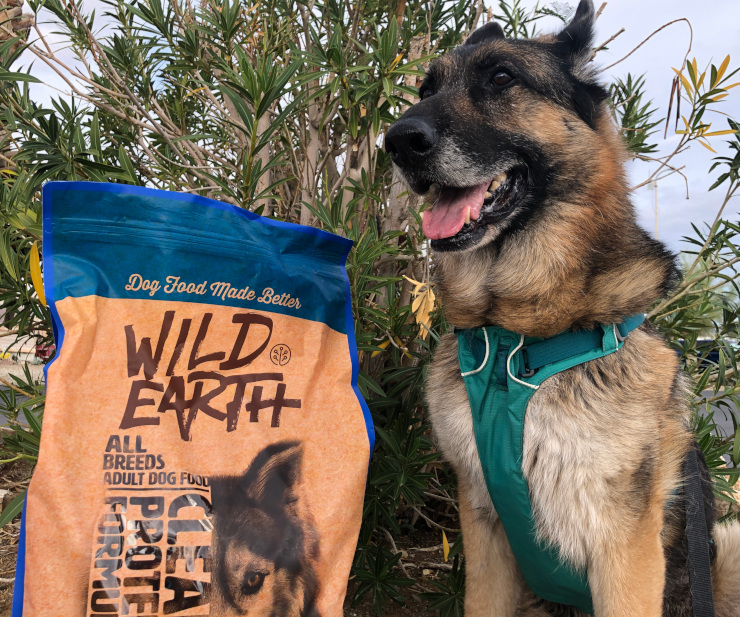 Whether we are blending a fruit smoothie or chopping salad veggies, this dog is game for whatever flies his way. Here he is, chomping on carrot bits.
Why Arsenic in Pet Food is Dangerous
When Susan Thixton of The Truth About Pet Food recently wrote about another study that examined the dangers of arsenic exposure in pet food, we felt instant relief knowing that we're doing the right thing by avoiding rice and mixing up his foods.
The latest study, "Hair arsenic level in rice-based diet-fed Staffordshire bull terriers," shows "eating a rice-based diet for long periods of time represents a risk for chronic iAs (arsenic) exposure in dogs."
Performed by researchers at the University of Helsinki, the study examined the impact of making rice a main component of many pet foods. They examined hair samples of seven dogs who eat a rice-based pet food and found an overload of arsenic (iAs) exposure.
"dogs eating a diet of rice-based dry dog food had higher hair iAs levels than dogs that did not eat any rice. This suggests that eating a rice-based diet for long periods of time represents a risk for chronic iAs exposure in dogs. "
The dangers of arsenic in pet food
Arsenic is toxic organic and inorganic metalloid chemical that's found everywhere in the environment. Water sources for fish and rice farming operations contain tons of this toxic metal. There is no "safe" level of exposure to arsenic, and health experts warn us that arsenic over-exposure leads to serious problems. One way to avoid them? Eat less rice.
In people, chronic arsenic exposure is associated with skin, bladder and lung tumors. It also impacts gastrointestinal, neurological, cardiovascular, immunological, haematological, pulmonary and developmental functions.
Many pet diets contain rice as a primary ingredient, which puts them at higher risk of chronic arsenic poisoning.
This isn't the first time that heavy metals and arsenic in pet food has made the news. For several years, scientists have been sounding the alarm.
In 2016 acclaimed natural health veterinarian Dr. Narda Robinson, DVM, suggested that arsenic could be the cause of frustrating pet health issues. And Dr. Peter Dobias sounded the arsenic alarm too. In his article, "How to Avoid Foods High in Arsenic and Keep Your Dog Healthy," Dr. Dobias suggests we take precautions like:
Avoiding rice-based pet foods
Providing essential minerals and vitamins, which help to push out toxic elements from the body.
And doing a semi-annual liver cleanse with a product like his LiverTune supplement.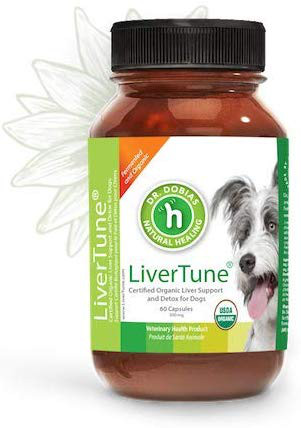 Has your Tripawd been affected by heavy metals in pet food? If so, we want to know about it. Share your story below and help educate the community about the dangers of arsenic and other heavy metals in dog and cat kibble.