Shopping for pet supplements on Amazon is easy, convenient, and sometimes, a total ripoff. It's sad but true that fake pet supplements on Amazon are a growing problem, so today we'll talk about how to protect yourself from getting taken.
Did You Buy Fake Pet Supplements on Amazon?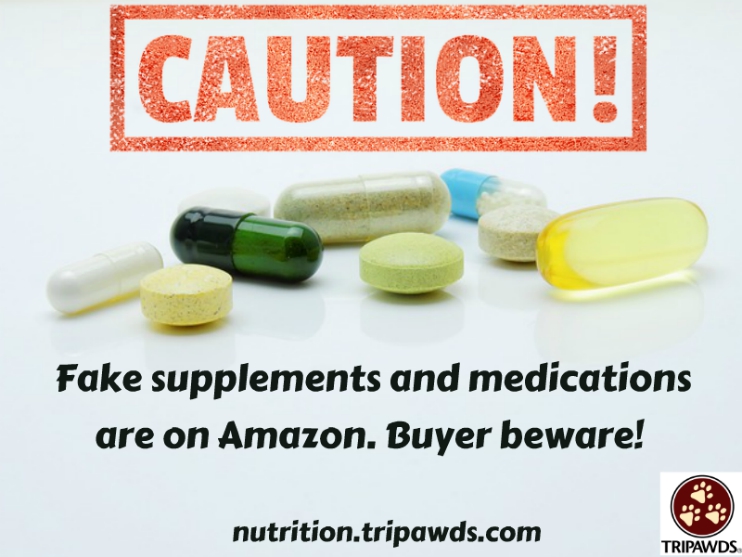 Earlier this year one of the world's leading pet supplement makers, Nutramax Laboratories announced that counterfeit versions of Cosequin® DS+MSM 132, Dasuquin® with MSM, and Proviable® DC were being sold by unauthorized third-party resellers on Amazon. The sellers were all based in China, and all selling through the giant marketplace.
"Our active ingredients were also not present in them; therefore, pets are not receiving any of the needed health benefits of authentic Nutramax products. For these reasons, we are treating these counterfeit products as a threat to pets' safety and well-being."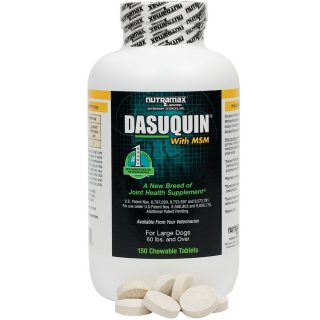 Fake CBD products are another big issue on Amazon
Amazon's counterfeit pet supplement problem isn't just affecting pets either. Fake human supplements, pharmaceutical medications and pet CBD pain relief products are also getting passed along at cut-rate prices, putting everyone's health at risk. One of the biggest problem areas involves third-party sellers trying to pass off fake CBD products. Our friend Caleb from HempDaddy's explains:
Amazon's new Project Zero is one way the company claims to be cracking down on counterfeit supplement and product sellers. But fake products of all kinds are still getting through Amazon gatekeepers. Clearly we cannot rely on the retail giant to protect us from greedy counterfeiters.
Don't risk the health of you or your pet. Here's what you need to do to protect yourself against fake pet supplements on Amazon:
How to spot fake pet supplements on Amazon
Step 1: Beware of the cheapest prices.
Be skeptical if your favorite pet supplement is typically sold at a much higher price anywhere but Amazon. Odds are the dramatic price difference is because counterfeiters are selling it. "If it seems too good to be true, it probably is," says Dr. Joseph Mercola.
Step 2: Check the product packaging carefully.
"It can be extremely hard to tell a counterfeit product from an authentic one," says Nutramax representatives, "but among the red flags are misspellings on the label, slight differences in logos or other graphics, and differences in the appearance of tablets or capsules, sometimes even within the same package."
Step 3: Look for reputable Amazon sellers.
When you're on Amazon, make it a point to shop with a manufacturer's Amazon storefront first. That way you know you're getting the real deal.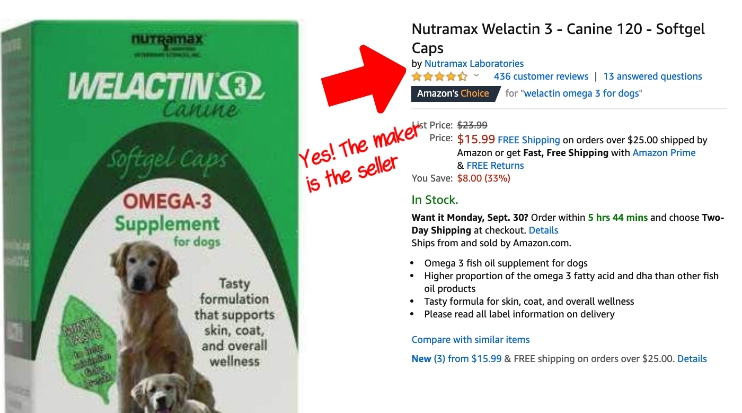 You don't have to avoid all third-party sellers, but if there's any question in your mind about the seller's affiliation with the company, then it's best to follow your gut feeling and shop with the manufacturer's Amazon storefront.
We know that getting the lowest price is tempting, but it isn't always the safest way to go, for you or your pets.
As always, thanks for reading and for shopping for pet supplements on Amazon with the Tripawds Nutrition Store. All proceeds help keep this community online, we appreciate your support!