We all want to keep our three-legged hero strong. When we help our Tripawd have Nice "Mussels" with these tasty ocean treats from The Honest Kitchen, we're doing just that!
Tasty Seafood Helps Your Tripawd Have Nice Mussels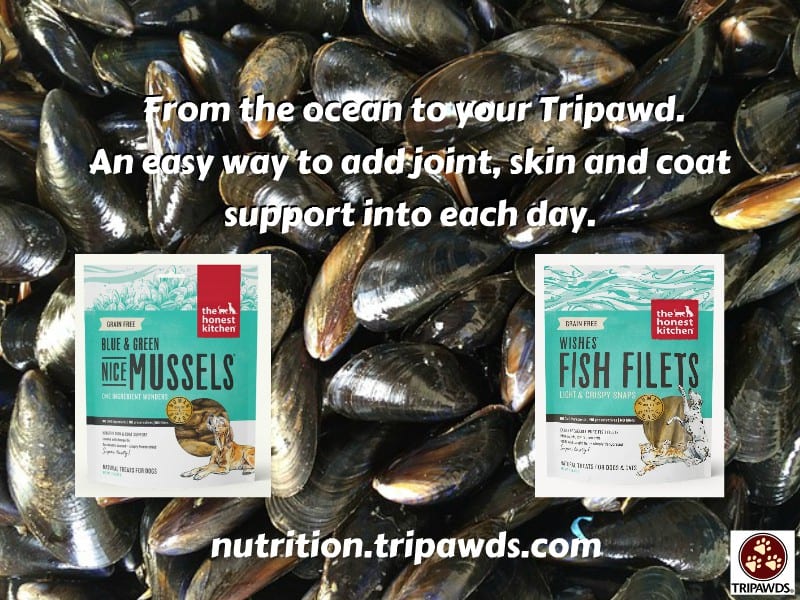 This blog post contains Amazon affiliate links. When you click on one and purchase anything on Amazon, a small portion of the sale goes toward keeping the Tripawds Community online. Thank you!
Green Lipped Mussels are one of the best ways to add skin, coat and joint support support to your Tripawd's daily diet.
Years ago, scientists discovered that the Green Lipped Mussels only found in New Zealand are packed with Omega-3s, which gives them anti-inflammatory effects. Inside each shell is a meat that contains a substance to help improve skin and coat, as well as reduce the inflammation that causes osteoarthritis pain.
Adding Green Lipped Mussels to your pet's diet is pretty easy. Check out our blog post "Joint Support for Tripawd Cats and Dogs That's Backed by Evidence" for some helpful product links you can share with your vet. And you can also add this tasty treat by Honest Kitchen if you have a dog (or scroll down for the feline version of this product).
Natural Benefits in Every Bag!
Packed with a ratio of 50:50 Green and Blue Mussels
A single ingredient treat for dogs; all-natural freeze-dried mussels from New Zealand
Natural source of Omega-3s; supports healthy skin and coat
100% human grade, no ingredients from China
Great for all life stages
Made in the USA; non-GMO Project verified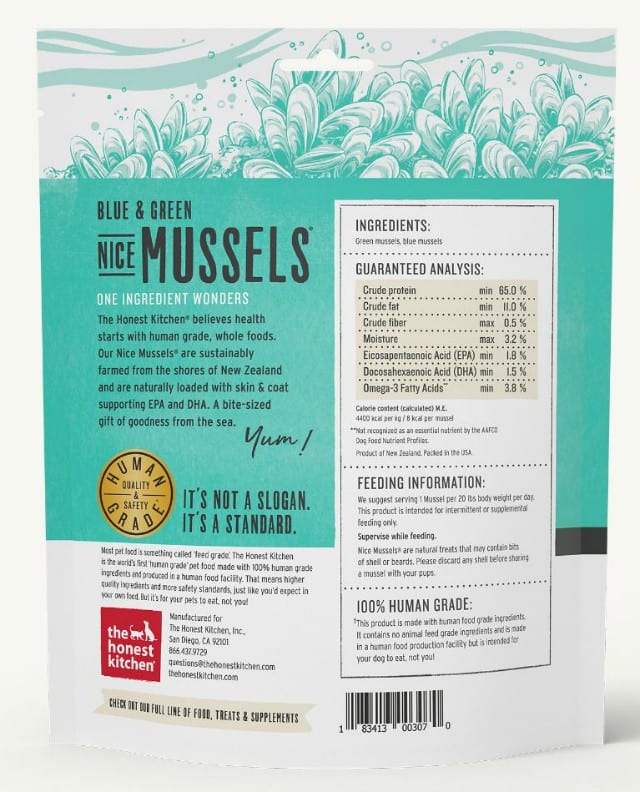 All ingredients are processed in the USA in a human grade food processing facility. They are non genetically modified and free of any chemicals & preservatives.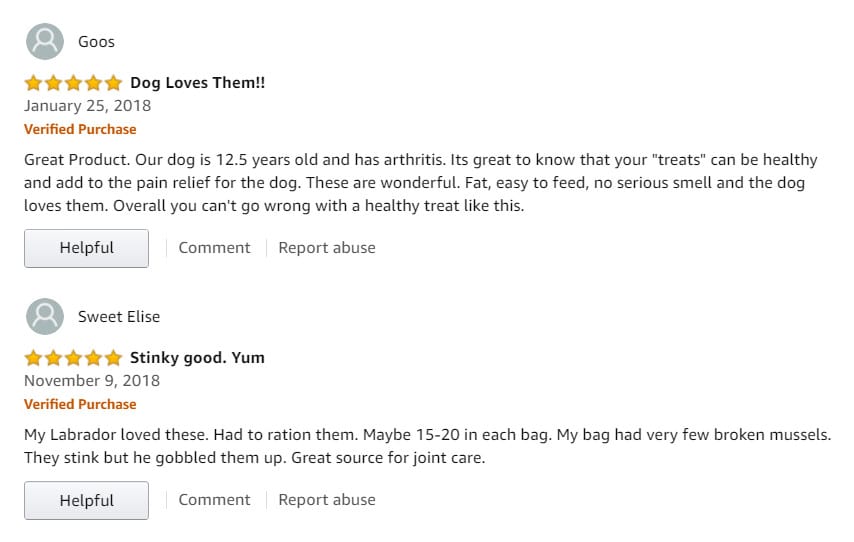 Does Your Tripawd Cat Have Wishes for Fishes?
The Honest Kitchen helps Tripawd kitty Omega 3 wishes come true too! Their "Wishes" fish filet cat (and dog) treats complement the Nice Mussels treats.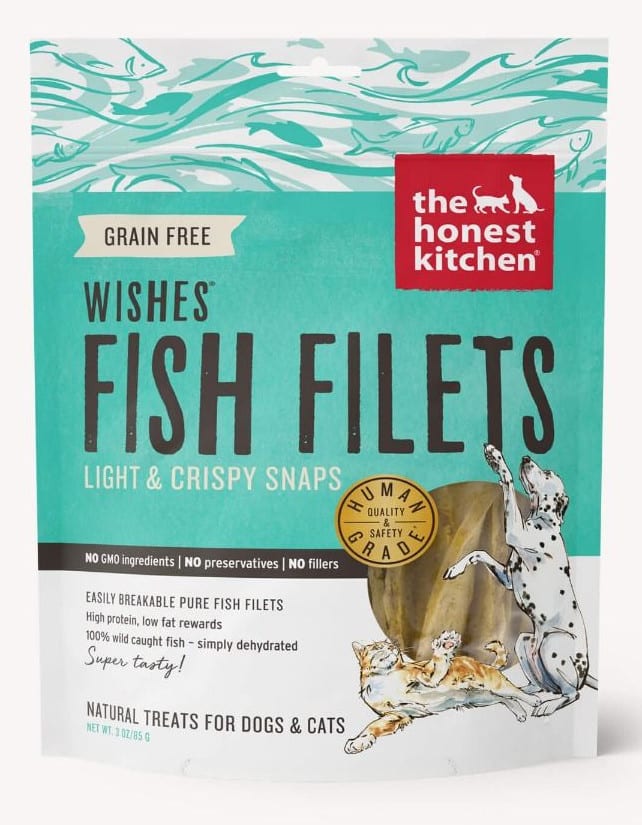 Just One Ingredient: Wild Caught White Fish Skins

Light & Crispy: Easily Breakable For A Custom Sized Treat

High In Protein: Low In Fat

100% Human Grade: Dog And Cat Treats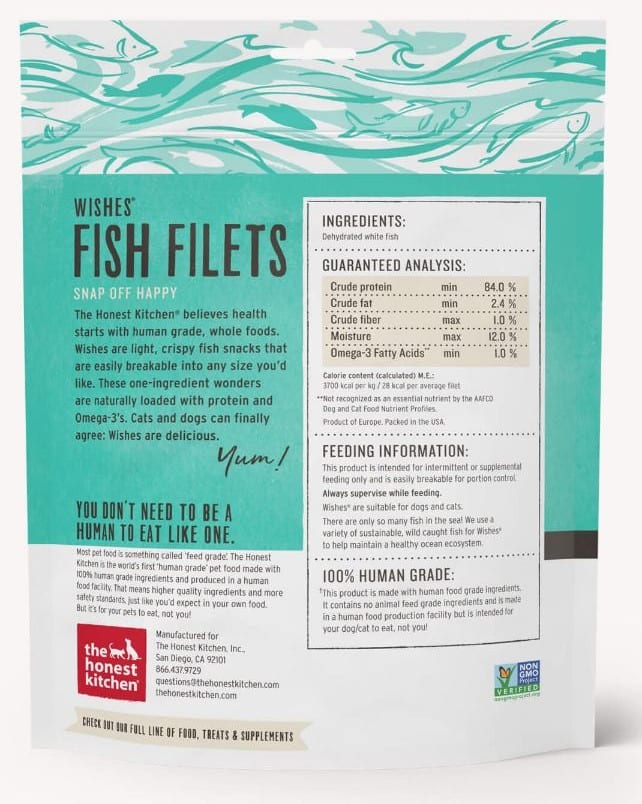 These filets are light, crispy, and perfectly snappable to make smaller morsels for smaller mouths!

Way back, Tripawds Spokesdog Wyatt Ray tried Wishes and loved them. If you give either of these omega-3 treats a try, let us know how your Tripawd likes them in the comments below.
Recommended Reading
Joint Support for Tripawd Cats and Dogs That's Backed by Evidence