Many veterinarians aren't crazy about herbal remedies for pets, and with good reason: most just don't have enough clinical research behind them to justify a recommendation. But what if you could get the best of nutritional herbs for joint support in pets, in an evidence-based product that your vet will love? We think VetriFlex® for cats and dogs might be that product.
Research-backed Nutritional Herbs for Joint Support in Pets inside VetriFlex® Chews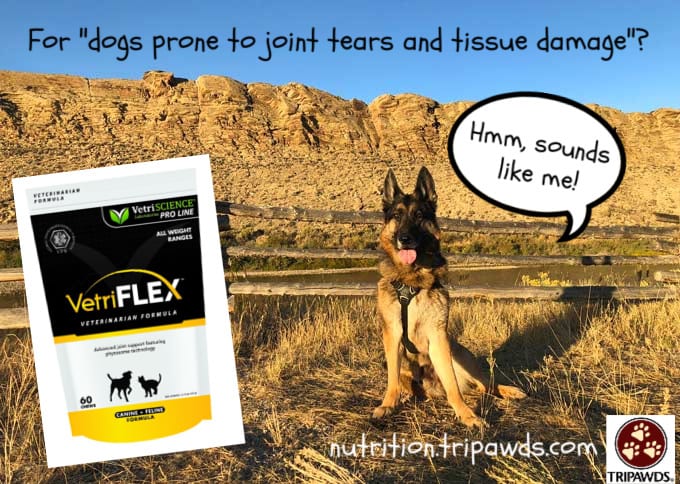 This blog post contains Amazon affiliate links. When you click on one and purchase anything on Amazon, a small portion of the sale goes toward keeping the Tripawds Community online. Thank you!
First, we have to thank Purrkins for introducing us to VetriFlex®, another great product by VetriScience® Laboratories. This company is well-known for being the first to blend integrative therapies with research-based ingredients. For instance, VetriScience was the first company to blend green-lipped mussels— the object of many reputable published studies — into a hip and joint supplement for animal use.
The company's VetriFlex joint support product is part of their VetriPro line that was developed with veterinarians. Here's why vets love it:
Unlike other joint support products that require a "loading dose" for the product to work, this one does not. From the get-go, it starts working to help your Tripawd feel better.
VetriFlex is made with a patented Phytosome™ technology that activates the antioxdant power of curcumin, boswellia and grape seed extract by providing greater bioavailability than standard extracts
Features the clinically proven GlycoFlex® 3 formula plus additional antioxidant herbal extracts
By supporting a healthy inflammatory process, the VetriFLEX® formula provides superior joint comfort to dogs and cats with the most advanced conditions
Who Needs VetriFlex?

Senior dogs and cats in need of advanced joint support
Active and working dogs prone to joint tears and tissue damage
Breeds that are predisposed to joint issues
Dogs and cats with severe joint conditions
That sure sounds like most Tripawd dogs and cats that we know, especially Wyatt Ray now that he has osteoarthritis in the tarsus. We haven't tried it out on him yet, but plan on doing so.
Download a PDF about the evidence and ingredients in VetriFlex
We think you'll like how VetriFlex® helps your Tripawd. If you give it a try, let us know how it works!