You know that big box pharmacies and online pharmacies sell affordable pet prescriptions. But did you know that the difference between human versus pet pharmacies is huge — and could be a matter of life or death for your animal?
What to Know About Human Versus Pet Pharmacies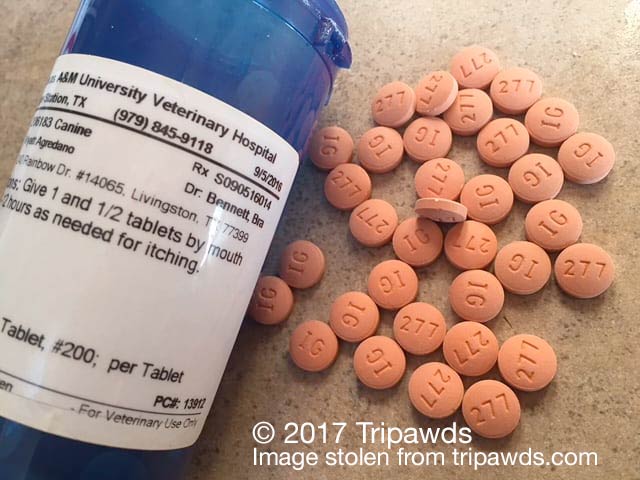 It's a safe bet that your big box store pharmacy staff lacks the same level of veterinary pharmaceutical knowledge found in your vet clinic. If a human pharmacist wants to legitimately become a veterinary pharmacist, they must receive additional training and certifications.
Many pet medications began as human prescriptions. Gabapentin, aka Pfizer's Neurontin®, is one example. But that doesn't mean we can share those drugs. An animal given Neurontin® could die from Xylitol that's included in the liquid form of the human version. Can you guarantee that your pharmacist knows the difference between the two?
The veterinarian Dr. Patty Khuly puts it best in her blog post "Why Human and Veterinary Pharmacies are NOT Created Equal." She tells of a feline renal failure patient who nearly died after a human pharmacy mistakenly put Meloxicam, not Mirtazapine, in the cat's prescription bottle:
After examining the pill and looking it up online (thank you, drugs.com)  it was clear that the pharmacy had given her the wrong medication. It was 7.5 mg, just like the mirtazapine was supposed to be (it even said 7.5 right there on the tablet), but it was decidedly not mirtazapine.

Unfortunately, this was meloxicam, not mirtazapine. Which is a very bad thing indeed. Let me count the ways:

7.5 mg of meloxicam is an appropriate dose for a 150-pound mastiff, not a seven-pound cat.
Meloxicam is only approved for cats as a one-time injectable dose for post-operative pain.
This drug is an NSAID, a class of drugs well known for their potential renal side-effects.
Meloxicam is expressly contraindicated in the case of renal compromise.

In other words, I can't think of a worse pharmacy mistake. Well … maybe I can, but I've never personally treated a patient who experienced one more more potentially catastrophic. (READ MORE).
In their excellent article about buying pet drugs online, The United States Federal Drug Administration even warns against buying pet prescriptions like Meloxicam from human pharmacies and says "NSAIDs should not be purchased on the Internet without a veterinarian's involvement. . . "
That doesn't mean you can't buy from online or human pharmacies. Or that your vet is being greedy and grumpy about losing business to bix box stores. We all love saving money, but when we do we must be extra smart about buying pet prescriptions from anyone but our vet. "I also recommend you look up your pills online to be sure they're what the pharmacy says they are," suggests Dr. Khuly.
Play it Safe with Veterinary Compounding Pharmacies
Our animals are worth so much more than a few dollars we save at human pharmacies. If you want to play it safe, many legitimate veterinary pharmacies offer equally affordable animal prescriptions. Roadrunner Compounding Pharmacy is one. We bought metronomic chemotherapy drugs from Roadrunner for Spirit Jerry, and they were excellent to work with.
When we had the chance to meet Roadrunner staff at the 2016 AAHA Conference, we asked them to explain what veterinary compounding pharmacies do:
A legitimate online veterinary compounding pharmacy like Roadrunner creates customized medication for animals. The AVMA supports compounding veterinary pharmacies and says this service "is needed in veterinary medicine to provide individualized medication for specific patients with special needs not met by FDA-approved drug products." The drug you receive is based on size of the animal, strength of the prescription the veterinarian wants and the form that our animal will tolerate best (pill versus liquid, for example).
Compounding pharmacies can be very affordable and fast too. Roadrunner even offers free express shipping.
We encourage you to talk to your vet about the best places to get your pet's medications. Learn more from this excellent article by the American Veterinary Medical Association, "Prescriptions and Pharmacies: For Pet Owners."
Read More About Human Versus Pet Pharmacies