Store bought dog treats for stuffed dog toys are great time savers. But if you really want to make sure your Tripawd is eating the healthiest foods possible, take a few moments each week to make these healthy dog treat recipes from scratch. Odds are you have most of these ingredients in your pantry.
Healthy Dog Treat Recipes for Stuffed Dog Toys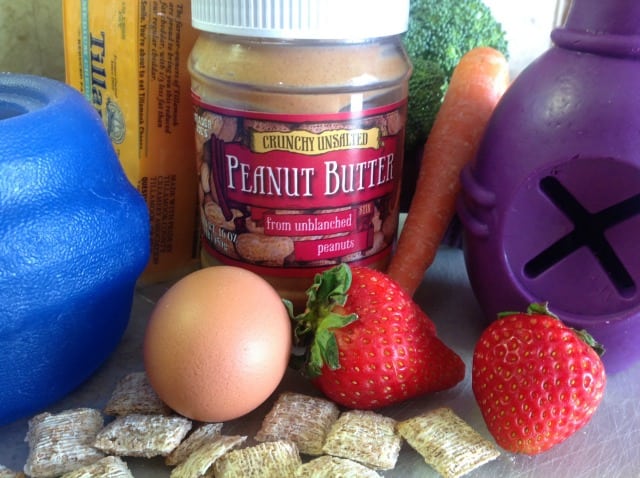 With special thanks to Tripawds member Michelle for sharing these healthy dog treat recipes with us. Many recipes make GREAT appetite stimulants too. Before choosing a recipe, remember:
Use the low-cal versions of high fat ingredients like cream cheese and cereal.
Try to use unsalted peanut butter (dogs don't need salt in their diets!).
When including cat food and table scraps (i.e. steak) in the recipe, use sparingly.
Many recipes are omitted for space considerations, so if you want to view all of them, hop over to this "Hypoallergenic Dog Treats?" Forum topic.
Appetite Boosters for Picky Eaters
Babylicious
Mix together some fat-free cream cheese, peanut butter, and either sugar-free applesauce or a jar of baby food (like bananas, carrots). Cram a solid food item into the small hole at the end of the toy, then fill with the mixture. Seal the large hole with either more cream cheese or peanut butter.
Fruit Kitty Noodles
Mix together some fruit, cooked pasta, banana and dry cat food.
Tantalizers
Cheese. Chicken skin. Bacon. Pate. Cooked lamb's liver. Meaty canned cat food. – Use very sparingly and make sure this treat blocks the top hole so that none of your other ingredients fall out.
Fiber Treats for Upset Bellies and Constipated Colons
Doggie Omelette
Combine a scrambled egg, some beef, yogurt, cheese and steamed or mashed potatoes all together.
Fiber Crunch
Combine bran cereal with some peanut butter.
The Monster Mash
Steam a sweet potato, then mash. Mix with crushed dog biscuits. Stuff into toy.
Pumpkin Pie
Pureed pumpkin. Tahini paste (or peanut butter). Mix together the pureed pumpkin and tahini paste and fill the toy. Serve straight away or freeze for later.
Tum-Ease
Cold boiled white rice. About a dessert spoon of natural bio-yogurt. Mix and mash the rice and yogurt together and fill the toy. Serve straight away or freeze for later.
Super Healthy Veggie and Fruit Treats
Apple Pie
Squeeze a small piece of apple into the tiny hole. Fill the stuffed toy with a small amount of plain yogurt. Add a few slices of mashed banana, more apple, yogurt, banana. End with a slice of banana and chunk of peanut butter on the top.
Crunch N Munch
Combine crumbled rice cakes and dried fruit with some cream cheese and plain croutons.
Fruit Salad
Place apples and carrot chunks into a toy. Mush one quarter banana in large hole to hold fruit in place. You can include other fruits and veggies: orange slices, peach and/or nectarine chunks, celery sticks, broccoli and/or cauliflower. . .
Nut Crunch
Take 2-3 dog biscuits and crunch them a bit into very tiny bite-sized pieces. Add a couple spoonfuls of peanut butter. Then add a couple spoonfuls of plain yogurt. Mix in bowl until soft, but not runny. Stuff inside toy.
Peanutty Pupcicles
1 ripe banana. 1/2 cup peanut butter. 1/4 cup wheat germ. 1/4 cup chopped peanuts. Mash bananas and peanut butter, stir in wheat germ. Chill 1 hour. Place in toy, store in refrigerator or freezer.
Poochie Pudding
Whole milk yogurt, plain or vanilla. 1 banana. 1 peach or nectarine (peeled). Strawberries or 1 apple (whichever the dog likes). 1 dog biscuit (bone-shaped). Mash the banana and the peach/nectarine (or put in blender). Slice the apple or strawberries into smallish chunks. Push a chunk of fruit into the bottom hole of the toy to stop leaking. Mix the banana, peach/nectarine, apple chunks or strawberries into the yogurt, then pour the mixture into the toy. Push the biscuit into the large end of the toy. Freeze for about 3-4 hours or until consistency of frozen yogurt. Can also be served unfrozen, for impatient dogs.
Puppy Trail
Fill the toy with some cashews (unsalted) and freeze-dried liver bits. Add some dry dog food and/or dog crushed dog biscuits and some Cheerios. Drop in a spoonful of peanut butter, followed by some dried fruit (NOT raisins, sultanas or currants, these are toxic to dogs). Finally, top it off by using a piece of ravioli or tortellini to close the large opening.
Veggie Omlette
Scramble one egg and fold in vegetables your dog may like. Put into toy. Sprinkle some shredded cheese over the top and microwave for about 20 seconds. Cool thoroughly before giving to dog.
 Everyday Boredom Buster Treats
The Cheesy Elvis
Combine a ripe banana, 3 spoonfuls of peanut butter, and a slice of cheese. Mix until blended well. Fill the toy and freeze.
Egg-Ceedingly Tasty
1 scrambled egg. 1 chopped Frankfurter or hot-dog sausage. Boiled white rice. Mash the scrambled egg and rice together in a bowl and then mix in the chopped sausage. Fill the toy, using a chunk of sausage to plug the end.
Gooey Cheerios
Combine cheerios and peanut butter. Freeze.
Mac N Cheese
Melt leftover macaroni and cheese in microwave until gooey. Add to toy. Pour one small cube of heated cheese into the toy. Make sure it has cooled before giving to your pet.
Meaty Treat
A portion of your dog's normal kibble. About a teaspoon of meat paste. A chunk of banana (about an inch thick). Half fill the toy with kibble, and then add the meat paste. Using the handle of the spoon, mix the meat paste into the kibble. Add some more kibble, packing it in well, and then plug the large opening with the banana.
Peanut Butter Glue
Fill stuffed dog toy 1/3rd full of dog food. Pour in melted peanut butter (after it has cooled from microwaving). Add more dog food, followed by more melted peanut butter until the toy is full. Freeze until solid.
Philly Steak
Steak scraps. 1 ounce cream cheese. Place small scraps of the steak inside toy. Spread cream cheese in large hole to hold scraps.
Rock-Hard Kibble
Combine some of your dog's regular food with cream cheese, which acts as a cement, keeping everything inside.
Sticky Bread
Smear peanut butter on a piece of bread. Fold it over and stuff inside the stuffed toy. Mix together plain yogurt with some fruits or vegetables (carrots, celery) and pour inside. Freeze. The yogurt sticks to the bread holding everything together.
More Healthy Dog Treat Recipes
Do you have a favorite treat recipe you'd like to share with the Tripawds community? Contact us and we'll feature it here!