Hey Tripawds! We're getting ready for National Pet Obesity Awareness Day on Wednesday, October 12. What better way to do it than share Patchy the Tripawd Saint Bernard's favorite home cooking recipe!
Grain Free Dog Food Recipe for Large and Small Breeds Alike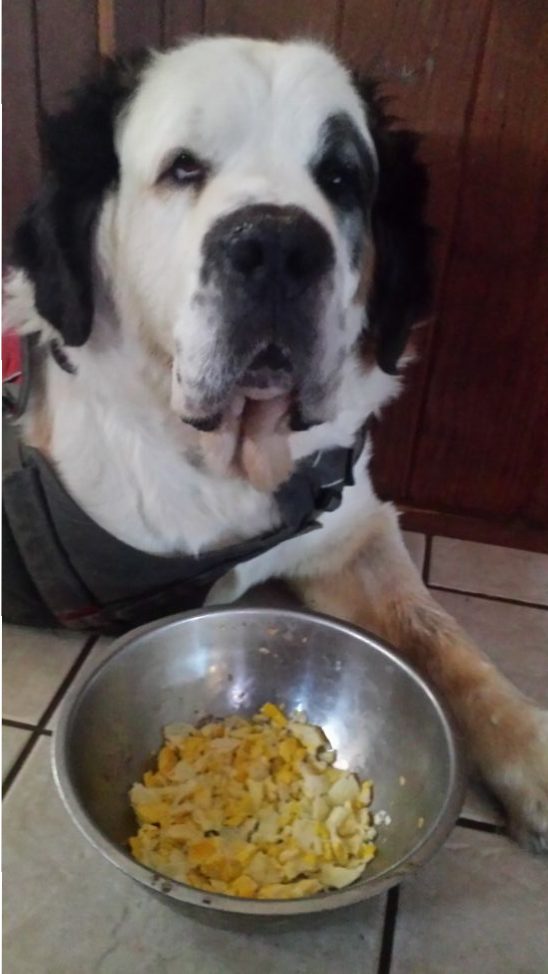 If you think home cooking for a large breed dog is impawsible, think again. Summer regularly cooks for her pack of three Saints, one English Bulldog and one Miniature Pincher!
Summer was kind enough to share Patchy's favorite grain free dog food recipe, Chuppy Pow. She makes this recipe using quinoa because quinoa is not a grain, believe it or not. It's a seed!
"We make another version for everyone else made with brown rice and barley instead of quinoa," says Summer. "We make another version for everyone else made with brown rice and barley instead of quinoa. Quinoa is so expensive which is unfortunate as we would love to have them all on that.
The recipe is the same we have to make a huge pot for everyone else so everything is pretty much tripled as far as what goes in and we usually use 10 lbs of chicken. This lasts us for about a week for everyone."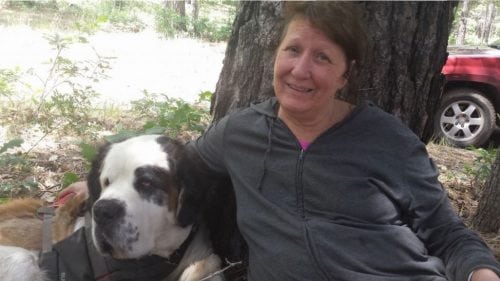 Homemade Grain Free Chuppy Pow
(Patchy's food)
What you will need: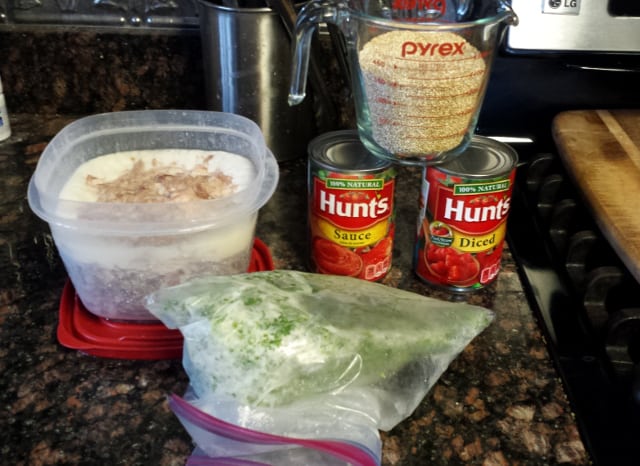 Pre – cooked chicken, beef roast or pork roast (patchy's favorite is pork)
1, 16 oz can tomato sauce
1, 16 oz can dices tomatoes
Combination of fresh veggies such as (broccoli, cauliflower, green beans, spinach etc.) grated fine in a food processor or Ninja
2 cups Quinoa
Olive Oil about 3 tbsp
Iodized Sea Salt about 2 tbsp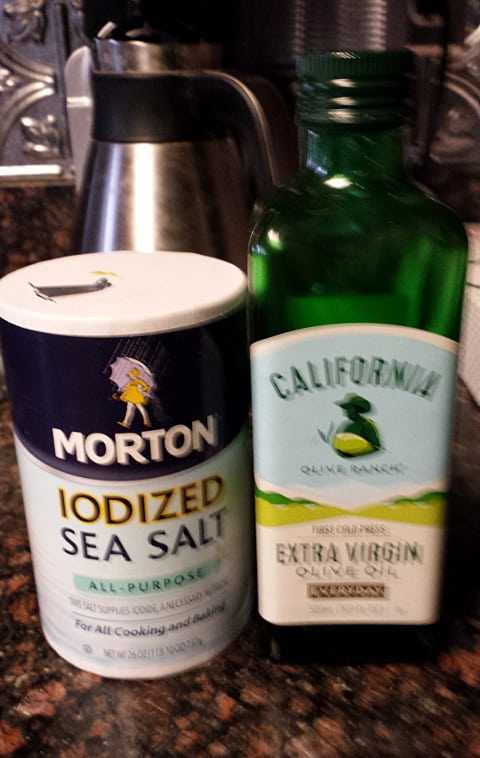 Prepare the Meal
In a large pan combine all ingredients except the fresh veggies. Add enough water to nearly fill the pan.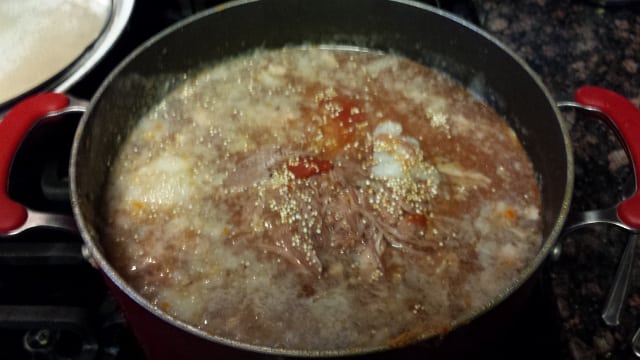 Cover and simmer on low for about 30 – 45 minutes.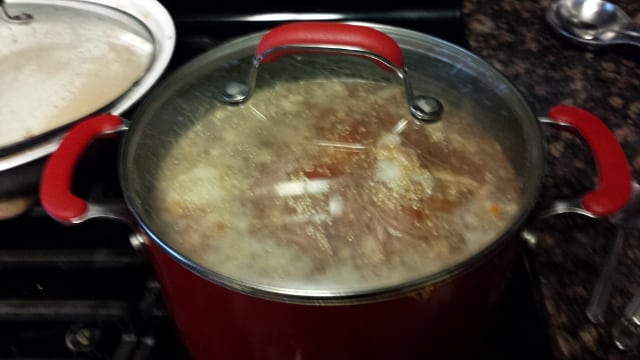 Cook until quinoa is done (quinoa is done when you see small white rings around the seed).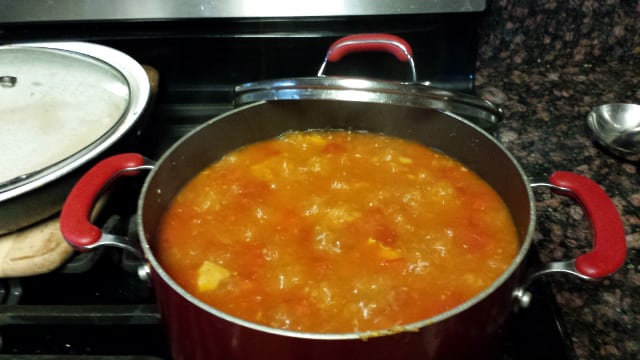 Once the quinoa is done add the fresh vegies that have been grated in a food processor to the pan.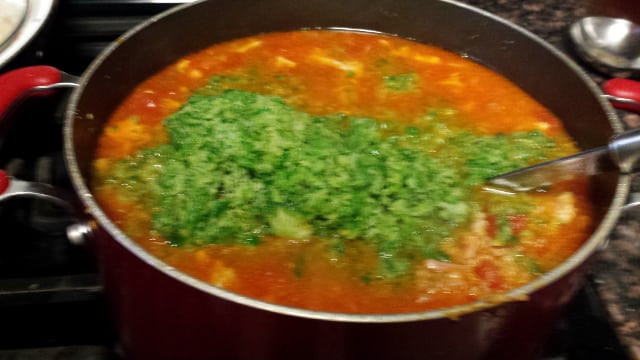 Allow to cook on low for about 15 more minutes.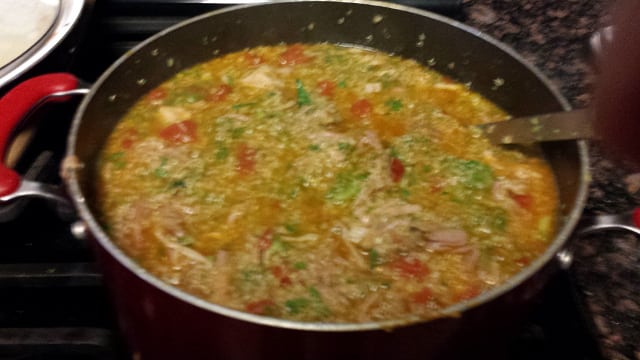 This makes a large pot with enough Chuppy Pow for a large pup for about 4 days.
As Patchy continues kicking butt over cancer and getting ready to celebrate his seven month ampuversary, one can't help but think that healthy, wholesome foods are contributing to his victory.
If you'd like to try home cooking for your Tripawd hero with or without cancer, first work with your vet to ensure you're coming up with all the right ingredients for good health.
More Tripawds Home Cooking Recipes
Rio's Healthy Soup for Dogs Recipe
High Protien Low Fat Dog Food Recipe from The Canine Ancestral Diet
Easy Grain-Free Salmon Treats Recipe for Tripawd Cats and Dogs
Jasper's Jazzy Healthy Dog Cake Recipe
Grain-Free Peanut Butter Apple Cake Recipe for Healthy Dogs
Spirit Tika's Omega-3 Salmon Treat Recipe
The Oaktown Pack Dog Treat Recipe
Healthy Treat Recipe for Cancer Dogs
Is Home Cooking for Pets Worth The Effort?
Save
Save
Save