Any surgery takes nutrients away from the body. And when an already weakened cat or dog has a leg amputated, they need all the help they can get to bounce back faster. There's a new amputation recovery supplement that can help them do that. Tripawds member Kerren and TriKitty Mona recently posted in the Tripawds Eating Healthy Forum to tell us about Viyo, a supplement packed with nutrients for recovering cats and dogs.
Get Well Sooner with this Amputation Recovery Supplement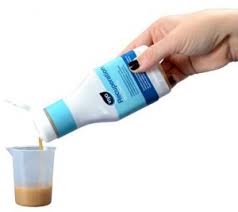 Here's what Kerren told us about Viyo Recuperation:
The product was developed by veterinarians to provide cats and dogs with all essential nutrients in a palatable drink. Some vets recommend it for pets who refuse to eat after surgery, when antibiotics cause tummy problems, etc.

I see there are good reviews on Amazon.com but then that's not always the best resource. I'm not one who is big on supplements but have been discussing this product with a friend whose dog may have surgery and tends not to eat well at the best of times.
The more we read when Kerren posted Viyo ingredients information, the more we realized it's a great way to help your Tripawd get well faster. Check out this synopsis of the Viyo amputation recovery supplement as shared on the Viyo website.
What

is Viyo Recuperation?

"Viyo Recuperation is a new product and product category for veterinary clinics. It is a breakthrough in recuperation therapy of post-surgery, debilitated and weakened cats and dogs of all ages, helping them to get back in optimal health during their 14 days recuperation period. It is not replacing any product currently being used on the market.

Viyo Recuperation is a highly palatable and low calorie recuperation fluid. It contains all essential nutrients (vitamins, minerals, amino acids and fatty acids) and can be classified as the most complete, 100% natural, nutraceutical on the market without any artificial colorant or preservatives added."

What we really like about it is that Viyo Recuperation was developed and endorsed by vets, including Colorado State University small animal veterinarians, Drs. David Twedt and Dr. Michael Lappin.

Viyo is given with meals during the most critical time after surgery, the 14 days following a procedure.  It helps the body bounce back with a formula containing all essential nutrients (vitamins, minerals, amino acids and fatty acids). Pets receiving it also get an extra whallop of nutrients important for recuperation:
glutamine
arginine
taurine
omega 6 & 3 fatty acids.

Viyo also has a prebiotic component (inulin and fructooligosaccharides to support the gut health and immune functioning).
Safe for any age cat or dog.
Can give with all types of diets, including therapeutic diets.
And of course, it's an ideal way to help your Tripawd bounce back from any chemotherapy side effects they might be encountering. If you decide to give it a try, let us know how it works for your three-legged hero. We're always interested in learning about others' experiences with great amputation recovery supplement products like this.
Save