Tripawd cats are so spry, it seems there's nothing they can't do after amputation recovery. Unfortunately, just like dogs, three-legged cats are at great risk of joint pain and arthritis caused by over-compensating for their missing limb.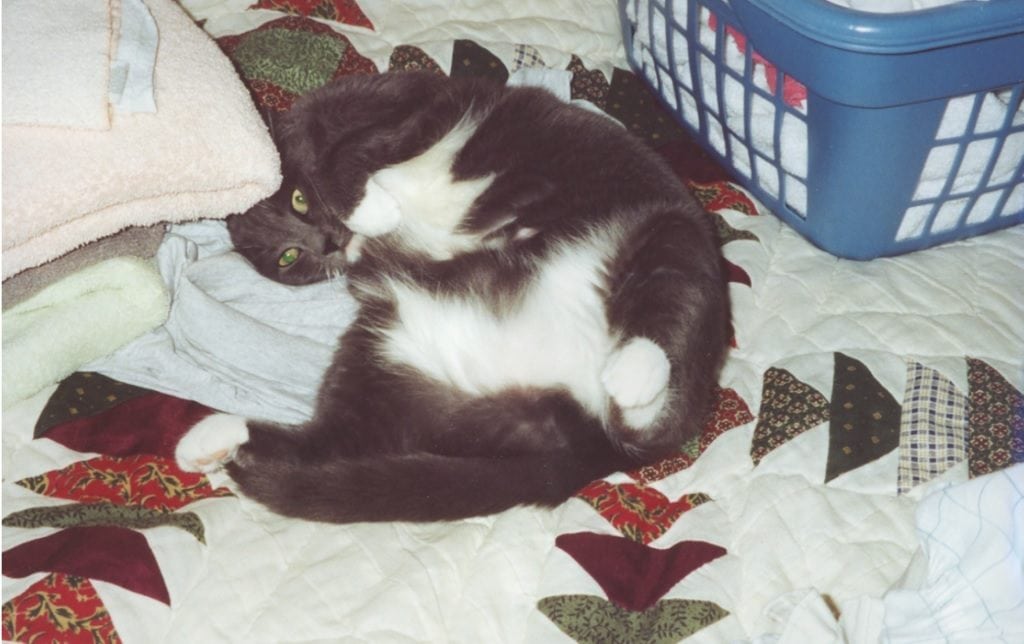 "Icee is missing her right front leg and the left front seems to be "stiffer" than I remember . . . We always laughed at how Icee looked like my grandmother walking but now it is really evident." – Let's Talk Tripawd Cats, Dogs and Rehab Therapy with Dr. Kennedy
When arthritis strikes, cats are so good at hiding their pain you probably won't see it coming until it's too late. The good news is, you can do something now to lessen the risk of arthritis in your Tripawd cat. And it all starts with one tasty treat.
This post is sponsored by VetriScience Laboratories, makers of Glyco FLEX 
Read on for a chance to win one free bag of veterinarian formulated Glyco FLEX joint support supplement for cats!
Caring for a Cat with Arthritis

The non-profit International Cat Care has a helpful article called "Arthritis and degenerative joint disease in cats." Some tips to manage arthritis in cats include:
"Several dietary supplements and diets are available for cats with arthritis. They usually contain combinations of essential fatty acids (EFAs) that are designed to reduce inflammation, and glycosaminoglycans (such as glucosamine and chondroitin) that are the 'building blocks' of the cartilage in the joint and designed to improve cartilage quality." read more
One of the most clinically proven cat arthritis supplements available is GlycoFLEX Plus.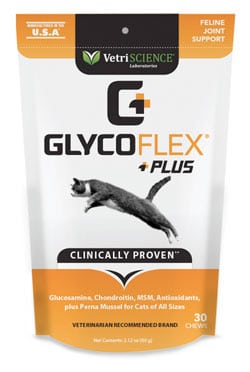 Made by VetriScience® Laboratories, Glyco FLEX® Plus is a fish flavored chew for cats of all ages. It keeps your cats jumping with powerful ingredients that:
help cushion joints
promote cartilage building
alleviate discomfort cause by normal daily activities
Win GlycoFLEX Plus Joint Support Supplement for Cats
What makes GlycoFLEX Plus stand out from other feline joint support products is it contains Perna Canaliculus (GlycOmega™ brand Green-Lipped Mussel), glucosamine, MSM, chondroitin, DMG, vitamin C and antioxidants to support joint comfort, structure and function.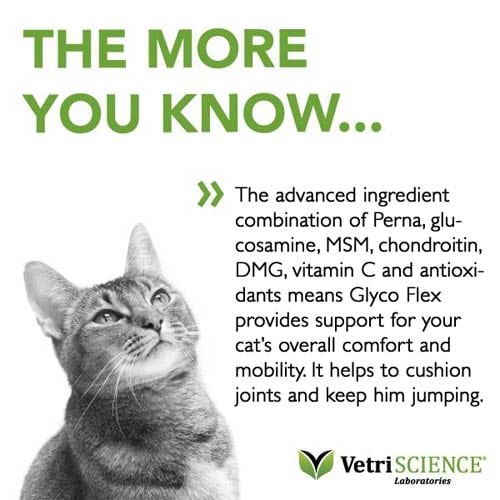 The folks at VetriScience know that Tripawds need extra support, which is why they want to share this great product with our feline community. Visit VetriScience to learn more about this feline joint health supplement.
Now, if you'd like to win a free bag of GlycoFLEX Plus for your Tripawd cat, this is your opportunity! Please follow our giveaway instructions to enter.
HOW TO ENTER THE GlycoFLEX Plus GIVEAWAY:
1. Enter name and email in the Giveaway box below.
2. Click Begin to reveal mandatory question.
3. Enter your name and click Submit.
4. LEAVE COMMENT WITH ANSWER!
Enter every day if you'd like! We'll pick one winner at random from all blog comments below on September 22 and notify by email.
Meanwhile check out this great video about arthritis in cats: