Yunnan baiyao, also referred to as yunnan paiyao, is one Chinese herb that should be in every human and dog's first aid kit to help stop bleeding.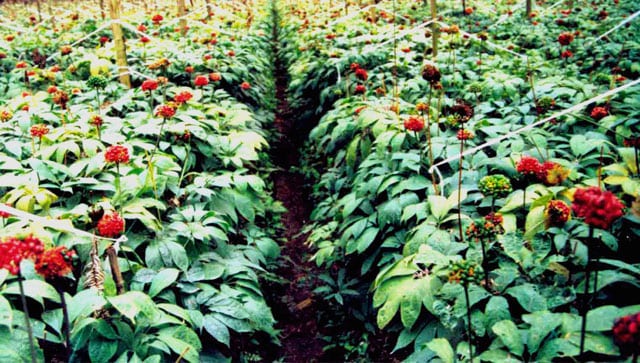 We became aware of this inexpensive, powerful hemostatic powder from Tripawds members fighting hemangiosarcoma, an internal cancer that carries a risk of sudden, severe organ bleeding. Yunnan Baiyao has been used in China since about 1900. But this anti-bleeding herb only recently came into use in Western Countries when American soldiers discovered its powerful effects while fighting the Vietnam war.
Yunnan Baiyao Benefits
decreases / stops bleeding
safe for dogs and cats
painless to apply
inexpensive
Yunnan Baiyao supplements slow or stop bleeding through a combination of components that include "various yam roots, ox gall bladder, pseudoginseng, sweet geranium, and more," according to Dr. Lena McCullough of A Path with Paws. Although not even workers in the factory where its made know what's in the secret yunnan baiyao recipe, veterinary researchers believe its tiny red capsules are safe enough to be given every other day.
Be aware that like all Chinese medicinal products, Yunnan Baiyao carries a risk of being produced with inferior ingredients, uneven quality and unregulated production processes. Always ask your holistic veterinarian for the best buying sources.
Yunnan Baiyao Dosages and More Details
To read more about yunnan baiyao and animals, check out these detailed articles:
Yunnan Paiyao PDF report by Colorado State University's Dr. Narda G. Robinson, DO, DVM, MS
Veterinary Place: Yunnan Baiyao For Dogs (includes dosage tips)
DoseMyPet.com: Yunnan Baiyao Dosage for Dogs
The Dog Cancer Vet: Chinese Herb for Bleeding Dog Cancers
A Path with Paws: A magic vial of Yunnan Paiyao
Find more Yunnan Baiyao based supplements and user reviews on Amazon.
DISCLAIMER: The information contained here is intended as education/information only. It is not intended to replace the advice of your veterinarian. Please use your own good judgment and always discuss any DIY treatments for your pet with your veterinary team.