A few weeks ago, the Freshpet food company sent us a sample of yummy Dog Nation Turkey Bacon Treats for dogs. Tripawds Spokespup Wyatt Ray was so impressed with the fresh bacon-y taste, he wants to make sure you know about this new company's premium pet foods found in your supermarket's refrigerated section.
Most of us like the thought of feeding our dogs the same quality of foods that we eat, but how many of us have our act together enough to actually keep fresh, wholesome foods and treats on hand for our pups?
Freshpet makes it easy to ensure our fridge is stuffed with the best food for our canine family members.
From a variety of refrigerated meals free of preservatives, corn, wheat and nasty by-products, to healthy meat-based treats with minimal processing, Freshpet's USA-made ingredients are so pure and high-quality they must be refrigerated to preserve their freshness.
The Freshpet real turkey bacon dog treats contain just six ingredients, beginning with turkey. Take a look at the leading bacon-flavored dog treat and you'll see that real meat barely makes it into the top 10 of ingredients!
Freshpet is ideal for pet pawents who want to feed their pets premium, real foods but are too busy or uncertain about making it at home.
What makes Freshpet foods stand out from other companies is that their poultry, beef and fish ingredients are sourced from USDA registered suppliers who follow all USDA regulations for safe handling. Freshpet foods don't contain any preservatives and no Freshpet ingredients come from China!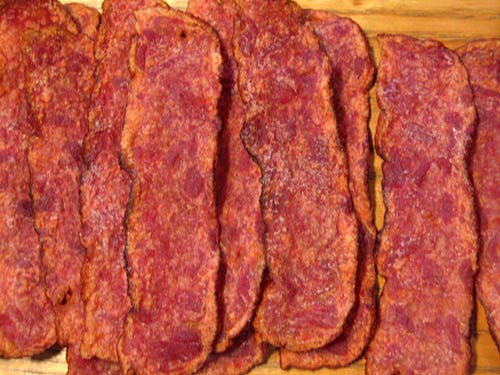 One of the outstanding qualities about the Freshpet company is their upfront disclosure of everything that's contained in their recipes. All Freshpet foods are:
meat-based with vitamin-rich fruits and vegetables
refrigerated for freshness, just like fresh human foods
preservative-free
do not contain corn, wheat, by-products or fillers
Although some Freshpet foods do contain colon-friendly high-quality grains like brown rice, oats and barley, the company also has a line of grain-free recipes called "Vital."
You'll easily find Freshpet foods including Freshpet Select and Dog Joy, in many local grocery and mass-market stores. Look for Freshpet premium brands, Fresh, Vital and Dog Nation at high-end pet food stores near you.