Ask any veterinarian the survival times dogs with osteosarcoma and they'll tell you: about four months without chemotherapy, one year with.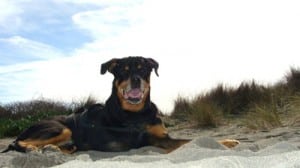 But oftentimes our Tripawd heroes will blow those numbers out of the water. Thus, we like to say here, "Nine out of ten statistics are wrong!"
Here's one story about Sam, a three year osteosarcoma survivor in Northern California who proves median dog cancer survival times don't always predict  a dog's fate.
Rottweiler Sam: A Three Year Osteosarcoma Survivor
Sam has always been an active dog. His Dad Keith says, "I took this wonderful dog to every dog park, hiking trail, lake and redwood grove in the area. We walked…ran….jumped….swam and chased every deer, wild turkey and boar we could run into.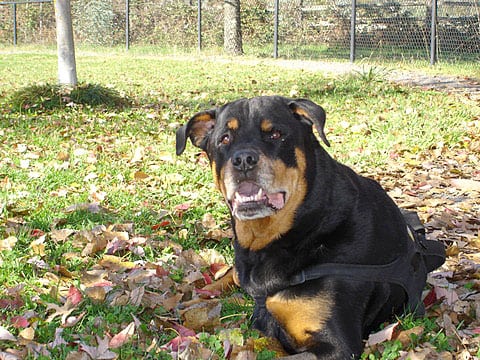 He was my best friend and he knew it."
Then, one Sunday morning while playing at the local dog park, Keith heard a horrific yelp from Sam. He had fractured his leg while playing with other dogs.
"I still remember how he looked at me when his leg was dangling from his body," Keith says.
Later, the phone call from the vet would bring tears to Keith's eyes as he learned what Sam had: Osteosarcoma.
"That's when the battle began," said Keith. "I was going to do everything I could to help him." Sam's created a cancer-fighting routine that revolved around:
Sam's Chinese Herb Cancer Therapy
Many Tripawds have incorporated Chinese herb therapies into their cancer-fighting strategies. While some turn to K9 Immunity or Power Mushrooms, which are based on ancient Chinese healing herb protocols, others work directly with holistic doctors who custom tailor therapies for the patient.
In Sam's case, his doctor prescribed Di Gu Pi
— a Chinese herb otherwise known as Lycium Bark.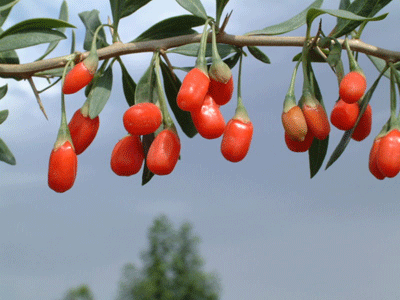 Di Gu Pi
is a Chinese herb that is a derivitave of lythcium bark. According to one manufacturer;
"The red berry ripens in the autumn and is used as a food and medicine. The young leaf is edible and can be cooked in soups as a bitter green. The fruit is used raw or cooked in soups etc or dried for later use. It is sweet with an aniseed-like flavour.
The fruit is a berry about 25mm in diameter. Only the fully ripe fruits should be eaten. Chinese boxthorn is a major Chinese tonic herb with a history of almost 2,000 years of medicinal use.
Both the berries and the root are used and traditionally the plant is believed to promote long life. The fruit is one of the most popular tonics used in Chinese herbal medicine.
A decoction is used to clear the vision, strengthen the kidneys, restore semen and nourish the liver. The fruit protects the liver from damage caused by exposure to toxins. It is also used in the treatment of diabetes mellitus, vertigo, nocturnal emissions and aching back and legs.
As recommended by Dr. Chretin in our recent veterinary oncologist interview on Tripawd Talk Radio, always consult with a Certified Holistic Veterinary Medical Professional when considering any natural supplements for your dog.
The root bark is antibacterial, antipyretic, hepatic, hypoglycaemic and vasodilator. It stimulates the parasympathetic nervous system, which controls involuntary bodily functions such as digestive secretions. The root is used in the treatment of pulmonary tuberculosis and pneumonia in small children, chronic febrile disease, night sweats, cough and asthma, tuberculosis, hypertension and diabetes mellitus. The root bark contains betaine. This can increase the rate of growth of farm animals and increase the weight and amount of eggs, it is used in the treatment of achlorhydria, atherosclerosis and hepatic diseases."
Sam and Keith; Living a Dog's Life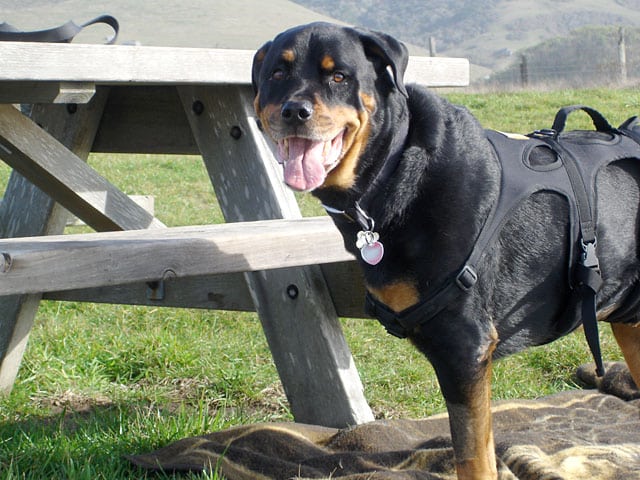 Three years after starting this Chinese herb regimen, Keith says Sam is still going strong. We have to agree that Sam looks fantastic.
Meanwhile Keith says that he and Sam are living each day to the fullest. "I have taken off working just to spend time with my dog," he says, "and I am now happily unemployed spending my days living a dogs life."
Please note: Information provided here is not a substitute for medical care by your personally selected, qualified veterinary professional. Always seek the advice of a licensed veterinarian prior to making any medical decisions or undergoing treatments or therapies, or if you have questions about your dog's health.