Tripawds Spokesdawg Wyatt Ray will eat anything. But while his taste buds may approve of whatever goes down, oftentimes his intestines disagree. Thank Dog for Honest Kitchen.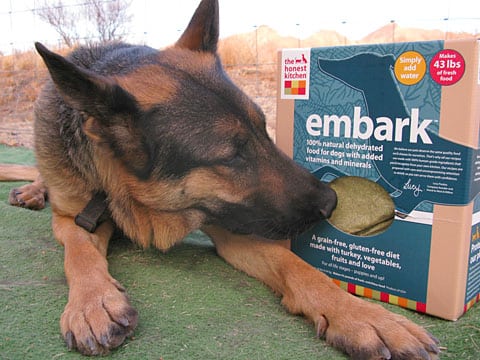 Maggie the Agile Cow Dog is a big fan of Honest Kitchen's human-grade, dehydrated dog food. She wants to let other Tripawds know about the company's highly-rated premium dehydrated dog food formulas: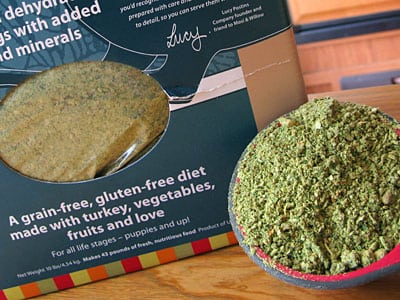 Maggie contacted Honest Kitchen to tell them about her fellow Tripawds. To our surprise, Honest Kitchen sent some samples for Wyatt to try.
Not only that, they offered to let us give away free samples to Tripawds Nutrition blog readers too!
Read on for details about how to get your free Honest Kitchen dog food samples!
Will Embark Work for Sensitive Wyatt?
Wyatt's feeding routine is always a juggling act of homebrew dog food, premium grain-free kibble and occasional raw meat and bones.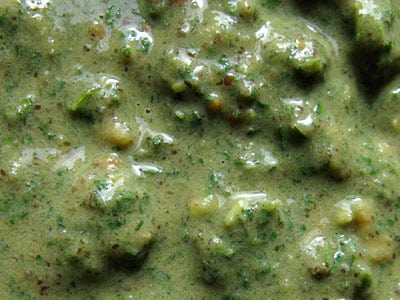 Whenever we change his routine (which is recommended to prevent allergies from over-exposure to specific ingredients), we're always nervous about how new foods will affect his system. Oftentimes we'll all pay the price for many days after introducing a new ingredient.
We already knew about Honest Kitchen's high quality, human grade ingredients when we fed it to Spirit Jerry once his appetite waned while battling cancer, but feeding it to Mr. Sensitive Belly was really going to put it to the test.
We wanted to know: would Honest Kitchen live up to its promises? The company says that:
"72% of Honest Kitchen customers report that their pets enjoy improved digestion when they consume Honest Kitchen products."
Wyatt Has His Say
Wyatt couldn't keep his paws off the box, he could smell the goodness before he even opened it. There was no doubt: he knew it was good stuff.
Even the experts agree that Honest Kitchen lives up to its promises:
All ingredients are chosen directly from the human food chain
humans actually taste every ingredient that goes into our recipes, as part of our product development process
every lot of raw ingredients is certified to be clear of salmonella, E-coli, coliform, lead, arsenic, mercury, melamine, yeast and mold & pesticide residues  Learn more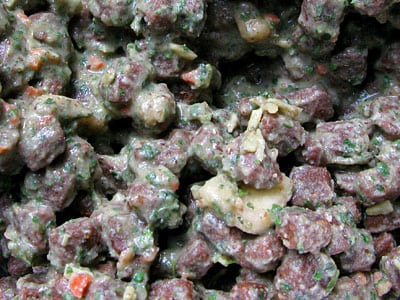 After one week of adding "Embark" to Wyatt's feeding routine, we're hoppy to report that he has had no digestion problems whatsoever. His waste is bouncy and firm and no other signs of gastrointestinal or allergic reactions have appeared.
We're truly impressed with Honest Kitchen's food. If it was going to upset Wyatt's stomach, we would have known it by now.
What a relief to find a high quality food that works for him. Now we can't wait to try Honest Kitchen's other sample of Zeal, a grain and gluten-free, fish-based formula made for moderately active dogs with sensitive stomachs.
Your Tripawd Can Try Honest Kitchen for Free!
Honest Kitchen is giving away free samples to the first 100 readers who can finish this sentence:
"My Tripawd needs to try a new dog food because…"
Post your comment below. Then, we'll send you details about how to get your free sample.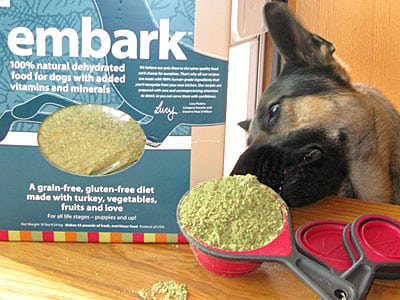 If you have already tried Honest Kitchen, please be sure share your experience too. And if you can't wait, check out all the Honest Kitchen dog foods at Only Natural Pet Store!
UPDATE: Free samples of Honest Kitchen Love are now available instead of Embark, thanks to all who have commented here.