Love life. Live clean. Ya just gotta love that tag line for EO Products, a leading manufacturer of responsible, sustainable and authentic personal care products since 1995.
While the foundation of a healthy coat and skin for any dog is a high quality pet diet, we strongly recommend all natural products when it comes to bath time.
Now you have the chance to try the new EO Pet Care Products for free!
EO Products Dog Model Contest and Product Giveaway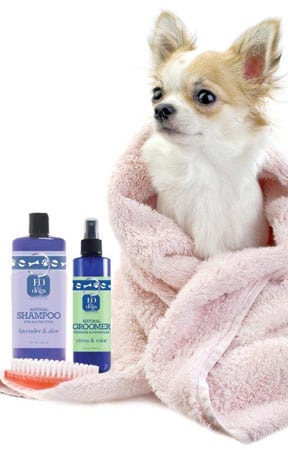 To help promote their new line of natural and organic pet products, EO is hosting a Dog Model Contest from Feb. 22 through March 8. Five winning dogs will be selected to receive a full set of EO's pet care products (value $27.95). Winning dogs will also have their images used to help promote the pet care line on EO's website, Facebook page, newsletter and possibly product labels.
To enter, pet owners must fill out a registration form on EO's website and upload a photo of their pet to EO's Facebook page (owners can be in the photos too).
Register to win EO Pet Products.
Upload photo of your Pet.
Winners will be asked to send back a photo of their pet with EO's shampoo for promotion on the EO website. And videos of the winning dogs being shampooed with EO would be an added bonus (personally, I'd love to see those videos!)
"As pet lovers, we feel the standards for most pet products are well below that of humans, and that's not right! With EO's new Pet Care line, your animals can enjoy the same brand of high-quality, chemical-free products that you choose for yourself." ~ Brad Black, CEO, EO Products
EO Pet Care products are free of parabens, polysorbate, disodium EDTA, phosphates, animal bi-products, synthetic fragrances and sulfates. The bottles are made from 100 percent post-consumer recycled plastic.
Please visit EO's Dog Model Contest registration page for more information.
NOTE: Tripawds has no affiliate partnership with EO Products. Please shop the EO Amazon Store to help support this community!
EO Contest Ended March 8, 2011.