The following guest blog post was kindly submitted by the pawrents of Codie Rae, Travis Ray and Smokey B from Oakland, CA. If you want to share your Tripawds Nutrition Tips with us, please contact us today!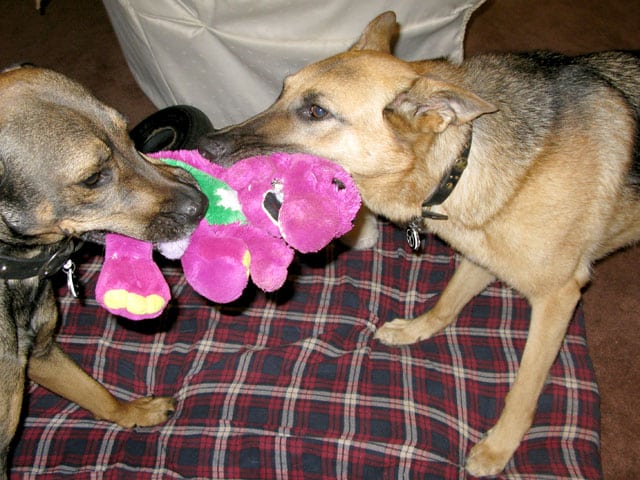 We used to feed dry kibble to our dawgs. Then Smokey bloated nine times in about eight months. We researched how to prevent bloat and maintain good nutrition. Our vet recommended a basic mixture of equal parts meat, root vegetables and greens. He especially espoused the virtues of kale. I did some research on the important elements of dog food and the following recipe has evolved.
The Oaktown Pack's Homebrew Diet

I cook the food in a 24 quart stock pot
that gets filled to almost the top, and freeze the food in one-quart cottage cheese containers after it is cooked up.
This recipe starts with:
Root Veggies
seven to eight pounds of peeled and sliced sweet potatoes
four pounds of peeled carrots
two pounds of peeled and sliced rutabaga.
I still am not sure the peeling of the root veggies is necessary, or beneficial, but it is classic French technique. I add these to the pot along with a quart of water and cook the mixture covered for at least one hour. My research indicates that you cannot overcook the root vegetables, and they must be thoroughly cooked to be digested by the dawgs.
Near the end of the hour I add about a tablespoon of salt for nutritional reasons.
Dogs need very little salt in their diets, but they do need small amounts for good health. I then mash the mixture with a potato masher to further break it down.
Prepare Green Veggies
While the root veggies are cooking I use a food processor to prepare the greens. Usually I use:
I add enough water to the processor to help things along. This can be up to a couple of quarts of water. Set aside.
Add the Meat to the Pot

When the root veggies are fully cooked (totally mushy, and at least one hour of cooking) I add:
six pounds of ground turkey
three pounds of ground beef
one pound of processed chicken liver*
*Run the chicken liver in the food processor first with a bit of water to help it be totally blended.
Add these ingredients to the pot and cook it until it reaches at least 180 degrees F
. I have noticed digestive tract problems if I don't get meat up to the temperature. (According to the raw diet people this makes no sense, but we have had problems.)
Add Greens to Meat and Root Veggies

After the mixture reaches this temp I add the greens mix. I then use a stick blender to blend everything together.
Make White Rice
After the greens are added to the big pot, in a separate pot I add six cups of white rice to one gallon of water and begin cooking it.
Once the big pot with the main ingredients starts bubbling, I turn it off and leave the lid on until the rice has cooked. I do not wait for the rice to completely absorb all the water so I still have a soupy mix that prevents clumping of the rice.
A Note About White Rice Versus Brown Rice:
Think of the white rice as a digestive tract stabilizer. At one point we did not use it and we would have some problems. White rice is an inexpensive GI stabilizer. We tried brown rice, but it requires extensive cooking to make it digestible, and was passing through like an indigestible rock, so we no longer use it.
Add Rice to Greens, Meat and Root Veggies
When the rice is nearly cooked I add it to the big pot, stir everything well and put the lid on and let things set for about 30-minutes before I put it in containers, which I then freeze.
I have learned that proper cooling of the mixture is important. On more than one occasion I left some of the mixture in large bowls and refrigerated it and the dogs had problems. Now, any food that will not be frozen, I put the bowl in an ice bath to more fully and quickly cool before it goes in the refrigerator. The general rule is that you should not hold the food for more than three days in the frig. If you need to store longer than three days, then freeze the food. I have gone up to four days without a problem.
Stretching the Homebrew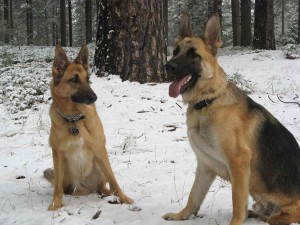 When we first started using this diet we served it exclusively and it helped with Smokey' bloat problems. Eventually cooking every seven to ten days for our dogs was too much, so we started mixing the home brew with high quality commercial kibble. We used to feed three times a day because that helps with bloat problems. Now we feed two meals per day.
For Smokey and Codie Rae who are both about 58 pounds, each meal consists of about
Travis Ray, at 74 pounds gets the same amount of home brew (5/8 pound) with 1 ¼ cups of kibble and his salmon oil, bone meal and Dogzymes (see below).
For kibble, we like Castor and Pollux Organix
, and have never had any problems with it, but I know others would work well also.
Supplements we Use
For supplements we use fish oil, bone meal
and Dogzymes.
At dinner, we add to our homebrew:
1 teaspoon of bone meal
1 teaspoon of Dogzymes and
Recommended amounts of fish oil.

Add a little water to make mixing easier. The mixture can be a bit soupy. The mixture gets divided between the two dawgs and served in Brake-Fast bowls, which help dogs eat slower and reduce the chances of bloating.
Dogzymes is a digestive enhancer with good bacteria and enzymes. It is great for dogs who have frequent diarrhea bouts when introduced to new foods (or things they shouldn't eat!). We noticed Dogzymes firm up stools and make them like things have been more thoroughly processed. It was not until after about four months of consistent Dogzymes use that we noticed Codie Rae becoming more stable than she has ever been.
Our orthopedic vet is a strong proponent of fish oil supplements. His position is that fish oil is proven to help with joint health, while glucosamine has not been proven beneficial. He supports the use of glucosamine, but with the caveat that while it has not been proven to help, there is also no evidence that it does any harm.
We have been using pump bottles of salmon oil, but we are still trying to figure out the best type of fish oil to use. One caveat is that that fish oil can cause loose stools, but we have found that over time the Dogzymes help keep things stable. With Codie Rae, before we were totally stabilized we would occasionally have to back off on fish oil to stabilize things and then increase it again to the recommended amount.
Lately we have been having no problems at all, and it has been over two months since Codie Rae's last digestive issue. You can also increase the dosage of the Dogzymes to stabilize things if you are having problems.
Add Your Own Touches
I am sure the Oaktown Pack's Home Brew can be improved and altered to make it even better. This is a basic recipe that can be tweaked in many ways—different greens, different meat, different grains. The Pack is thriving on this program, with good energy, and great looking coats. And they LOVE their food!