Tripawds member genkimari recently shared her nutrition plan for Mika in the Eating Healthy discussion forum.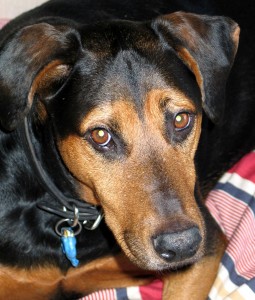 We're repeating this healthy canine cancer regimen of here, with lots of links for more information and hard to find supplements.

RISE & SHINE SUPPLEMENTS
1 Flax Seed Oil capsule*
2 Acai Berry capsules
1 Glucosamine capsule
1 Vitamin C tablet
NIGHTY NIGHT SUPPLEMENTS
1 Glucosamine capsule
1 Fish Oil capsule
2 Power Mushroom capsules
1 Artemisinin capsule
1 tbs Kelp Powder
1 tbs Alfalfa Powder
*We also want to share the following feedback from Dr. Pam Wiltzius (aka: tazziedog) …
I would replace the flax oil with the fish oil because dogs need an extra step to convert the oils in flax seed to a usable form but fish oil is "good to go". — Pam
For more information or to chime in with your own input, see the ongoing forum discussion about Mika's regimen.
Please reply with any comments and feel free to submit your dog's nutrition plan for us to share with the Tripawds community here in the Nutrition blog!
Recommendations
Please be aware that we are not veterinarians. The information presented here is not meant to be construed as medical advice or guidance, nor should it be substituted for professional veterinary assistance. Always discuss any remedies and treatments you wish to pursue with your veterinarian.