With a smile this big, you know that Griffin is loving life on three! This easy home cooked dog food recipe could be one reason why. Here's a super simple recipe his mom Stacy shared in the Tripawds Eating Healthy Discussion Forum.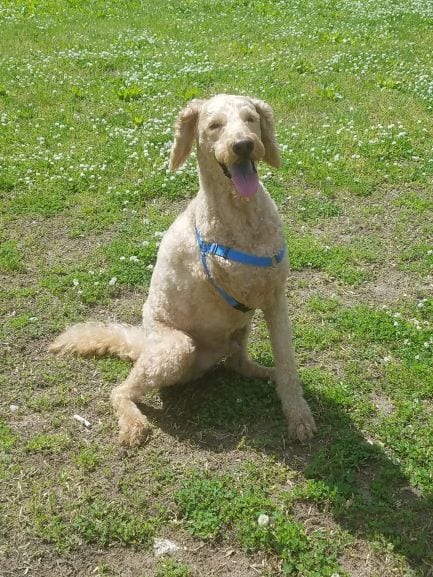 Griffin's Easy Home Cooked Dog Food Recipe
Meet Griffin the Doodle Tripawd! His mom is doing all she can to help him kick cancer's butt, like changing up his meal plan (with their integrative vet's approval). In her Easy Home Cooked Recipe post, Stacy writes:
"Griffin's appetite does not appear changed since surgery and two rounds of chemo, but with time on my hands during the COVID-19 pandemic, and wanting to give him the best chance to fight his disease, I decided to try my hand at making a batch of food that could be used to replace a portion of Griffin's kibble each day.
I researched a lot of recipes for dogs with cancer, designed to appeal to their appetites to maintain good body weight and filled with cancer fighting ingredients. I wanted something that would be relatively easy to make (so I would continue the habit) and chose ingredients that I knew Griffin would eat (eggs, for example, are a no go for him).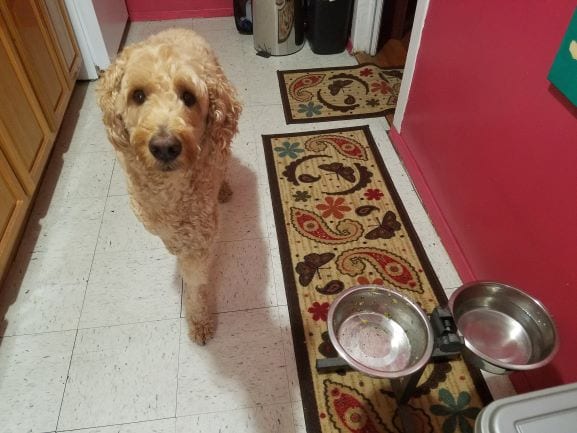 Griffin gets 1 cup of kibble (Taste of the Wild) + 1/3 can wet food (American Journey) in the morning, and 1 cup of his home cooked meals (ground meat + veggies + supplements) in the afternoons.
I've pared down Griffin's recipe a bit based on trial and error, and to allow for large batches to be made and frozen, so here is the updated recipe"
Griffin's Home Cooked Meat & Veggie Recipe
3 lbs ground meat (mix of lean beef, turkey, and pork)
16 oz frozen chopped kale or spinach
16 oz frozen broccoli florets
16 oz frozen bell peppers
I cook the meat on a super low setting and once it is cooked through, drain off all the liquid. I then add the veggies which have been finely chopped in the food processor. I let the veggies heat through to express the water from them being frozen and by that time, Griffin is usually under my feet in the kitchen waiting to be fed for that day.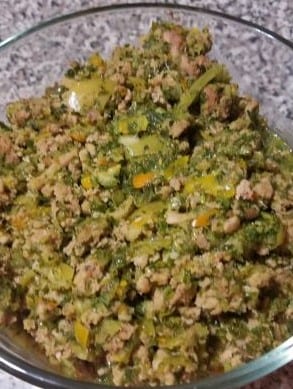 I eliminated the other items from the recipe mostly to keep it streamlined. Griffin still gets apples and cottage cheese as treats, and since he has fish oil (Nordic Naturals) added to his meals along with his other supplements, I eliminated the sardines.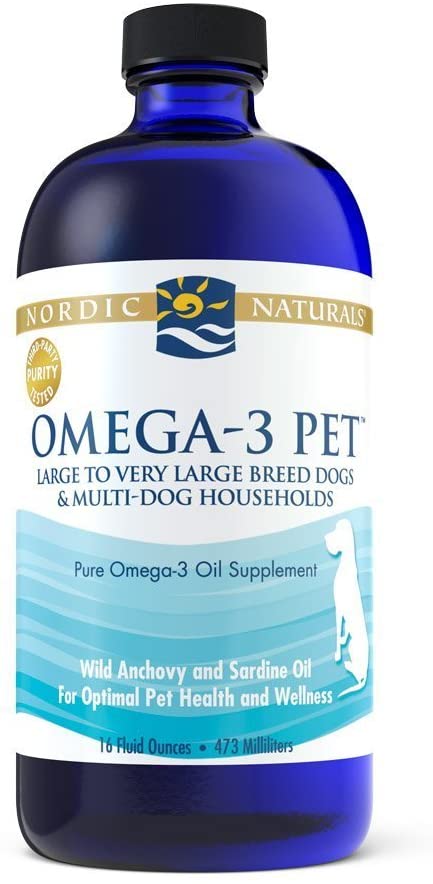 I measure out 1 cup portions for Griffin and I'm able to get 9 from this recipe (the meat really shrinks once it is cooked and drained!). I add all of his supplements to each container after the food has cooled before storing most in the freezer and a few in the fridge. The photo below shows a doubled recipe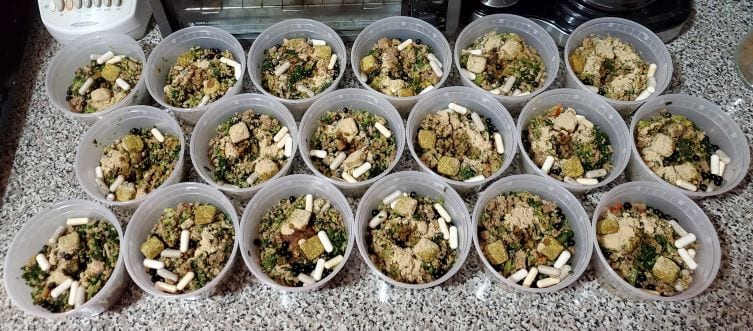 As you can see below, Griffin loves it! Making an easy home cooked dog food recipe doesn't have to be complicated or messy. And the best part it can be the highlight of your Tripawd's day when you serve it up at dinner. If you decide to give it a try, let us know how it turned out.
Thank you for sharing this great dog food recipe, Stacy!