Over fifty percent of pets are overweight. Yes, more than half! If your three-legged dog or cat could be one of them, here's how you can kick off Tripawd weight loss for a healthier, happier, longer life together.
Tripawd Weight Loss is Up to ALL of Us!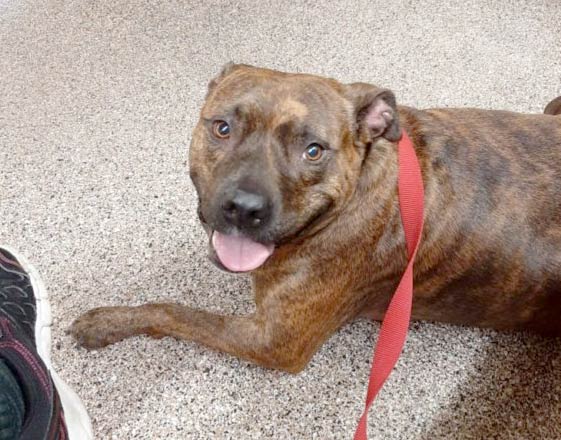 Too many extra pounds is bad for all pets. But it's even worse for the three-legged kind. The 2020 VET Report from Banfield Vet Hospitals shows that the obesity rate in dogs is even worse that previously believed–and it's getting worse every year!
Even worse, the report found that even when a veterinarian starts a weight loss conversation with the dog's human, usually it doesn't work.

Why Pet Weight Loss Programs Fail:
Owner's unwillingness to change habits
Owner giving in to pet's begging or perceived unhappiness
Owner is not concerned that pet is overweight, does not want weight counseling or does not make weight loss a priority
Owner is not making time to exercise pet
Owner says no improvement seen, so owner does not feel program is working
Other family members are not committed
Multiple pets in household
Insufficient time at hospital to discuss weight loss needs and plan
Operational tension in scheduling weight loss re-checks in veterinarian appointment slots
Cost of the veterinary diets
Weather/season
Look: our pets do not feed themselves. We are in control of their food, and their calorie intake. Only WE can help our pets lose weight!
Ready to get started? The Banfield report explains what does work for pet weight loss:
Why Pets DO Lose Weight
Owner compliance with increased exercise (even if not necessarily decreasing calorie consumption)
Owner is engaged to do more for their pet
Recognizes pet is overweight
Is concerned about pet's welfare
Understands health risks of pet being overweight
Already sees the detrimental effects of excess weight (e.g., osteoarthritis) and wishes to improve pet's quality of life
Owner commitment to their own health
Commitment and diligence of everyone in household – everyone is accountable
Encouragement/praise by hospital team for any weight change in the right direction
Strong relationship of hospital team with client
Owner can afford recommended diets
Here's a short video about the Banfield Report:
Tripawd Weight Loss isn't Always About More Exercise
More activity is one of the main reasons why weight loss sticks, for pets or people. But as Tripawd parents, we have an extra challenge: finding appropriate exercise for our 3-legged her0.
It's not safe or smart to exercise a Tripawd exactly like you would a four-legged dog. Tripawds do need exercise, but long walks, ball throwing and chase games can do more harm than good.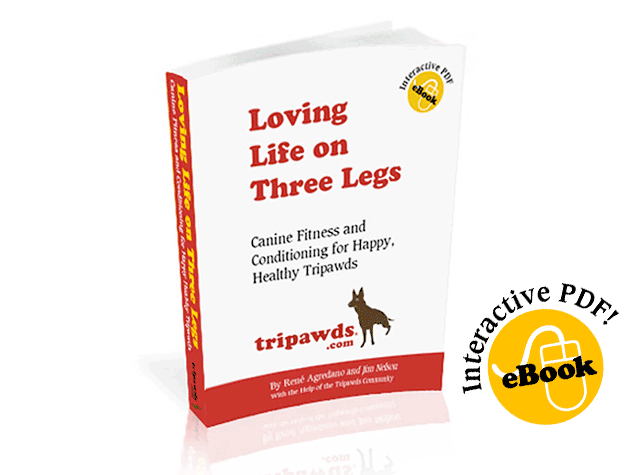 It takes a village for a Tripawd to successfully lose weight without putting their body at risk. You, your vet and a professional animal rehabilitation therapy team is the best way to manage a Tripawd weight loss program. And the best part is, the Tripawds Foundation will pay for you to start!
Our #1 Tip? Tripawd weight loss is a team effort! Get reimbursed when you visit a rehab therapist,
There's nothing like the guidance of a trained, certified animal rehabilitation specialist to ensure you're on the right track to great health. Even one consultation and evaluation can make a huge difference in your Tripawd's life. Anyone can qualify as long as the practitioner is "CCRT" or "CCRP" credentialed. Learn what those letters mean and how you can apply, by visiting the Tripawds Foundation's Maggie Moo Fund for Free Tripawd Rehab.

And now for a little pet weight loss inspiration . . .
No pet is too big to drop the pounds and enjoy a better quality of life. Just check out this video about an overweight chihuahua who safely lost an astonishing amount of weight thanks to her human's dedication:
Recommended Reading
All Tripawds Nutrition Blog Posts About Weight Loss
All Tripawds Gear Blog Posts About Exercise