Slim Tripawds are hoppy Tripawds but too many commercial pet treats we buy are crammed with calories that pack on the pounds. If you want to keep your Tripawd's weight down, check out these DIY Tripawd treats instead. The recipes are so easy to make (even if you hate to cook) you'll wonder why you haven't made them before!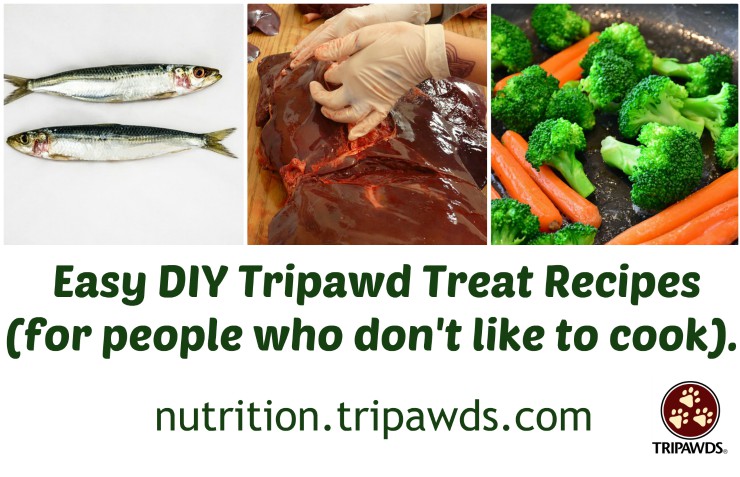 A Shout Out to Dr. Becker for These Easy Treat Recipes
We are huge fans of Dr. Karen Becker, one of the earliest and most popular integrative veterinarians on the Internet. Every day, she helps pet parents like us create healthier lives for our cats and dogs. From learning balanced real food cooking for dogs and cats to ways to treat a vomiting cat, Dr. Becker's tips are among the best on the web.
Make Real Healthy DIY Tripawd Treats and Recipes for Dogs and Cats
As leader of the Mercola Healthy Pets nutrition and wellness website, Dr. Becker doesn't over-complicate her treat recipes. Although she didn't make these treats just for Tripawds, we are sharing them with you because the ingredients are a greawt way to keep your Tripawd's weight in check. Plus, these dog and cat treat recipes are so simple, anyone can make them!
Healthy snacks for cats and dogs don't need to be complicated or expensive.
Watch Dr. Becker's "Safe Snacks for Cats and Dogs" video explain the basics. If you give them a try, you may need to go slow with your dog or cat. Many pets who have spent their lives eating commercial kibble may turn their nose up at first. Just take your time introducing fresh produce until you find the one veggie or fruit your Tripawd goes bonkers over. And as Dr. Becker advises, remember to:
Offer as occasional treats
Lightly cook veggies for easy eating and digestibility
Serve them plain
Some tasty, healthy DIY pet treat recipes can be a bit "aromatic."
Next up, Dr. Becker shows how to make Parsley Liver Cubes, a slightly different version of her wildly popular liver treats, "Dr. Becker's Bites."
Making liver treats is slightly messy and stinky, but your Tripawd will love them so much you'll forget all about the ick factor! Inexpensive and simple, all you need is:
1 pound of liver
2 tablespoons of fresh parsley.
That's it!
And if your finicky Trikitty isn't keen on any of these, Dr. Becker's Sardine Crisps are guaranteed to be a hit! With just one ingredient (sardines packed in water), this fishy healthy treat is as easy as it gets. And your dog will love them too!
If you give any of these DIY Tripawd Treats a whirl, tell us how it went in the comments section below!
Recommended Reading
Scroll through all of our Tripawd Treats Recipes to find more tasty, healthy goodness for your three-legged hero.