October is Pet Obesity Awareness Month and whether you have a Tripawd or a quadpawd, dog or cat, we hope you will take two minutes to fill out the 2018 Pet Obesity Survey.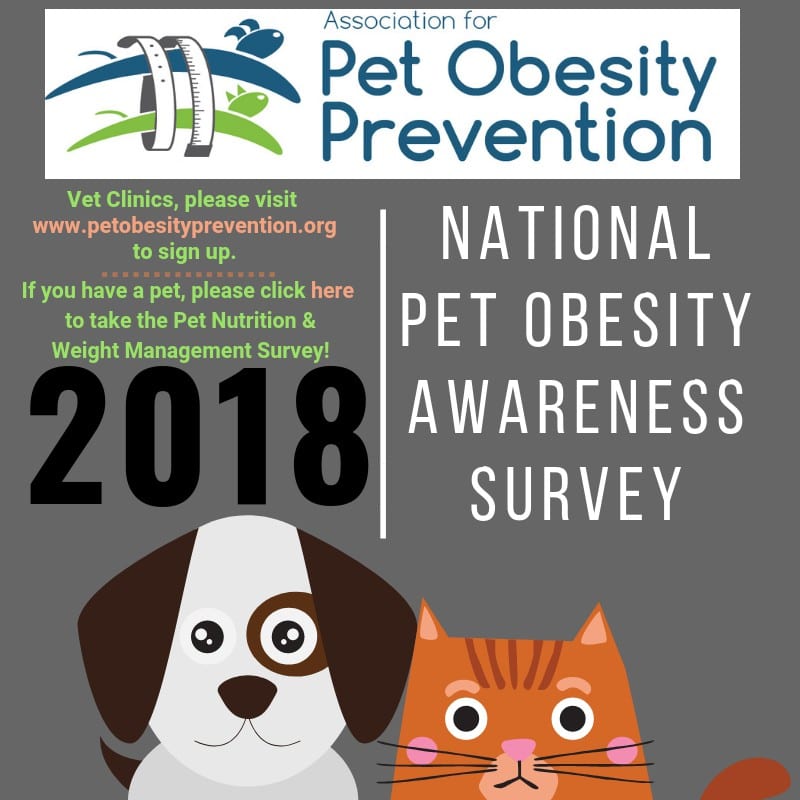 This important survey for all dog and cat parents is created by Dr. Ernie Ward and the Association for Pet Obesity Prevention. It only takes a couple of minutes to answer the easy questions about pet obesity and nutrition. Your anonymous responses help vets create more effective resources to better serve patients.
As a bonus, random entrants will win free prizes!
Ask your friends and family to participate in the survey so they can be eligible to win too!
Why the 2018 Pet Obesity Survey Matters
The rate of pet obesity in the U.S. has increased, according to recent survey results from the Association for Pet Obesity Prevention, with an estimated 56 percent of dogs and 60 percent of cats clocking in as overweight or obese.
In observance of National Pet Obesity Awareness Day on October 10, the Texas Veterinary Medical Association (TVMA) is urging pet owners to recognize that one of the most important things they can do for their pet's overall health is to keep them within a healthy weight range, which reduces associated health risks.
Overweight or obese pets are at risk for many health issues including:
respiratory compromise
diabetes
skin problems
heart disease
cancer
reduced lifespan
In addition, too much fat is extremely dangerous for a three-legged pet's joint health.
"Studies have shown that dogs that are kept at a healthy weight have a longer average lifespan than dogs that are overweight," said Celeste Treadway, DVM, a TVMA member who practices as a small animal relief veterinarian in Austin, Texas. "More importantly, pets that are kept lean have improved activity levels and quality of life."
How to Help Pets Lose Weight and Stay Slim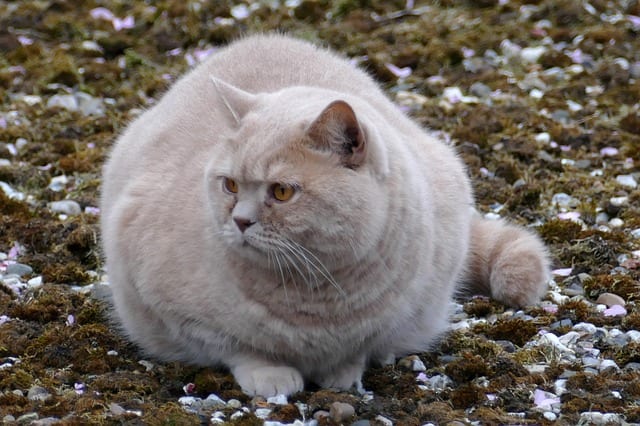 If your pet is overweight, now is the time to help them drop pounds. Remember, pets aren't in charge of what goes into their food bowls. It's up to us to ensure they're eating a nutritionally balanced and responsible diet. We must also ensure that our pets are engaging in safe physical activity to stay fit and healthy.
More tips for battling the bulge in pets include:
Get your veterinarian involved. "Your family veterinarian can help you determine how much weight your pet needs to lose and assist you in developing a diet and exercise plan that will be effective, safe and fun for both you and your pet," Dr. Treadway said.
Slow down the eating process by using dog food games and cat food puzzles, as well as a larger-sized kibble that allows pets to chew rather than swallow quickly.
Limit treats. Rather than high-calorie packaged treats, consider snacking smarter by offering frozen or canned green beans, baby carrots, steamed zucchini, seedless watermelon, chopped apple or pieces of unflavored rice cakes.
Know the proper exercise for your Tripawd, by partnering with an animal rehabilitation therapist. The Tripawds Foundation may even pay for your first rehab visit!
As in all matters concerning your pet's health, your veterinarian and a certified animal rehabilitation therapist are the best allies to ensure a long and healthy life for your Tripawd and all your pets. While the subject can be uncomfortable, don't be afraid to start the conversation about your pet's weight with your veterinarian.
Recommended Reading