Do a search for "cat and dog nutrition books" on the web and you'll find dozens that were published by people without DVM after their name. Although these books were written from the heart and often share great ideas that bring happiness to our dogs and cats, these books simply can't replace the knowledge acquired by veterinarians. That's why whenever we share books and ideas about cat and dog nutrition tips, we place more weight on those published by vets.
Two New Books with Vet-Approved Cat and Dog Natural Nutrition Tips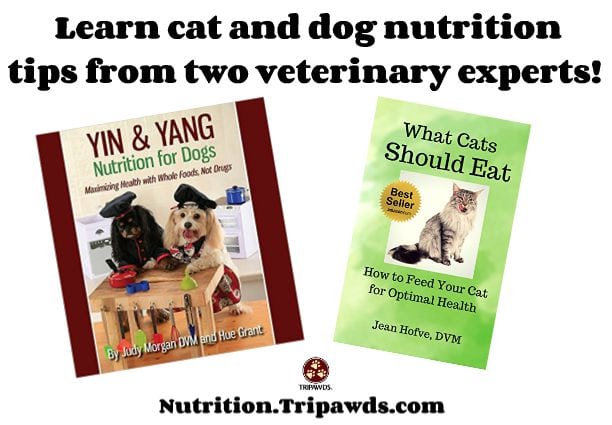 Today we're happy to present two great books with cat and dog natural nutrition tips that you need to add to your reading list.
Note: this post contains Amazon affiliate links. Tripawds receives a small compensation from all sales which helps offset the cost of keeping our community online.
Holistic veterinarian and author Dr. Jean Hofve has newly updated this book for 2018, with vital information for every cat parent that's fully referenced with the latest scientific discoveries. You'll learn:
What you can (and can't) learn from a pet food label
Myths, deceptions, and hype that manufacturers use to trick you into buying their food
Types of food: dry, canned, raw, etc.
How, what, and when to feed your cat for optimal health
How diet affects the urinary tract (kidneys and bladder); diabetes; hyperthyroidism; dental disease; food allergies; inflammatory bowel disease; constipation; weight issues; upper respiratory symptoms; aging; and cancer
What you must know about pet food manufacturing, oversight, and safety
Which ingredients may be dangerous for your cat, and why
How to shop for your feline companion
How to convince your cat to eat better food
How to make nutritious food for your cat at home
Also included is Dr. Jean's "approved brands" of canned; dry; frozen/freeze-dried; dehydrated and raw diets; treats, toppers, wholesome meat sources, and "just add meat" supplements
You'll also enjoy NEW sections on vegetarian/vegan diets, a NEW information for Europe, Japan, Hong Kong, and Singapore, a helpful Glossary and a complete resource section with helpful websites and specific supplement recommendations!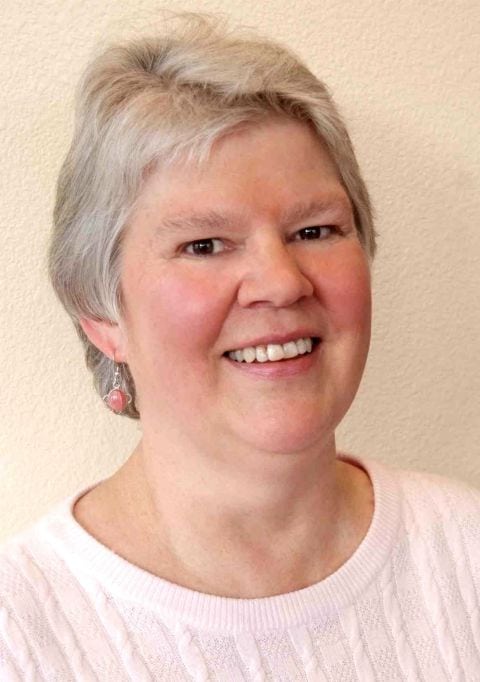 As founder of the Little Big Cat health resource, Dr. Hofve has more than 20 years' experience in integrative veterinary medicine. She has a passion for feline health and nutrition, and has intensively studied and researched pet nutrition and the pet food industry since the early 1990s. She has written dozens of articles and been interviewed for print, radio, and television around the world. She is an advisor to AAFCO, the organization that sets standards for pet food production.
Dr. Morgan is one of our favorite natural medicine practitioners. As the founder of Clayton Veterinary Associates in New Jersey and author of From Needles to Natural: Learning Holistic Pet Healing, she is one of the first veterinarians in the U.S. to incorporate holistic medicine into her conventional practice. As she told us during her Tripawd Talk Radio appearance, when you embrace these two philosophies, you can achieve a more natural and gentle way of healing the whole pet, not just treating the symptoms of their disease.
Her newest book shows us how to utilize Traditional Chinese Medicine food therapy to keep our dog naturally healthy.  You will learn the basics of this unconventional and effective approach to feeding healthy foods to your dog, as well as get access to many easy home cooked dog food recipes that have worked for her own patients.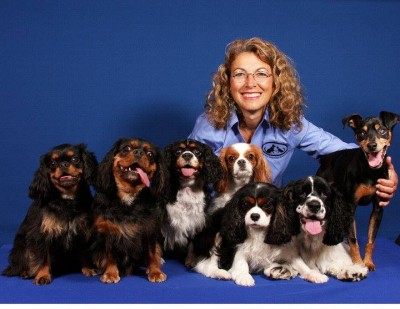 The book is getting rave reviews on Amazon. Here's the cover description:
Why should you prepare food for your pets? It's simple. The pet food industry has let you down. You have depended on them to provide wholesome nutrition to keep your pets healthy. They advertise ingredients as holistic, natural, and human grade; in reality, ingredients are often waste products from the human food industry or rendered meals from diseased animal carcasses. The pet food industry has spent millions of advertising and teaching dollars to convince veterinarians and the pet-owning public that the only way to provide a complete diet is to feed processed industrial food.

Unfortunately, since the advent of processed food for pets, the pandemic of degenerative health problems has escalated in dogs and cats. Veterinarians continually treat inflammatory and degenerative diseases, yet they fail to see any correlation between the highly processed diets and disease. The profession has been talked into believing that industrial food cannot possibly be a causative factor in disease. In fact, they have been taught by the major pet food companies that the only way to treat chronic disease is to prescribe more processed industrialized foods.

Dr. Judy Morgan has a passion for healing her patients with whole foods, minimizing medications and chemicals, allowing the body to heal from within. In this book she explains, in understandable language, how to utilize Traditional Chinese Medicine food therapy to keep your dog naturally healthy. Making food for your dog doesn't have to be complicated; it can cost less than buying prescription diets and medications to treat disease. The path to good health is good nutrition. Show your dog some love with a home cooked meal!
We haven't read these books ourselves yet but are hoping to very soon. If you buy them on Amazon (and support the Tripawds community in the process!), let us know what you think!