If your dog or cat does better on a high-protein, grain free diet, you already know that paying for this higher standard of pet food can be pricey. But thanks to a new line of dog and cat food called "Crave," affordable, quality, grain-free pet food is finally here.  We're so impressed with this new line that this post is not being sponsored by the company. That's how much we want folks to know about it.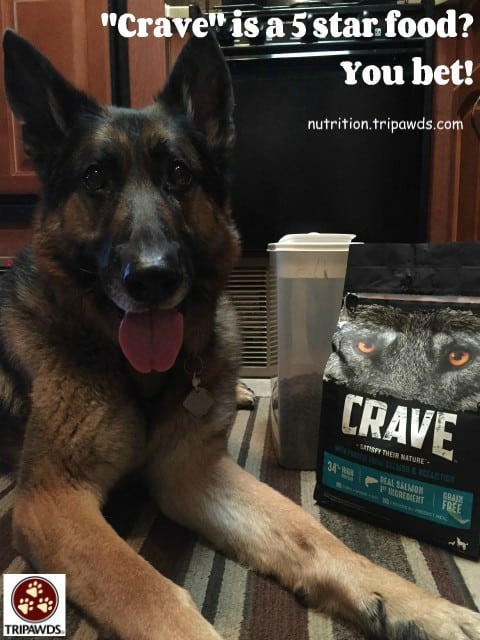 CRAVE™ Dry Dog Food appeared on our radar by accident the other day. See, we were bad parents, and ran out of kibble for Tripawds Spokespup Wyatt Ray on a Sunday night at 8pm! The local pet supply store was closed and even Amazon couldn't get his normal brand to us until Wednesday. "Well, Wyatt eats anything," said Admin as we ran to the grocery store in a panic. Sure, we could have bought him steak but that wasn't in our budget for three days.
Thinking we would have to resort to one of those "all-natural" mass-produced commercial pet foods we always avoid, we scanned the pet food aisle hoping for a small bag of something that would tie him over until Wednesday. The eye-popping package design of Crave got our attention. Of course, it had all the promises of healthy ingredients like real meat and no grains.  We hoped we could trust it. "This is as good as it gets," I said to Admin, and away we went to feed Wyatt.
After arriving home we saw that the food is made by Mars Pet Care. Everyone has opinions about Mars. We did too. But after our 2015 tour of the Mars Global Innovations Petcare Center in Tennessee, we saw firsthand how Mars is truly invested in the health of our pets. But could we trust Crave? Well, we knew one place would give us the answers: The Dog Food Advisor.
And we were beyond thrilled to learn that the Dog Food Advisor gives Crave FIVE stars!

Bottom line?

Crave is a meat-based dry dog food using at least a notable amount of named meats as its main sources of animal protein, thus earning the brand 5 stars.

Enthusiastically recommended.
Yes, that's Five Stars, just like Orijen, the Honest Kitchen, Nulo . . . and all the other premium pet foods priced higher than Crave. While the Dog Food Advisor isn't the final say in how this food stacks up to those brands, at least we can find reassurance in knowing that Crave is just as good according to the Dog Food Advisor's criteria for the best pet foods.
According to Mars, each bag of CRAVE™ food is grain free, and includes no chicken by-product meal, corn, wheat, soy protein or artificial flavors and artificial preservatives. The full 2017 CRAVE™ line includes 12 recipes for dogs and cats.
CRAVE™ Dry Dog Food: Adult Dog Food With Protein From Chicken; Adult Dog Food With Protein From Lamb & Venison; Adult Dog Food With Protein From Salmon & Ocean Fish
CRAVE™ Dry Cat Food: Adult Dry Cat Food With Protein From Chicken; Adult Dry Cat Food With Protein From Salmon & Ocean Fish; Adult Indoor Cat Dry Cat Food With Protein From Chicken & Salmon
CRAVE™ Wet Cat Food: Turkey Paté; Chicken Paté, Salmon Paté, Chicken & Beef Paté, 

Turkey

 & Duck Paté, Salmon & Trout Paté
Crave is a huge step in the right direction for pet parents like us. With this new affordable, quality grain-free line of food, Mars raised the bar for other mass-market commercial pet food manufacturers. We hope to see more food choices like this in supermarkets everywhere. Finally, more pets than ever can enjoy far better diets at a reasonable price.
Learn more about Crave then
buy via the above Amazon Affiliate Links
to support the Tripawds Nation!