Woah! Summer is almost over. Did you make the most of it?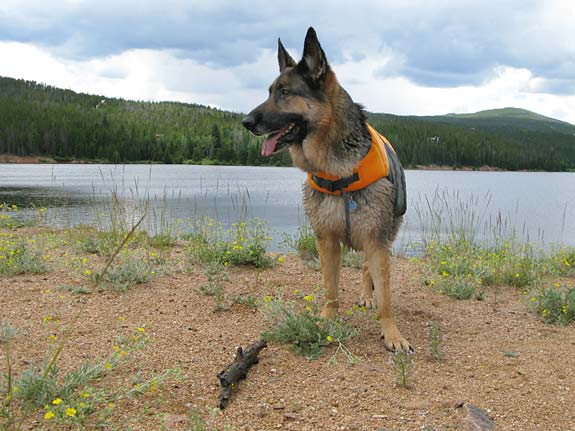 Wyatt Ray isn't much of a hot weather dawg but when summer rolls around he knows he can count on us to take advantage of it. After all, summer is for swimming!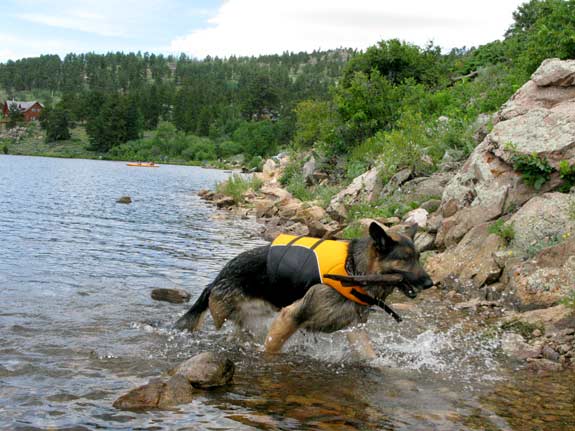 This post is sponsored by Pinnacle and the BlogPaws Professional Pet Blogger Network. We are being compensated for helping create awareness about Pinnacle®'s Newly Formulated Grain Free Dog Food, but Tripawds only shares information we feel is relevant to our readers. Pinnacle is not responsible for the content of this article.
Now that Fall is coming, Wyatt can't wait for that crisp fall air. He's a new dawg when temperatures fall and he acts like a puppy again! All of that extra activity makes him hungry. Really hungry!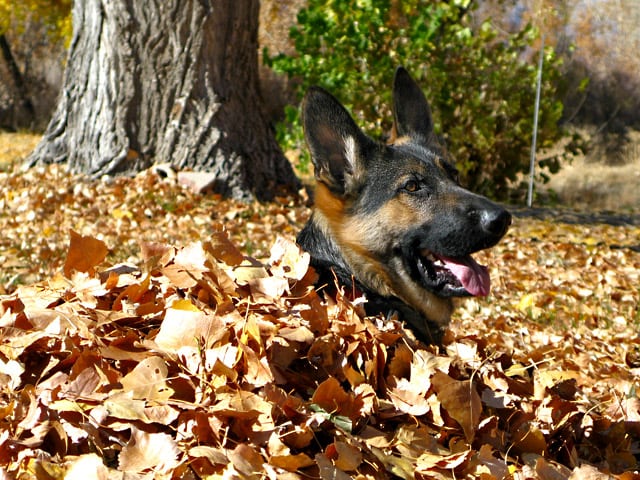 We've always been super conscientious about what he eats and it's paid off. The good docs at Colorado State's Community Practice Vet Clinic told us during his annual exam, "Whatever you're doing, keep it up!"
What are we doing for Wyatt? We thought you'd never ask!
Monitoring his activity levels. He gets just the right mix of core-strengthening exercises, balance work and endurance-building walks. About 3 short sessions a day of play and exercise daily.
Feeding him the best rated, grain free holistic foods. Making informed pet nutrition choices gives us the confidence in knowing we're doing the best we can to protect him from disease.
We love sharing the results of our ongoing search for the best dog foods. Wyatt's food gets rotated not just to add variety but to see what really works for him and what might work for your dog. Here's one natural food we're excited to check out:
Pinnacle® Holistic Pet Nutrition: Now Grain Free

You've probably seen Pinnacle® Holistic limited ingredient recipes in better pet supply stores. After all, it's been around since 1998 and was one of the first holistic pet foods out there. We've seen it too, but here's why we're trying it now:
Pinnacle is now grain free!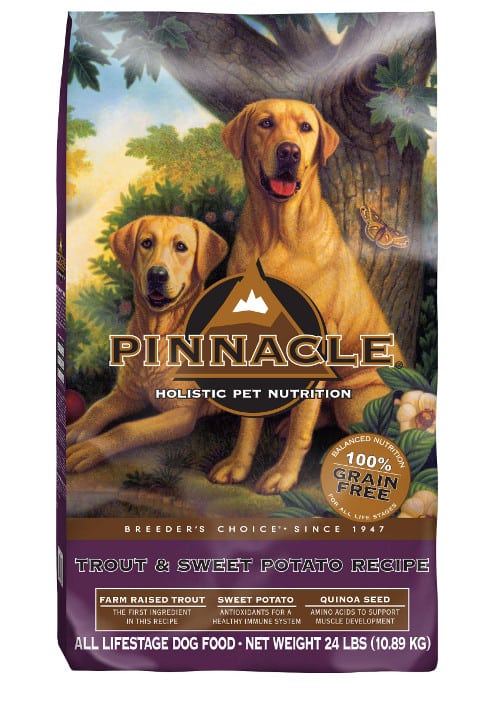 All Pinnacle recipes are now grain-free to make digestion that much easier for our dogs.
Limited ingredient, natural holistic dog food
Good for dogs with sensitive stomachs.
Includes quality ingredients like Quinoa, Sweet Potato, Pumpkin, Sea kelp, Cottage Cheese
Natural, healthy recipes that use high quality proteins
Antioxidants to support healthy immune system
Fiber to encourage healthy digestion and small stool
Promotes general joint health and overall muscle tone
Grain free, limited ingredients all made in Pinnacle's Southern California plant
Since Wyatt only eats grain free, we're excited to kick off the Fall/Winter quarter by rotating his diet to Pinnacle. Over the next months Wyatt will be an official Pinnacle Pup taste tester. Here's how we'll make the switch to Pinnacle:

Starting today, Wyatt will make a slow transition over the course of five days. We don't want to mess up his digestive pattern and risk late nights with runny poop so this is what we'll do:
Day 1 & Day 2: 20% Pinnacle, 80% old brand
Day 3 & Day 4: 50% Pinnacle, 50% old brand
Day 5: 80% Pinnacle and 20% old brand.
Day 6: Time for 100% Pinnacle!
We don't switch without giving it a lot of thought, but Pinnacle has a thoughtful promise to their customers that really stands out:
"All-natural wholesome foods rich in everything your pet needs and free of those things that may cause harm. That's the commitment you will find in every bag of Pinnacle food."
In the coming weeks, we're going to find out if it's true. Stay tuned!