Feeding fresh, "real" food to our dogs is the first step to good health. It's also the first step to any cancer-fighting strategy. Yet how many of us have time to home cook for pets every day? We sure don't, but we know an awesome way to get around that – Dr. Harvey's Veg-to-Bowl grain-free dog food pre-mix.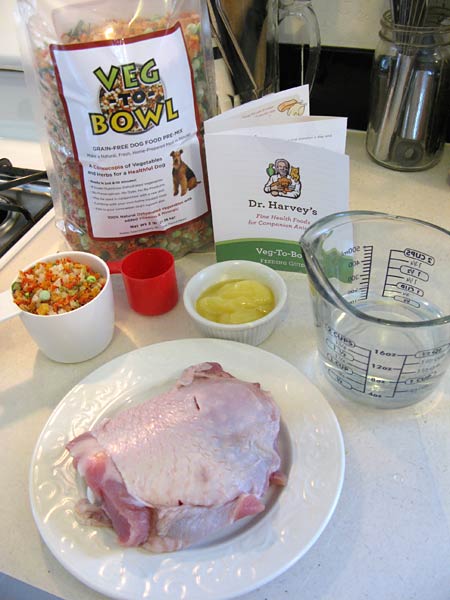 This post is sponsored by Dr. Harvey's. We are being compensated for helping spread the word about their pawesome food, but Tripawds only shares information we feel is relevant to our readers. Dr. Harvey's is not responsible for the content of this article.
Veg-to-Bowl Takes the Guesswork Out of Home Cooking
You'll find many DIY pet food recipes on the Internet, but most vets agree that many home cooked pet food recipes are nutritionally deficient. Instead of hoping that your home cooked food will meet the needs of your dog, Veg-to-Bowl lets you know for sure that you're serving up the best nutrition for your dog.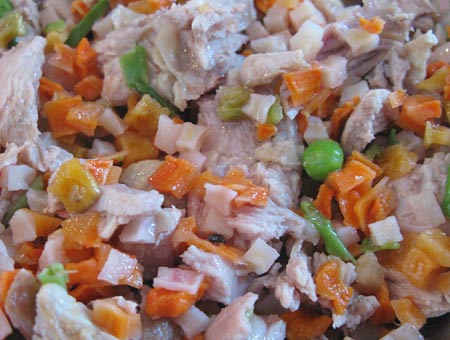 Easy and Nutritious Homemade Dog Food
With Dr. Harvey's Veg-to-Bowl, you control the fats and protein, not a pet food factory:
Just add water, a raw or cooked meat of your choice, and oil
Vitamins and minerals for optimal health are already in every scoop – no more guessing!
Nine different dehydrated/freeze-dried vegetables and organic herbs are in every meal.
You won't find any preservatives and additives, coloring agents and dyes.
No sugar and salt either! Yes, many dog food brands have them!
No grains, fillers, corn, wheat or soy. Just grain-free goodness.
We all know that eating fresh, unprocessed foods will help our own health – well the same is true for our pets! There's no denying that what comes out of the produce and meat sections of our grocery store is less processed, fresher and more nutritious. Now we have the ability to put that into our dog's bowl, every single day, with no hassles at all!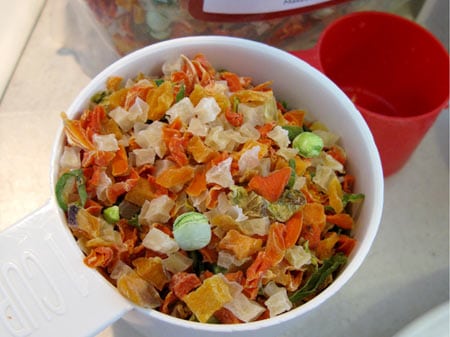 Veg-to-Bowl Doesn't Look Like Dog Food – Because It's Not!
What you see with Dr. Harvey's Veg-to-Bowl is what you get – the kind of real food that we put in our refrigerators! The only difference is that it's dehydrated for convenience, and all we do is add water, oil and meat or fish when we need to make it. Just as we do with our own diets, we control the protein source and fat content that go into our pet's dish every day.
Instead of wondering if we're serving up nutrition that can fight a condition like cancer, we know we are. That's because for the last 30 years, Dr. Harvey Cohen has made it his mission to provide better nutrition for our pets at every life stage, for every health condition, including cancer.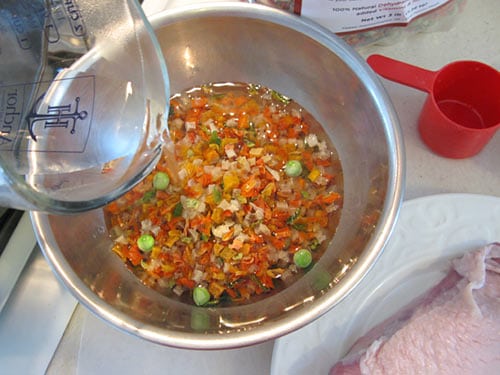 A Day in the Life of a Veg-to-Bowl Dog
We gave Veg-to-Bowl a try, knowing that Wyatt Ray would leap at the chance to have real meat in his dish. See, we're vegetarians, so serving up meat is a rare occasion in our kitchen. When we started preparing turkey for three days of Veg-to-Bowl servings, Wyatt went crazy! His powerful olfactory sense knew something was different.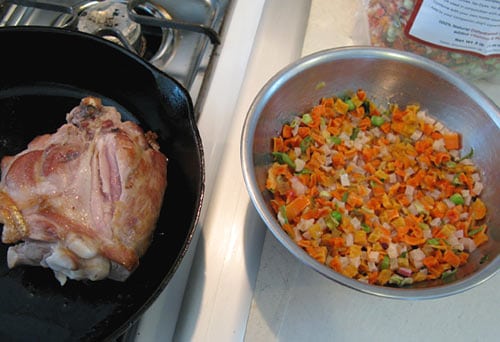 By the time the meat cooled and was ready to mix into his meal, he was climbing the walls! It was hard to keep him from leaping up at the bowl.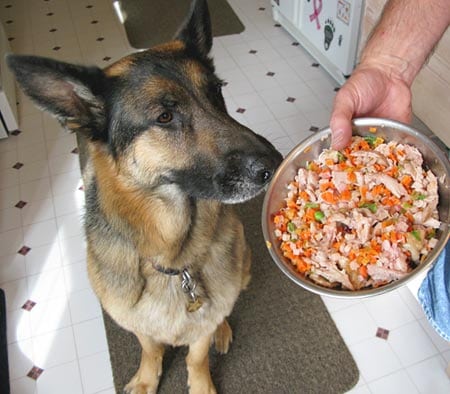 Veg-to-Bowl Tips
If your dog doesn't eat raw, cook the meat ahead of time. If your dog eats raw, prepare meat as usual.
Store Veg-to-Bowl in one container, meat in another. Combine at mealtime.
Rotating your oils is important. Each oil contains different fatty acids that are essential to your dog's well being. We recommend using either flaxseed oil, salmon oil, sesame oil, hemp oil, olive oil etc. or you can use Dr. Harvey's Health and Shine.
Crazy But True Fact: Some dogs who've been fed commercial diets all their lives might not be familiar with "real food" and actually turn their noses up at it! To introduce Dr. Harvey's to a dog who has never had fresh vegetables, rotate Veg-to-Bowl into your dog's existing food very slowly. Use a super yummy meat source and mix 25% Veg-to-Bowl into to the old stuff each day, until Dr. Harvey's equals 100% of the meal.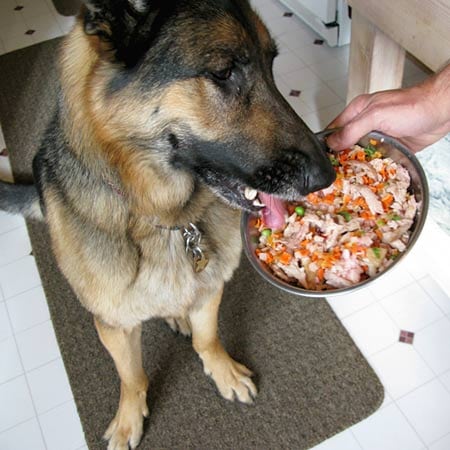 Ask Dr. Harvey
If you have any questions about Dr. Harvey's Veg-to-Bowl, he and his team are ready to answer them. Just contact the company and let them know what you're wondering about, they're always happy to help.
Remember; we are what we eat. If we want our dogs to thrive, it's critical that we feed them unprocessed, fresh foods. Dr. Harvey's is how you can do it, without the guesswork of free home cooked dog food recipes from the Internet.