Looking for an easy dog cake recipe to celebrate a special day with your pooch? Check out this tasty bannana cake Alison made to celebrate Jasper Lily's one year adoptaversary!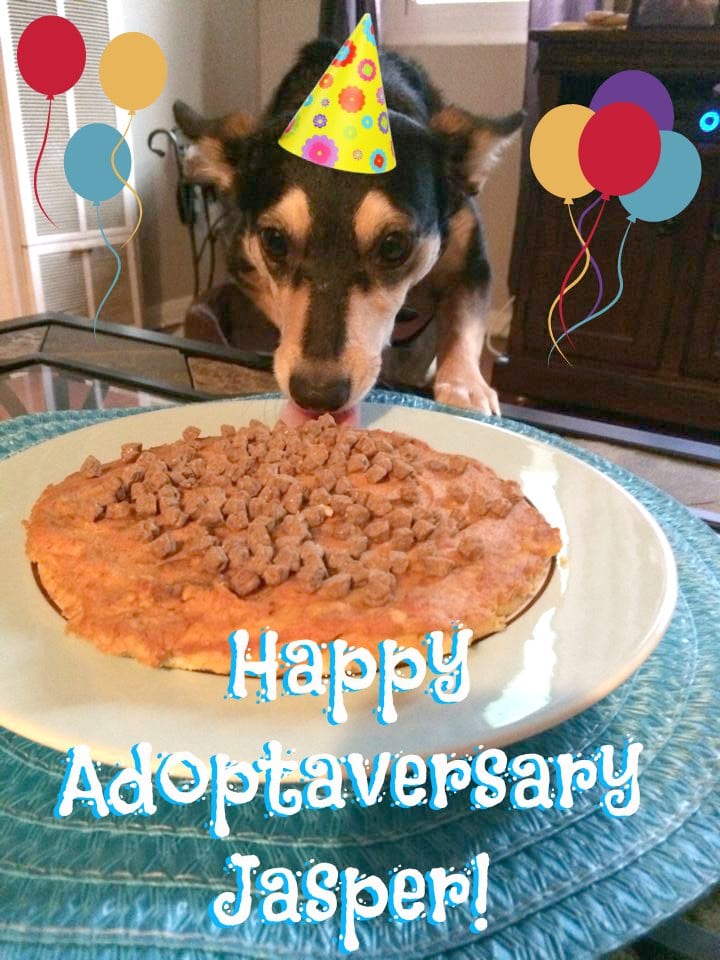 Alison shared her happiness on Jasper's special day:
SO proud of her! We made it a whole year! We both grew ( a lot  – thankfully not those ears)… we love a lot .. we laugh … a lot!
Here's the tasty cake they enjoyed. Looks pawesome doesn't it? You won't believe how easy it is to make.
Jasper's Jazzy Healthy Dog Cake Recipe
1 ripe banana
2 eggs
1.5 cups almond flour
3 tablespoons water
Mix and bake at 350 for 20 – 25 min.
The cake will be super dense.
"Frosting"*
1/2 cup pure pumpkin
1/4 cup peanut butter (we used raw almond butter – no sugar)
*I decorated w/kibble because that's how we roll!
Do y0u have a favorite healthy cat or dog treat recipe you'd like to share? Comment below and let us know, we want to hear about it!
More Healthy Recipes for Pet Celebrations
Grain-Free Peanut Butter Apple Cake Recipe for Healthy Dogs
Green Brownie Bars Natural Dog Treats Recipe
Healthy Birthday Cake Recipe for Dogs