Wild Boy Meets #TheArtofNutrition
What do you see when you look into the eyes of your dog? When we look into Wyatt's eyes, we see pure wild child.
This post is sponsored by Wild Calling! and the BlogPaws Professional Pet Blogger Network. We are being compensated for helping spread the word about the Wild Calling! Pet Food, but Tripawds only shares information we feel is relevant to our readers. Wild Calling! is not responsible for the content of this article.
Every day he lives up to his nickname "Wild Boy Wyatt." From chasing rabbits in the Rockies to urban squirrel hunts, Wyatt heeds his prey-driven instincts. He knows his calling.
Our calling is to fuel his active body with healthy, grain-free foods and high quality proteins that won't irritate his belly. Of course cost is a concern, so we're constantly seeking affordable dog foods that work for our budget. It's a constant challenge to simultaneously meet his needs and ours.
As you know, there's a lot of great dog foods available. Some stand out more than others and that's why we're taking this opportunity to share a new high quality dog and cat food we've just discovered: Wild Calling!®

Wild Boy's Wild Calling
Made in Northern Colorado — just a few miles from Wyatt's retreat we call Jerry's Acres — Wild Calling! is more than a new dog food with gorgeous packaging. It's a passion of the Petersens, a local family who lives to make a pawsitive impact on the health of our dogs. Here's their mission:
We make a heck of a good product. That's why you buy it, right? Not because of the packaging, which we know is real pretty. But because of the meat-rich diet, the fruits, the Omega 3 & 6 and the fact that we're 100% grain-free. A convergence of dietary science and natural food found in the wild is what makes Wild Calling unique. We call it the Art of Nutrition.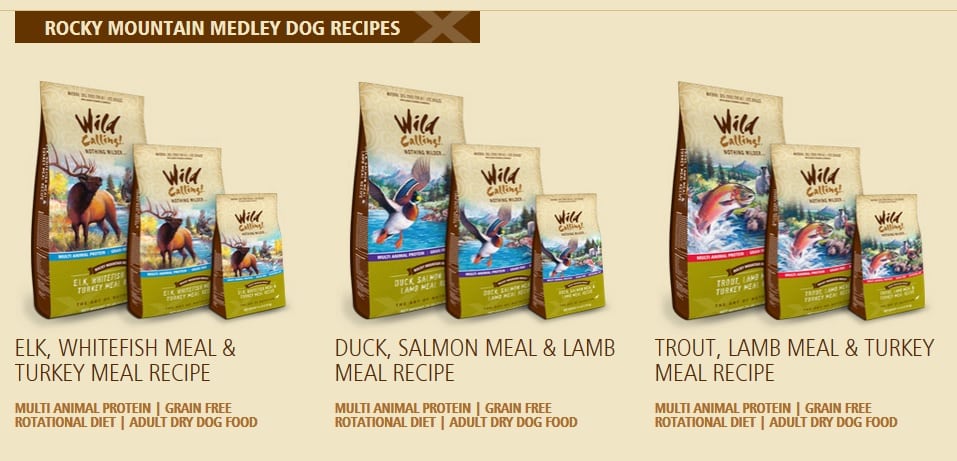 What's really interesting about Wild Calling! is its low glycemic foundation called "GlycoEdge." It gives pets longer, sustained energy throughout the day instead of getting it in one punch after eating. Wild Calling's GlycoEdge formula includes Tapioca (quick release), Sweet Potatoes (moderate release) and Lentils (slow release) in every recipe to help limit glucose and insulin spikes.
Other noteworthy features of Wild Calling! include:
No grains, chicken, gluten, corn, wheat or soy
Several different recipes let you rotate your pet's diet with multiple meat sources
OR you also have the option of limited diet recipes with just one meat source
Every recipe includes novel proteins like elk or rabbit as the main meat source
USA-grown meats, poultry and fish with NO hormones or antibiotics
Contains optimal amino acids for healthy muscle growth and more energy
This food is 88% digestible, which means less poop patrol for you!
All batches are inspected by a neutral, 3rd party lab
We both know that lots of pet food companies claim they have the secret to perfect dog and cat health. In the coming weeks we're going to give Wild Calling! a try to see if this food lives up to the promise of ideal nutrition for Wyatt. Watch for a full review.
Discover Wild Calling
Want to learn more about this new premium diet? Check out this Wild Calling! brochure for tons of details. You'll even find out how much it costs to feed it to your dog or cat every day.
Visit the Wild Calling Store Locator to find it near you. Let us know what you think!
Are you on Twitter? Join us for a live chat with the Wild Calling family
on March 10, 8 – 10 pm Eastern. Follow the hashtag #BlogPawsChat to participate.