Do your dogs and cats have the summertime blues? Perk up their spirits with these homemade frozen treats for pets!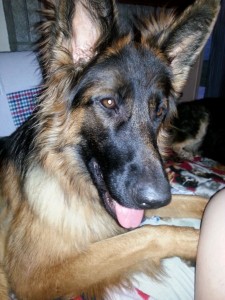 Here's how Tripawd Hannah's personal chef Kim makes them for the pack:
Banana Pops Recipe
Ingredients
1 cup plain whole milk yogurt (healthy for us dogs, make sure you get the good stuff with all the live stuff in it)
2 tbsp peanut butter (we like chunky but you can use either)
1 banana (good for everyone)
Steps (it's complicated. Are you ready?)
Mix all together in a blender or food processor
Fill a standard ice cube tray
Freeze, then serve!
(For bigger dogs, try pouring some into a larger mold and then freezing. A large 16 oz. disposable Solo cup does the trick!
More Easy Frozen Dog and Cat Treat Ideas
If that recipe is too complicated for you, then these frozen treats by Honest Kitchen are right up your alley!
The Honest Kitchen Ice Pups Healthy Liquid or Frozen Pet Treats are unique and easy!
This tin is filled with a powdery mix that is combined with warm water to offer your pet a liquid delight. Or, during those hot, humid days, you can freeze them and offer a cool treat. Also helpful for dogs and cats with kidney problems who benefit from increased fluid intake.
8-oz box filled with (16) 0.5-oz single serving packets
Serve as a hot liquid, a cool drink or a frozen delight!
Used for pets with kidney problems who need increased fluids
Great for animals with lowered appetite and post-operative recovery
Use as a tasty gravy to increase palatability or help with transitioning foods
Makes about 15 trays of ice cubes
UPDATE: Honest Kitchen no longer makes Ice Pups
Consider freezing Honest Kitchen Beef or Turkey Broth.