Finding a healthy dog cake recipe for a bone cancer hero is challenging, since many recipes rely on ingredients like sugar and wheat that feed cancer cells.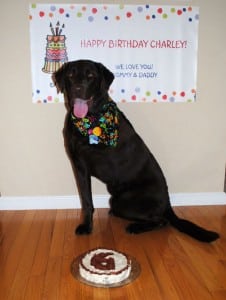 But here's a tasty recipe that's healthy enough for all canine cancer heroes. We know it's good because Charley had it on his birthday and for all of his cancer victories over the last 3.5 years!
Charley's Meat Cake Recipe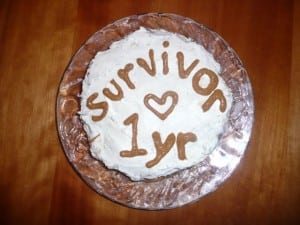 2 pounds of ground sirloin, 2 eggs, and about 1/2 container of cottage cheese (large size container)
Mix all ingredients together in a large bowl
Place ingredients in an 8″ spring form pan (the pan used for cheesecake) on top of a cookie sheet to catch grease from meat
Flatten ingredients level in the pan
Bake at 375 for 45-60 minutes depending on how well you want it cooked; I cooked it for about 50 minutes
Ice meat cake with softened Philly cream cheese
Decorate with turkey bacon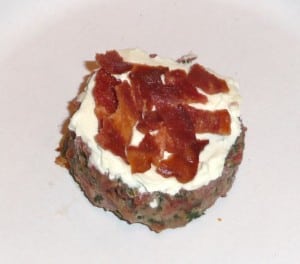 Charlie's Mom Shares More About this Recipe
"I made the recipe up myself! I don't give Charley grains because he has a grain allergy or intolerance (he vomits after eating grains), so I needed a recipe without grains or carbs (since I limit carbs/sugars because of cancer).
We put cottage cheese in our red meat sauce for pasta and I figured Charley would like it too…plus it keeps the cake moist.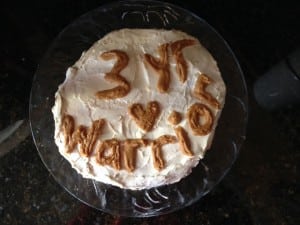 We have a ton of cream cheese on hand to give him his artemisinin and other supplements so that was easy to use as icing. I've also decorated the cake with peanut butter too, but turkey bacon is easier than writing!"
Learn all about Charley's amazing 3.5+ year bone cancer victory in his fun Tripawd blog, Chocolate Kisses.