From raised feeders to human-grade treats to stimulate finicky appetites, finding the right post-surgery products for a Tripawd is easy at That Pet Place, where you'll find hundreds of high quality pet supplies to make your Tripawd's quality of life even better.
We hope you'll hop on over and give them a try, especially since That Pet Place is generously helping the Tripawds Community get the word out about life on three legs by sponsoring our appearance at Blog Paws 2014!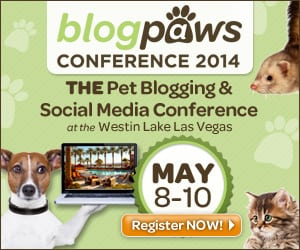 Raised Feeders
Tripawds have an easier time eating and drinking when their bowls are lifted up off the ground. This is especially true for Tripawds missing a front leg, since they still carry more weight up front even with a missing leg. A raised feeder helps with their center of balance and makes for better digestion. Here's a raised feeder that we love for both dogs and cats:
3 Quart Double Diner with Stand, for Tall Tripawds
1 Pint Double Diner with Stand for Small Tripawds

Appetite and Digestive Help
Tomlyn Nutri-Cal Dietary Supplement for Dogs and Cats
Whether your animal is stressed, ill, or just plain picky, you can rely on Nutri-Cal(R). The trusted low-volume, high calorie formula has been vet recommended and used for over 50 years to supply nutrients and energy to those pets that need it, when they need it most. Features: For stressed or debilitated animals, those suffering from illness, recovering from surgery or whelping, aging animals and picky eaters. Potent dietary supplement supplies Vitamins A, D and E, Phosphorus, Thiamine, Calcium, Manganese, Iodine, Potassium, Iron, Folic Acid, Riboflavin and other essential nutrients. Easy to digest. Stimulates the appetite with a delicious taste no dog or cat can resist. Easy to give—offer it on your finger, on your pet's paw, or in food
Fruitables Pumpkin Digestive Supplement
Fruitables Digestive Supplement features great tasting; all-natural; harvest fresh pumpkin; ginger; and cinnamon to promote regularity and intestinal health. Pumpkin provides a low calorie; healthy balance of soluble and insoluble fiber to support healthy digestion; and ginger is a natural remedy for stomach upset; diarrhea; and nausea.
Interactive Treat-Based Games
Keeping a Tripawd dog or cat entertained during the confinement period is easy with some great interactive games!
Everlasting Beanie Ball Treat Holder for Dogs
Cheese Chase Cat Toy
These are just a few great recovery supplies you'll find for your Tripawd hero. Be sure to check out the great selection of supplies at That Pet Place and tell 'em Tripawds sent you!