When it comes to dog cancer diets, there are no guarantees about what can help to keep cancer away. However here in the Tripawds community you can always find great examples of how dogs are successfully fighting dog cancer with nutrition and supplements. Check out dog cancer diets here, then talk to your vet about creating a dog cancer diet that works for your Tripawd hero, like this one for Charley.
Charley's Protocol (65 pound, 5 year old male Lab)
Today we present Charley's dog cancer diet tips.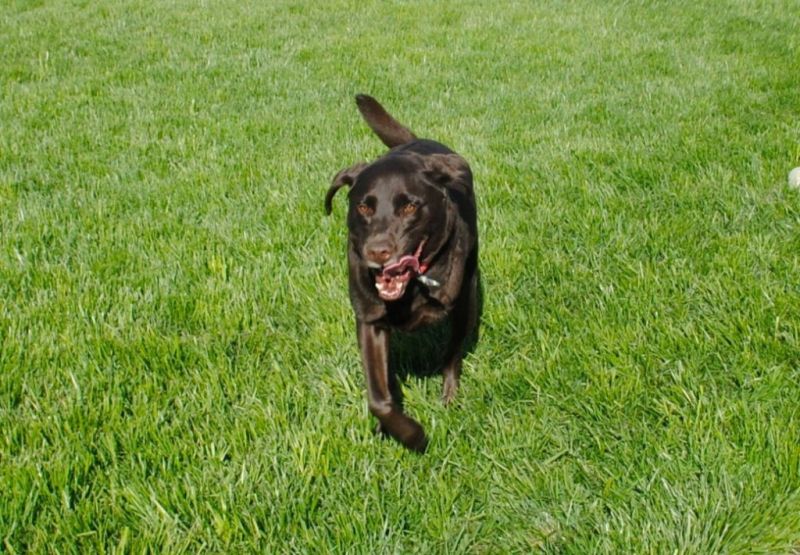 Tripawd Charley is a 2.5 year osteosarcoma survivor. His osteosarcoma diet and supplement protocol was recently shared in his blog "Chocolate Kisses." His people' choice of food and supplements is described in this post, "Charley's Protocol (2-1/2 Year OS Warrior)." We think many dogs can benefit from this diet, so here it is in case you missed it:
Please consult with your vet prior to introducing
any new supplements into your dog or cat's diet.
Charley's Mom writes: Here is my disclaimer about Charley's protocol: Every dog is different and no two cancers act exactly the same (even when comparing OS to OS, lymphoma to lymphoma, etc.).  I still tweak Charley's protocol and nothing is written in stone.  Some pups tolerate lots of supplements without any issues and others don't….meaning too many supplements is not always a good thing.  You have to do what works for you, your dog (or kitty), your family, your finances, etc. 

  Most importantly is to remember to NEVER GIVE UP HOPE!!!
Charley eats Orijen Six Fish kibble 3x day and we give Charley bottled water, not tap water because of the fluoride.
Breakfast: 7:00am
20mg generic Pepcid about 20 minutes before breakfast
Orijen Six Fish Kibble 3/4c
500mg of Vitamin C (Esther C)
400iu of Vitamin E
Berte's Green Blend (b-naturals.com); dosing on container by weight
(1) K9 Immunity Plus Chew
Lunch: between 12-2pm
Orijen Six Fish Kibble 1/2c
Berte's Ultra Probiotics (b-naturals.com); dosing on container by weight
(2) 1000mg of fish oil
(1) K9 K9 Immunity Plus Chew
***non-arte days: Berte's Immune Blend (b-naturals.com), dosing on container by weight
Dinner: between 5:30-6:00pm
20mg generic pepcid about 20 minutes before dinner
Orijen Six Fish Kibble 1/2c
(2) 1000mg of fish oil
(1) K9 Immunity Plus Chew
Arte nights: given between 10:30-11:00pm)
Charley get artemisinin with or without Artemix 2-3x/per week in Philly Cream Cheese
200-300mg of artemisinin along with 4 Butyrex.
I add 1-2 Artemix to the artemisinin and Butyrex at least 1 of those 2-3x per week.
*Charley does not tolerate the fish oil at the 6500mg range and he gets the runs (based on the recommendations for cancer of 1000mg per 10 pounds), so he gets 4000mg/day.
Read Charley's blog post in its entirety at Charley's Protocol (2-1/2 Year OS Warrior)
Thanks for shopping with links in this Tripawds Nutrition blog!
A portion of sales made through links here will go toward keeping the Tripawds Nation online.