Grain-free dog food has popped up in pet supply shops everywhere, and now we're thrilled to find it mainstream grocery stores thanks to Rachael Ray Nutrish® Zero Grain™ Turkey & Potato Recipe kibble.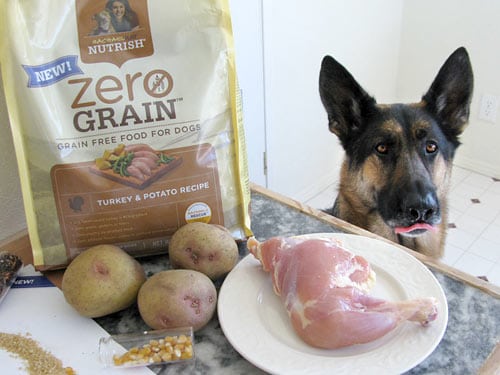 Rachael and her team are so excited about this new grain-free kibble, they want as many pet parents as possible to try it out. Rachael is giving a way a free five pound bag to one lucky Tripawds member! Read to the end of this post to find out how to enter our contest.
Why Grain Free?
According to the Dog Food Advisor, "compared to the typical kibble or canned food, the best grain free recipes contain more meat based protein as well as easy-to-digest animal fats. And usually fewer carbohydrates, too. Not only are grains like corn and wheat a frequent cause of canine allergies1 they can also be more difficult for a dog to digest."
Ever since grain-free became a hot topic in dog food, we've heard some talk that grain-free is nothing more than marketing hype. However, plenty of evidence from experts and pet parents says that many dogs are healthiest when fed a Zero Grain diet. We can vouch for these findings: after we adopted Tripawds Spokesdog Wyatt Ray back in 2009, we noticed a significant improvement in his health when we switched him from  standard kibble to a grain-free diet.
Zero Grain is Safe, Healthy and Tasty
Rachael Ray Nutrish understands the importance of giving pet parents and dogs a more allergy-friendly, low grain diet. In each bag of Zero Grain you'll find:
U.S. farm-raised turkey is the #1 ingredient
Zero grains, glutens or fillers
Zero poultry by-product meal
Zero artificial preservatives, colors or flavors
Rachael and her team have done such a great job at creating a grain-free meal that the respected Dog Food Advisor rates Zero Grain four out of five stars!
"Rachael Ray Nutrish Zero Grain Dog Food is a plant-based kibble using a moderate amount of turkey as its main source of animal protein, thus earning the brand 4 stars.

Highly recommended."
As a feel-good bonus, Rachael's company is donating proceeds of Zero Grain to Rachael's Rescue, an organization that's raised over $4.2 million to date, for food, medical supplies and treatments of shelter animals in need.
Wyatt Gives Zero Grain 3 Paws Up
We were given samples of Zero Grain to try on Tripawds Spokesdog Wyatt Ray, who has a notoriously sensitive belly. With some trepidation (and some green clay nearby, just in case), we gave him an entire bowl without any homemade wet food, to see if he liked it.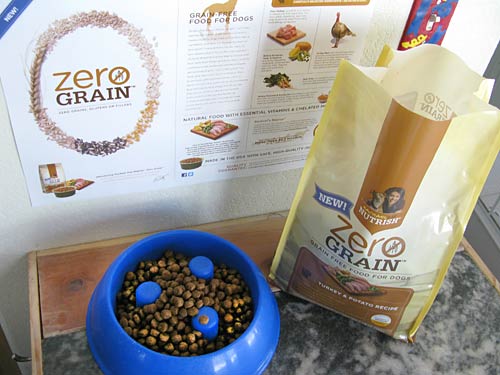 We hardly had time to take some photos before Wyatt ate it all up!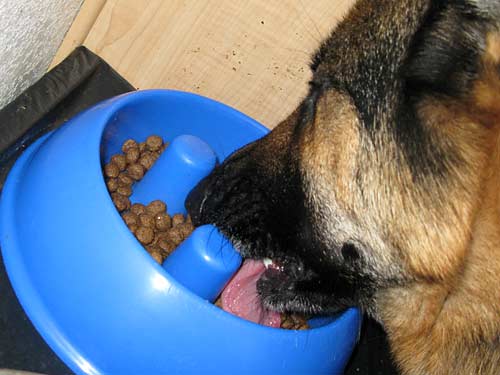 Wyatt's stomach handled it just fine, which makes all of us hoppy. Rachael Ray Nutrish® Zero Grain™ is a terrific choice for him, especially when we're on the road and looking for quality dog food. Here's where to buy Nutrish Zero Grain.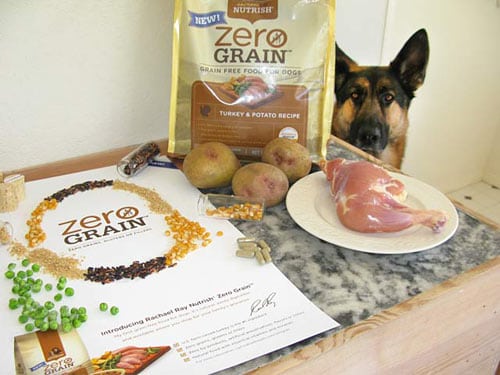 Win a Free Bag of Zero Grain
Now's your chance to try Rachael's new food for free! We'll make it easy: just tell us in the comments field below what your dog currently eats, and why you want to try a Zero Grain diet.
All entries must be received no later than midnight on May 23. One lucky winner will be selected at random. U.S. residents only.

This contest has ended. Try Nutrish Zero Grain for your dog today !