If you want to feed your dog the best cancer fighting foods but don't have time to cook meals yourself, Just Food For Dogs (JFFD) has the answer with a Neoplasia Support prescription diet.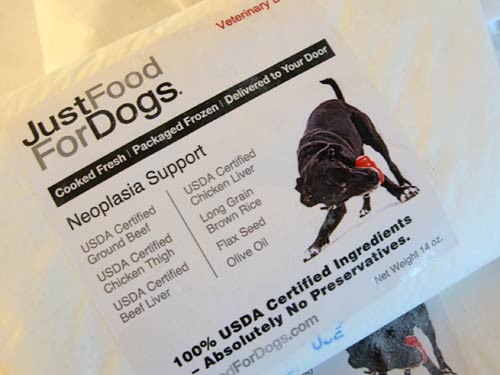 Just Food For Dogs produces small batches of home cooked, flash-frozen meals made with 100% USDA certified meats, vegetables and whole grains.
In addition to their daily menu of mouth-watering meal plans, the company offers a line of home cooked prescription and customized diets that are formulated to provide dietary support for a variety of canine health conditions including liver disease, cancer, dermatoses, obesity, kidney disease, etc.
Dog Cancer Food Delivered to Your Door
Researching a cancer fighting diet for your dog is a complex and time-consuming process that if done incorrectly, can present more problems than feeding commercial kibble.
Thankfully the canine nutrition team at Just Food For Dogs takes the guesswork out for customers. Neoplasia Support dog food features:
100% ingredients certified by USDA for human consumption for increased bioavailability
Moderate protein to meet energy requirements
High level of fat to address nutrient density and palatability
Tightly controlled simple carbohydrates to avoid 'feeding' tumor cells
Limited antioxidants to avoid interference with chemotherapy drugs
To try Neoplasia Support, just have your veterinarian call Just Food For Dogs at (866) 726-9509 to ensure it's the right formula for your cancer hero. If not, Just Food For Dogs can work with your vet to create a custom dog food prescription recipe  just for your pup.
The Future of Dog Food
It's great to be a dog parent during the dawn of a new age in pet food.
As more consumers become aware of the importance of feeding our pets whole, natural and preservative-free foods, companies like Just Food For Dogs are responding with health-specific menus, customized recipes, top notch ingredients and high quality home style cooking for our best friends.
Recommended Reading
All "Home Cooking" articles in the Tripawds Nutrition Blog