Everyone loves home cooking, especially our Tripawd heroes. Homemade cat and dog treats make great affordable, healthy gifts for our best friends, don't they?
The following recipes are great for any cat or dog but especially those battling cancer since you can make them using anti-cancer flours like rice, garbanzo or oat flour. Some experimentation might be required but I'll bet you'll have a hoppy food tester at home to help you!
Here are a few recipes to get you started:
Homemade Cat Treat Recipes
This recipe from joythebaker.com is by Joy the Baker, who says "You might consider the addition of such treats as catnip or extra wet cat food in the dough.  Cats have a very protein-centric diet.  These treats are just meant to be a small addition to their diet, and not meant to replace their normal diets in any way.  Cool?"
Chewy Cat Treats for Cats
makes about 50 small treats
1 large egg
1 4-oz jar chicken and brown rice baby food (or something meaty which may include canned wet cat food)
1/4 cup parsley, coarsely chopped
2 teaspoons olive oil
2 tablespoons water
1 cup brown rice flour
1/2 cup cooked white (or brown) rice
other things you might add :
1 tablespoon of catnip or a hearty tablespoon of extra wet cat food.
Place a rack in the middle of the oven and preheat oven to 325 degrees F. Line a baking sheet with parchment paper and set aside.
In a medium bowl, whisk together egg, baby food (or wet cat food), parsley, olive oil, and water. Add brown rice flour and cooked rice. Stir to incorporate. The mixture will be thick but spreadable.
Spread mixture onto prepared baking sheet creating a rectangle that is about 1/3 of an inch thick. Bake for 12 to 15 minutes.
Remove from the oven. Let rest until cool enough to handle, then slice soft dough into bite-sized pieces. Return pieces to the oven to bake for another 8 minutes. Remove from the oven. Allow to cool completely. Store in an airtight container in the fridge. I store my treats in the fridge just to be safe.
This homemade cat treat recipe is from Natural Pet Essentials:
Cheese Treats au Naturel
(makes about two dozen)
¾ cup shredded or grated cheddar cheese
¾ cup whole wheat flour
¼ cup sour cream or yogurt (plain)
¼ cup cornmeal
5 tbsp. grated parmesan cheese
While your oven is preheating to 350 degrees Fahrenheit, combine all the ingredients into dough (add a touch of water if needed). Knead the dough into a ball and then roll it out to ¼ inch. Cut into one-inch pieces and bake for 25 minutes on a greased cookie sheet.
Homemade Dog Treat Recipes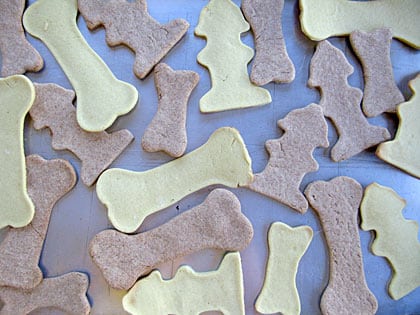 Bountiful Baked Turkey Treats
2 cups cooked turkey, diced
2 cloves garlic, crushed
4 teaspoons cheddar cheese, grated
1 tablespoon parsley, minced
2 eggs
2 cups flour (whole wheat is ideal but for dogs battling cancer, try rice, garbanzo or oat flour)
2 tablespoons vegetable oil
Preheat oven to 350 degrees. Combine turkey, garlic, cheese, parsley and mix well. Beat the eggs in a bowl and pour over turkey mixture. Add the flour and oil. Stir until thoroughly mixed and all ingredients are coated. Drop into small lumps onto ungreased cookie sheet. Cook for about 20 minutes, until brown and firm. Store in refrigerator.
This Recipe is courtesy of Bullwinkle.com, but have been modified slightly to accommodate the dietary needs of Tripawds battling bone cancer.
Captain Jack's Excellent Anti-Cancer Dog Treats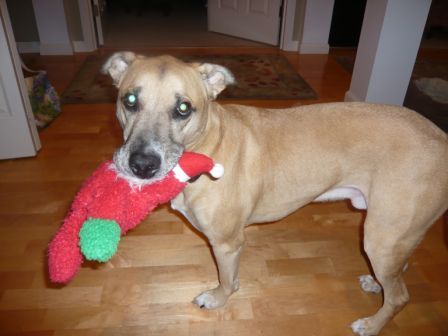 An explanation of the health benefits of Captain Jack's recipe can be found in this Tripawds Nutrition blog post.
1 Tablespoon Applesauce (all natural, no added sugar)
1 Cup Water
2 ½ Cups Whole Wheat Flour
½ Cup Oatmeal
2 Tablespoons Fresh Mint
⅓ Cup Chopped Parsley
¼ Teaspoon Minced Garlic
DIRECTIONS:
Preheat oven to 350°
Mix applesauce and water
Slowly add flour and other ingredients
Roll dough on a flat surface
Cut with cookie-cutter or into whatever shape you like
Bake 25 minutes (add time or subtract time based on the size of the cookie)
 For more homemade dog treat recipes,
consider these dog diet cookbooks available in
the Tripawds Downloads blog.
Do you have a special homemade dog food or treat recipe you'd like to share with Tripawds members? Submit it here and we may publish it in the Nutrition blog. Did you know there are five Featured Tripawds Blogs in addition to Jerry's News Blog?