Everyone is looking for that magic cure to prevent and treat canine cancer. Can Curcumin Treat Cancer in Dogs? Although one magic cure has not been discovered (yet!), some promising and exciting therapies like curcumin are available right now, at relatively little cost.
Ancient Herb Curcumin May Help Prevent and Treat Cancer in Dogs and Humans Alike
How Curcumin May Help Fight Cancer
Curcumin is found in the herb turmeric, which is responsible for the wonderfully spicy, earthy aroma found in Indian cuisine. Lately it's made headlines because researchers at places like Ohio State University have discovered that curcumin:
causes cell-death (apoptosis) in several human cancer lines
slows angiogenesis (the growth of blood vessels which supply food to cancer tumors)
decreases the COX-2 enzyme, which is associated with inflammation (which is linked to cancer)
enhances the cytoxicity of chemotherapy drugs such as cisplatin, gemcitabine and capecitabine)
Curcumin is being used as the basis for the design of many new synthetic cancer drugs. At Ohio State University, over 40 different cancer therapy drugs that employ curcumin are currently in the works. Curcumin has also demonstrated many health benefits for dogs and humans who don't have cancer.
How Much Curcumin is Safe for Dogs?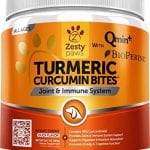 Human clinical trials show that curcumin is non-toxic even when patients are given up to 10 grams per day. However since this herb isn't well absorbed by the body, the amount of curcumin that patients need to take each day in order to experience its benefits is debated by researchers.
Dr. Demian Dressler, author of the Dog Cancer Survival Guide, includes curcumin in his Apocaps anti-cancer supplement, but if you're giving it alone he recommends giving a large dog about 2 grams of curcumin, twice daily.
One way to enhance the body's absorption of curcumin is to mix it with a bit of bromelain to enhace blood levels, as well as lecethin (a thickening agent), which you can find at health food stores. Dr. Dressler, recommends mixing about 4 parts water, to 1 part lecethin and 1 part curcumin. For flavor, add low-sodium bouillion.
When to Avoid Curcumin
Curcumin can affect so many different processes in the body, that researchers recommend avoiding it during chemotherapy because they just don't know if it will negate the effects of treatment. Curcumin should not be used when a patient has gall stones, stomach ulcers, or is within 10 days of surgery.
When utilizing a combination of anti-cancer herbs and supplements like curcumin, always keep in mind that these supplements may counteract each other's effects. While the herbs might not harm your dog, they also might not do any good either.
Please remember we are not veterinarians, and this information is not a substitute for medical advice by a veterinary professional. Always consult with a veterinarian who is knowledgeable in holistic veterinary care before choosing any kind of herb and supplement therapy for your dog.
Recommended Reading
Why the Buzz About Turmeric? Narda G. Robinson, DO, DVM, MS, FAAMA, Colorado State University
Spice of Life, Curcumin and Dog Cancer, Dr. Demian Dressler, DVM
More on Curcumin and Dog Cancer, Dr. Demian Dressler, DVM
Tripawds Amazon Blog: Apocaps Therapy Included in Human Cancer Study
Tripawds Nutrition Blog: Save on Apocaps with The Dog Cancer Survival Kit