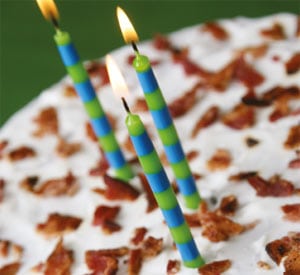 Got a birthday coming up for your furry friend? Here's another use for Honest Kitchen Ice Pups frozen treat mix: Make a puppalicious doggie birthday cake!
Please supervise any puppy parties carefully! Always control portions, and monitor activities to avoid food fights. If you do use candles on the cake, do not allow your dog near them until extinguished. Please consult your veterinarian with any nutritional concerns.
Puppalicious Doggie Birthday Cake Recipe
Bake this healthy all natural low-carb cake for your pup and let us know what she thinks! Or, check out all the Honest Kitchen dog food and treats reviewed here in the Tripawds Nutrition blog.
Download doggie birthday cake recipe PDF here.
Ingredients
Cake:
Icing:
1 cup plain yogurt
2 strips bacon
Instructions
Preheat oven to 350 degrees F. Grease a 10 inch cake pan (use butter or veg oil). You can also line the pan with a strip of parchment paper to encourage easy release. Combine in a bowl the Force and Ice Pups mixes, sift together. In a separate bowl, combine the eggs and the yogurt. Whisk at high speed for 3 minutes. Gradually add in honey. Reduce the speed to low and add in the dry mixture, cup by cup. Stir in the smashed up cookies. Bake in the oven for 25-35 minutes, until you can insert a toothpick and it comes out clean. Allow the cake to cool on a rack for 10 minutes. Cook the two pieces of bacon and chop them into small pieces. Carefully invert the cake onto a serving dish. Ice with the plain yogurt, sprinkle with bacon bits and serve.
Save on Honest Kitchen Dog Foods at Only Natural Pet