In case you missed it, we recently hosted an informative interview with DogFoodAdvisor.com founder Mike Sagman. You will find a podcast of the show at the end of this post for your listening enjoyment. Join the forum discussion about this program, or tune in for future Tripawd Talk Radio shows wherever you listen to podcasts.
Meet The Dog Food Advisor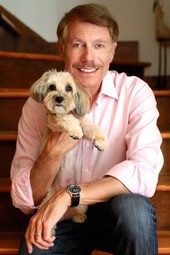 Below are some highlights from the show, and an audio archive so you can listen to the whole 30 minute episode for complete details.
The top three questions/concerns about your dog food
Do you want to feed wet, dry or raw?
Question content! Find out more at dogfoodadvisor.com
Favor meat, more importantly disfavor carbohydrates!
The three main dog food ingredients include proteins, fat, & carbs (the only nonessential ingredient).
Hot Topic: Are dogs omnivore or carnivore?
Omnivores with strong carnivore bias
They are scavengers, without grinding molars
The closer to our natural diet our dogs eat, the better.
Favor more natural diet.
Kibble is the furthest thing from a dog's natural diet.
Raw fresh food is best.
About dehydrated fresh/raw dog foods:
Recommended Feeding Methods:
"Topping" – add premium canned, raw or table scraps to good kibble.
"Rotation feeding" – Changing a dog's diet is OK!
Tripawd Talk Radio Program Audio Archive
Listen to this Tripawd Talk Radio interview with the Dog Food Advisor or download this podcast using the widget below.
Subscribe to Tripawd Talk Radio wherever you enjoy podcasts.