There are many ways to support this community, but the best is to share information you believe others might find helpful. That's why we are happy to share the following canine cancer nutrition plan from Tripawds member ladymayin …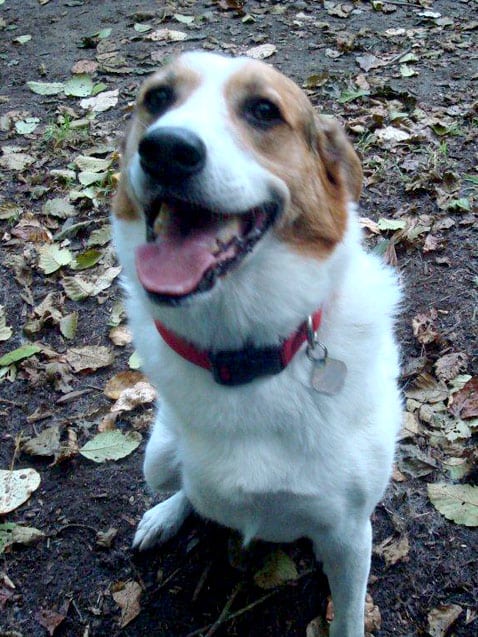 Casey is a 9 yr old mixed breed (mom was a beagle) who has ostersarcoma. His amputation was on June 23, 2009. Now he has 2 lung tumors diagnosed in August, 2010. Prognosis was 3-5 mos, but guess what?? He's still hiking 2 miles daily!
Diet:
Chicken or beef (cooked) with variety of vegetables (broccoli, peas, carrots, green beans). He likes extra chicken fat or butter added to his meal.
Supplements:
Dr Pitcairns "healthy powder" minus the nutritional yeast, with added B-Complex. (I always feel like yeast encourages tumor growth?) Flax seed meal; I don't use flax oil because it spoils too quickly.
Absolutely no grains. Dr.Pitcairn does not believe grains encourage tumors but I disagree. Although tumors have been found in Caseys lungs, he enjoys daily hikes, eats well, and seems to enjoy life.
Dr. Pitcairn's Healthy Powder Recipe
From Dr. Pitcairn's Complete Guide to Natural Health for Dogs & Cats. (Read the Tripawds book review.)
2 Cups Nutritional Yeast
1 Cup Lecithin Granules
1/4 Cup Kelp Powder
1/4 Cup Bonemeal (or 9,000 mg Calcium, or 5 teaspoons eggshell powder)
1,000 mg Vitamin C (ground) or 1/4 teaspoons Sodium Ascorbate (optional)

Mix all ingredients well and keep refrigerated. Add to each recipe as needed or combine with commercial food (1-2 teaspoons per day for small dogs, 2-3 teaspoons for medium size, and 1-2 tablespoons per day for large dogs. For complete details, variations, and more healthy homemade dog food recipes read Dr. Pitcairn's New Complete Guide to Natural Health for Dogs and Cats.
Nutritional Supplements
Support the Tripawds community, compare prices, and buy hard to find nutritional supplements by shopping online with the following links!
Now's Flax Seed Meal Organic

Flax seed is cold processed. Flax seed meal is a convenient way of obtaining many of the nutritional benefits of flax seeds, including dietary fiber, lignans, magnesium, zinc and mucillage Flax seeds orginated in the ancient Mid-East and were used in Biblical days as an important source of polyunsaturated fatty acids, including omega-3. Flax seed meal is a convenient form of flax that is rich in dietary fiber, mucilage, phytosterols and lignans. More Organic and non-GMO products Serving Size: 2 1/2 Tbs Servings. It is high in fiber and should be consumed with plenty of water.Other Ingredients: 100% Organic Defatted Flax seed meal. Best kept refrigerated.
Contains trace minerals & vitamins essential to proper digestion and skin & coat development. Over 65 essential trace minerals, vitamins and amino acids, many of which are missing from your pet's diet. Formulated with only the highest quality Norwegian Kelp, which is one of the richest sources of trace minerals in the world. Kelp Help combines the benefits of natural Omega 3, 6, and 9 Fatty Acids for healthy skin and a glossy coat, as well as being fortified with ESSENTIAL vitamins and minerals important to maintain normal digestion and proper vitamin utilization. Ingredients: Dried Norwegian Kelp, Ground Flax Seed, Processed Grain By-Products, Dicalcium Phosphate, Dried Beef Liver, Mixed Tocopherols (natural preservatives), Ferrous Carbonate, Choline Chloride, Vitamin E Acetate (d-Alpha Tocopheryl), Vitamin A Acetate, Niacin, Cholecalciferol (source of Vitamin D-3), Zinc Sulfate, Riboflavin, Copper Carbonate, Cyanocobalamin (Vitamin B-12), Silica Aerogel, Vegetable Oil, Citric Acid, Ascorbic Acid, Lecithin and Rosemary Extract.
Each Packet Contains 2 Pounds of Bone Meal Powder for Dogs and Cats 2 Pack Total 2 Pounds from Upco Bone Meal. A nutritional concentrated Calcium and Phosphorus supplement to be added to the regular diet of dogs, puppies, pregnant/nursing bitches and cats. Bone Meal is an excellent source of naturally balanced calcium and phosphorus. Bone Meal is fed during pregnancy to promote proper development of offspring and proper bone growth in growing animals. Feeding amounts: Puppies up to 200 days 1 level tsp per head daily Mature Dogs 1/2 tsp per head daily Pregnant Females (last quarter) 1 tsp per day Lactating Females 2 tsp per day Cat 1/4 tsp per day Kitten 1/4 tsp per day

Natural Calcium and Essential Minerals from the Sea Supplement for Dogs & Cats This calcium is 100% Natural, of vegetative origin from seaweed harvested from the seabed off the Southwest coast of Ireland. Tested for purity.
Do you have healthy pet diet and supplement recommendations? Submit your dog's nutrition plan, and we may share it with the Tripawds community here!