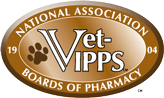 It's important to know where your dog's prescriptions are coming from. Is your vet pharmacy NABP Accredited?
Readers can now buy pet medicine safely online from Vet-VIPPS certified pet pharmacies!
The Vet-VIPPS program (Veterinary-Verified Internet Pharmacy Practice Sites) of the NABP accredits online pharmacies and assures customers that they are purchasing drugs and devices from a certified online pharmacy that is properly licensed and complying with state and federal laws and regulations.
Search the nabp.net database for other Vet-VIPPS certified online pharmacies.