Tripawds members are always welcome to share stories about how they are staying healthy, fit and fighting cancer. In today's Tripawds News Blog, Maggie the Agile Cow Dog talks about life as an award-winning agility Tripawd. Below is a brief synopsis of her nutrition plan for your reference.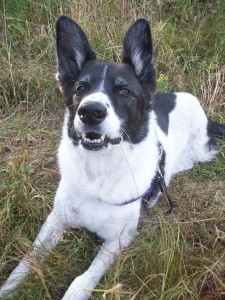 If you want to talk to Maggie's Mom in more detail, post your questions below or start a Forum Discussion topic today!
What type of cancer does Maggie have?
Soft tissue sarcoma to left rear knee (never found out exactly what type but several ruled out – even after several special stains)
What kind of treatment does Maggie receive to help fight cancer?
Three homeopathic daily remedies rotating each day, twice per day by Dr. Charles Loops in North Carolina:
Sempervivum Tectorum LM4
Lapis Albus LM4
Carc-P 200C+
Each time I run out, Dr. Loops refills them only in a higher potency. She also gets for supplements:
What does Maggie eat?
Honest Kitchen premixes with additional meat of Primal frozen grinds or locally grown ground beef.
The premixes I feed her are the lowest carb diets of Preference , Thrive and Embark.

If you would like to submit your Triumphant Tripawd's story, contact us today for details. We can't wait to read your tails!