Recently, Tripawds member Tai brought it to our attention that Cimetidine, an over-the-counter heartburn medication for humans (also known as Tagamet), has been found to prevent cancer metastis in dogs with mast cell tumors. Several reputable studies have confirmed this.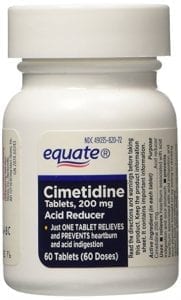 Cimetidine is often given to Tripawds to help with nausea after chemotherapy, or to prevent gastric ulcers when switching medications, such as NSAIDs. If your vet has prescribed an acid-reducers to help with nausea, such as Prilosec, be sure to ask if it's OK to give Tagamet instead. According to VetInfo.com. Cimetidine is the generic form of the brand name drug Tagamet.
Cimetidine is often used to treat and prevent ulcer formations in the pet's intestine and stomach. It works to adjust the pH balance in the stomach by blocking the histamine-2 receptor.

Cimetidine is also known as histamine a2 antagonist, as it reduces acid formation in the stomach. Although it may not be beneficial to pets with high grade cancer, it can help to reduce the effects of mast cells on the gastrointestinal tract.
Dr. Demian Dressler, author of the Dog Cancer Survival Guide, has also added Cimetidne to his list of mast cell tumor treatments, and Tai posted information about several studies which discuss this drug's anti-cancer effects. Another study by Life Extension Foundation, says:
"Cimetidine works through several mechanisms of action, preventing immune suppression caused by tumor secretion of histamine, halting cancer growth, preventing angiogenesis, promoting cancer cell death, and averting often-fatal cancer metastasis."
Cimetidine is also known by the brand names of  Tagamet, and is in the same family of drugs as Famitidine, Ranitidine and Zantac. Ask your vet for details about whether it's right for your Tripawd.