Whenever encore presentations of Nature: Why We love Cats and Dogs air on PBS, Jerry gets lots of comments in his guestbook from viewers sharing their own stories of love and dedication for their beloved pets. Many thanks to Baron who recently provided this thoughtful information …
Please Note: This is a user submitted review. Please consult your veterinarian before making any changes to you pet's nutrition plan.
User Submitted Review of Beta Glucan for Canine Cancer
I had lost a boxer to cancer many years ago — so I decided to do some research on cancer — and I found some information online about the ability of Beta Glucan to put a coating around cancer cells and then allowing our white fighter t-cells to attack and kill off the cancer cells. I have been feeding my dogs Beta Glucan every morning for the last 8 to 10 years — I have 9 dogs and all have been cancer free. I cannot say for sure if it is the Beta Glucan that has kept them cancer free — but it sure seems to work. I am not a doctor so as they say check with your doctor. Here is my recipe. Mix Together:
1 cup of raw organic oats
1/2 to 1 tablespoon of brewers yeast or nutrition yeast (the oats and either brewers or nutrition yeast are the best sources of Beta Glucan)
DO NOT USE BAKERS YEAST. I HAVE READ IT CAN KILL YOU OR YOUR DOG BECAUSE IT WILL CAUSE THEM TO OVER BLOAT! USE ONLY BREWERS OR NUTRITION YEAST!!! Then I Add:
1 teaspoon of blackstrap molasses per dog
1/2 cup organic barley flakes ( barley flakes are great for cholesterol)
3 tablespoons of wheat germ ( great source of vitamin E)
1 tablespoon of organic peanut butter
NOTE: I make sure the wheat germ I buy is kept in the refrigerator at the health food store and I keep it stored in my refrigerator because heat and light turns vitamin E rancid  — I do not use toasted wheat germ! I use organic peanut butter that I get buttered right out of the machine at the health food store — most of large health food stores have the peanut butter machines that crush the peanuts right there — so you get fresh peanut butter with out any salt/sugar etc. Peanut butter is a good source of Q10 which is good for the Heart. None of my animals are having heart problems also. (I have read that some animals have reactions to peanut butter-so again check with your vet) Finally, I use either oat milk or soy milk to mix it all up into a mush. Again you can get oat milk or soy milk at the health food store. Let me add that the brewers or nutrition yeast are loaded with all kinds of nutrition b-vitamins etc. I am always getting remarks from people on how nice my dogs coats shine and look. What to do if you want any more info on any of the above items just do a "health benefits of " search on your computer search engine and you will get all kinds of info. At night I normally cook my dogs lentils and add different anti-cancer foods like carrots/broccoli/cabbage/cauliflower after the lentils are cooked and I then add a can of vegetarian can dog food I buy at pet store or health food store for flavoring  — some times I will use some earth balance butter I get at the health food store for flavoring and I also mix a jar of organic tomato sauce in the lentils (tomato sauce is said to be a good anti-stomach cancer food) Don't use any that have mushrooms in it — [some] mushrooms are very toxic to animals. Again check with your vet! ~ Baron
NOTE: Please be aware that we are not veterinarians. The information presented here is not meant to be construed as medical advice or guidance, nor should it be substituted for professional veterinary assistance. Always discuss any remedies and treatments you wish to pursue with your veterinarian. Tripawds is a user-supported community, all purchases made here help us continue providing resources and support to our Tripawd families.
Beta Glucan Supplements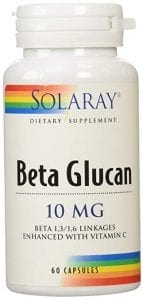 We read here that in order to be effective, Beta Glucan has to be processed first, because it is not readily useable in its natural state. To avoid the risk of bloat from using raw yeast, the following links are provided so readers can do further research about commercial Beta Glucan Supplements.
Solaray Beta Glucan Enriched W/ Vita 10mg 60Caps
Ingredients: Non-Acidic Vitamin C (as Calcium Ascorbate) 370 mg; Beta Glucan (1-3/1-6 with 1-4 linkages [from yeast] [Saccharomyces cerevisiae] Cell Wall) 10 mg Other Ingredients: Rice flour, gelatin (capsule), magnesium stearate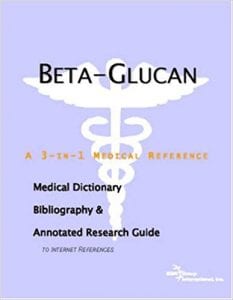 Beta-Glucan – A Medical Dictionary, Bibliography, and Annotated Research Guide to Internet Reference
This is 3-in-1 reference book gives a complete medical dictionary covering hundreds of terms and expressions relating to Beta-Glucan. It also gives extensive lists of bibliographic citations. Finally, it provides information to users on how to update their knowledge using various Internet resources. The book is designed for physicians, medical students preparing for Board examinations, medical researchers, and patients who want to become familiar with research dedicated to Beta-Glucan. If your time is valuable, this book is for you. First, you will not waste time searching the Internet while missing a lot of relevant information. Second, the book also saves you time indexing and defining entries. Finally, you will not waste time and money printing hundreds of web pages.
Further Reading about Beta Glucan
Please do your homework regarding any canine cancer supplements for your dog and feel free to share feedback with a guest post here in the Tripawds nutrition blog or in the discussion forums.